Learning is an evolutionary process which continues all through the human life. You can learn anything from anyone without the need for a formal set up. Formal education environment in the classroom establishes the basics of human learning, however this is not the only means of learning. The real phase of learning begins outside the school, college and university when you actually see and feel things, about which you have read in the books.
Through different aspects of life, you can never forget what see with your own eyes. The places about which, you learned through your geography books can be mixed up, but you will never forget what you have seen through your own eyes. This knowledge will be more authentic and confident because what you see becomes a part of your visual memory, which is not easily erased.
Not only you get to know about the places, but also, you have an opportunity to learn new languages. Although you can manage your communication through English as an international language, but on some places, you don't find a person to whom you can convey your message through English. At these events, you have to learn the local language of that area. By speaking and listening to the natives of the area, you can learn more easily as compared to an app or a language book.
Learning about the cultures of a specific area is another asset that is achieved through travelling. Reading hundreds of books about the culture cannot give you the level of command which you can achieve through visiting a place. This is not only limited to the foreign travelling, we even don't have the thorough knowledge on the cultures of different areas in our own country. There are several different cultures within a single country too. These could also be explored to know about the art, traditions, and foods of a specific region.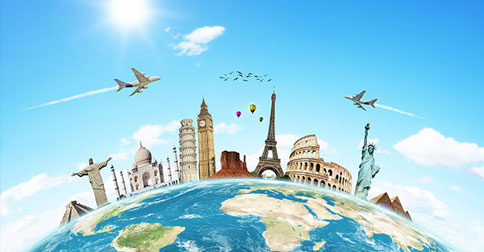 Along with the leaning about present culture, you also learn about the history by visiting historic places. Museums, historic places and national heritage can teach you such kind of lesson, which you can never have from any book. In the same way, you get to know about the current happenings of the area, which will later become a part of history, and you will be able to claim that you have witnessed the same by yourself.
Nature is also one of the gifts achieved from travelling; you can gain knowledge about various aspects. You also learn to do new things on different areas, apart from this, you can enhance your sociability if you are less confident to talk to strangers or deal with other people, you will find that after returning from this journey a clear change will appear in your personality and confidence level. This confidence will help you to interact with others and your professional or practical life will ultimately improve.
This kind of experience is also helping for training you on the individual management. You learn how to move independently and tackle various challenges in your life. Also, these experiences improve your decision-making skills as well, because, by staying independent, you have to take several quick decisions according to different situations. This kind of independence does not add into your personality through formal education set up only, where you completely work under supervision.
This is highly recommended that students must avail all opportunities of learning other than the conventional academic setups. This practical learning will add highly expandable amount of experience which will be helpful for managing the professional and practical life in a confident manner.
Travelling is an Enrighching Feeling
Travel is an enriching experience that offers numerous benefits to individuals. And the best part is that so many online websites for travel are making it hugely simple and accessible for everyone. Firstly, it allows one to step outside of their comfort zone and immerse themselves in new cultures, cuisines, and customs. This exposure broadens one's perspective, develops empathy, and fosters a greater understanding of the world. Travel also provides a break from routine, offering the opportunity to relax and recharge. It can reduce stress and increase overall well-being. Additionally, travel encourages personal growth by providing opportunities for adventure and challenge, which can lead to increased confidence and self-awareness. Finally, travel creates lifelong memories and strengthens relationships with friends and family. Overall, travel is a positive and valuable experience that can enhance one's life in many ways.
Umrah Travelling is a Great Experience
Any travel that you do is a great therapy. But performing Umrah is an even next level. Umrah is a sacred journey that holds immense spiritual significance for Muslims around the world. It is a religious pilgrimage to the holy city of Mecca, which involves performing a series of rituals at various holy sites. Unlike the mandatory Hajj pilgrimage, Umrah can be performed at any time of the year, and it is a deeply personal and spiritual journey that is undertaken solely for the sake of Allah.
There are countless options even available online that you can choose from depending on your budget and timeline. Many websites offers you amazing luxury as well as economy Umrah packages to suit your budget. Umrah is an opportunity for Muslims to reconnect with their faith, seek forgiveness, and strengthen their relationship with Allah. It allows individuals to detach from the material world and focus on their spiritual growth, which can lead to increased mindfulness, humility, and a deeper understanding of Islam. The experience of performing Umrah is truly life-changing and can leave a lasting impact on the hearts and minds of those who undertake it.
University Of Management And Technology Umt Lahore
249 Articles
171 Articles
79 Articles
Punjab University PU Lahore
57 Articles
Punjab University College Of Information Technology Lahore
56 Articles
Allama Iqbal Open University Aiou Islamabad
55 Articles