E-learning: the novel approach of seeking education is hyping successfully in global institutes. The teaching-learning, task here is facilitated digitally via audio-visual equipment and computers .On-line courses are widely adopted because of their flexibility and global connections. Many students are completing their degree programs through this on-line facility offered by renowned universities.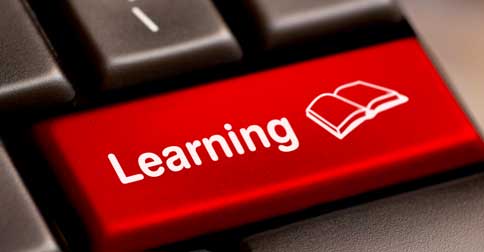 A wide range of courses are conducted on-line in almost every field of life .The comfort of learning at home and manageable timings has made e-learning the most convenient method of gaining an academic degree. Students, however sometimes take these courses for granted and do not set a discipline to complete such course. This is a negative approach because if you are serious enough to get an authentic on-line degree, you have to get serious about your schedules .The non-serious attitude is the chief cause why many students left their courses in-between frequently.
If you are enrolled in such a course, you have to adopt some good habits that will help you to complete your course on time and with good grades. Follow these tips to learn how an on-line course is successfully completed.
Search for a valuable on-line course:
Before enrolling into an online course the first thing is to look for a course that best fits your field of study and timings .select an institution that offers the best level of support. Look gravely at the credit hours, prerequisites and end year internship offers. Search for valid reviews and reputation of the site where you are registering yourself. Get the course that will either advance your career or upgrade your skills and don't ignore the cost of the full –length degree course.
Once you are registered in your course, it's time to get honest with it .Don't waste time and seriously set your hours of learning both for course lectures and home work.
Mark your own deadlines:
It's not necessary that your course instructor gives you a formal deadline .Mark your own deadline to complete a task, lesson learning or assignments. This will give you a sense of responsibility and a spirit to complete your work on time.
It's better to mark your deadlines into a diary or calendar. Be cautious that your proposed deadline should not clash with other necessary task that lies outside of study; Adjustments are the key words here that create a harmony between your study and other schedules. Try to hand-over your work before time.
Catch the Pace:
Remember online courses generally take a full-semester's content and try to complete it in half of the time as compared with face –to-face courses. It means you have to chase a speedy lesson therefore follow your online course with fast pace to prevent lacking behind the other students.
Realize the Worth of space:
You should realize that for a serious study you need an atmosphere which should be quiet, un-disturbing and cozy. A place with a good internet connection is vital to pursue a distraction free on-line course. Try to arrange all the required accessories around so that you can't waste time finding them in the whole premises.
Be bold to ask question:
In a regular class lecturers can easily observe the inattentive or confused pupils and are ready to help them by explaining again but here this is not the case therefore build a strong relationship with your mentor, ask again and again if you find the lesson difficult and have good terms with the instructor so he can instantly pick what the problem actually is.
Access inter and outside university helping resources:
The institution from where you are taking the course provide many helping tools for their on-line students but unfortunately many students are still unaware of them therefore manage a folder of every relevant resource provided by your institution. Visit discussion groups regularly where your teachers are regularly present. Ask questions and discuss the content with other students as well as with peers.
It's not a good idea to get stuck with only your own institutional resources come outside the comfort zone and arrange study sessions with other online students. Social media forums are loaded with information that can help you in your studies. Building contacts with global students of the same field is valuable practice for your on-line studies. This type of group work will help you a lot but take care that these discussions should not affect your assigned study tasks.
There are a number of strategies like setting up your schedule ,organization ,practicing on-line quizzes that will help you to complete your on-line degree in time with flying colors but the most important thing is determination ,you should be determined to follow your lecture regularly and stick to your dialing learning time table to get succeeded right on time.
University Of Management And Technology Umt Lahore
249 Articles
171 Articles
79 Articles
Punjab University PU Lahore
57 Articles
Punjab University College Of Information Technology Lahore
56 Articles
Allama Iqbal Open University Aiou Islamabad
55 Articles