Founded by Shaheed Hakim Mohammed Said in 1991, Hamdard University is one of the first and the oldest private institutions of higher education in Pakistan. The Main Campus of Hamdard University (Madinat al-Hikmah), spread over well planned green picturesque of over 350 acres, is located in the vicinity of Sindh – Balochistan border 28 KM from Karachi on the main highway leading to Murad Khan Dam (Bund). Hamdard University has population of over 7,000 students. Hamdard University presently runs its three campuses; main campus and city campus in Karachi and a sub-campus at Islamabad, which are home to young scholars from local as well as international regions.
Hamdard University is a legacy bequeathed by Hakim Saeed Shaheed to the nation as it has been contributing to the fulfillment of the present day education needs. At present, the University accommodates 7 faculties which include Faculty of Eastern Medicine, Faculty of Engineering Sciences & Technology, Faculty of Health & Medical Sciences, Faculty of Social Sciences & Humanities, Faculty of Law, Faculty of Management Sciences and Faculty of Pharmacy. Hamdard University has highly qualified, experienced and dedicated professional faculty members on its roll.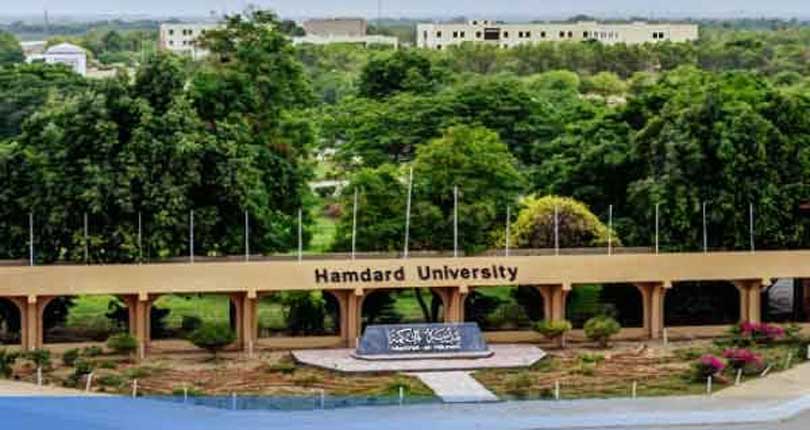 Hamdard University is unique in terms of having central Bait al-Hikmah Library containing large collection of books and journals on different subjects and in different languages. The University runs two separate boys' and girls' hostels to accommodate out-station as well as local students and offers a well-planned transportation system to the students within Karachi city. Hamdard University is also running a Primary Health Care Centre at Khuda Ki Basti, 3 hospitals (600+beds) named as Shifa-uI-Mulk Memorial Hospital, Hamdard Hospital Naimat Begum Mother & Child Care Unit and Taj Medical Complex to offer affordable healthcare services to the needy ones. Hamdard University awards scholarships to the needy students to ensure that no brilliant and deserving student deprives of education.
Hamdard University is liable to be recognized as being the first University in Pakistan which has taken an initiative by installing a 500-KW solar power plant in its campus, which is further have to intention of achieving to generate 1.5 MW electricity in future. The aim of this solar power plant is contribute to minimize the shortage of electricity in the country. Hamdard University also initiated a Plantation Drive within campus and its adjoining areas in 2018. Over the last one year, Hamdard University has planted more than 1500 plants in its Main Campus and more than 1000 plants in additional areas.
University Of Management And Technology Umt Lahore
249 Articles
171 Articles
79 Articles
Punjab University PU Lahore
57 Articles
Punjab University College Of Information Technology Lahore
56 Articles
Allama Iqbal Open University Aiou Islamabad
55 Articles