Haider Ali, Pakistan's only competitor at Rio Paralympic Games 2016, has won Pakistan its first award. Long jumper Ali won a bronze medal in Rio 2016 on September 13.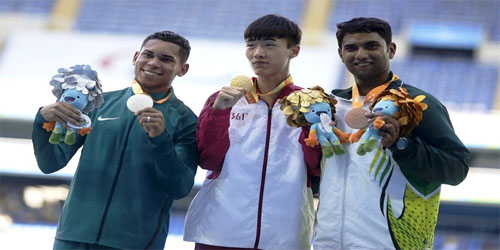 This is the second time Ali has brought home paralympic medal – he won a silver with a record bounce of 6.44m in Beijing 2008. Haider, who sufferes from cerebral paralysis, had secured a record separation of 6.44 meters at the China 2008 Games.
China's Shang Guangxu won the gold with a jump of 6.77m while Brazil's Evangelista Cardoso Mateus bounced 6.53m to sack silver in the occasion.
The 31-year-old won the bronze decoration in the long bounce occasion of the T-37 class by dealing with a separation of 6.28 meters. He just fell behind Brazil's Mateus Evangelista Cardoso on the second place with 6.53 meters and China's Shang Guangxu on the top spot with 6.77 – a world record at the Paralympic Games.
Pakistan Sports Board Director Akhtar Ganjera believes that Ali's accomplishment will advance Paralympics in nation in spite of the difficulties that Paralympics competitors face in the nation.
Haider Ali is the main competitor to complete among main three in the Pakistan's 24-year history at the Paralympic Games.
Ali was the solitary member from Pakistan in Rio during the current year's Paralympics diversions.
University Of Management And Technology Umt Lahore
249 Articles
171 Articles
79 Articles
Punjab University PU Lahore
57 Articles
Punjab University College Of Information Technology Lahore
56 Articles
Allama Iqbal Open University Aiou Islamabad
55 Articles