We all need to do research on different topics for assignments. But when any assignment is given to students teachers wants them to read different articles or research paper related to the assignment and try to find something new. But students don't know how to search. So there is some tips for doing research.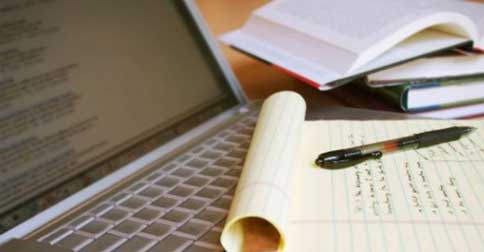 Google and Wikipedia:
Start your research with these two tools. Your teacher doesn't want you to rely on e-sources for your research or assignment. But these both tools are good to help you out in your research they will give you an overview about the topic of you.
Library's Web site:
Now once you have googled you have a satisfaction about your topic and a overview about it. Now you need to use more serious, scholarly sources that will give some dependable information.Now go to your college library website and search for books related to your topic and try to find these books online and read them.These books are very resourceful.When you read these books you know a lot about your research and now you have authentic references as well.
Use your library's online databases:
Normally online catalog helps you find books only, but it does not provide you articles related to scholarly journals. So for articles, you need to go into online library database, where you will find Academic Search Premier, InfoTrac, JSTOR, ProQuest Central, Readers' Guide, and Science Citation Index. Search articles on these databases there are so many articles available on these sites. Any topic you are working on will be there, all updated information is available on articles. If you need to find old information that is also available in old articles. If you use these sites your teacher will be very impressed with you.
Google Scholar:
This one is used by many teachers and students on daily basis. All kind of articles are available on this. Some college library have a link into Google Scholar in its list of library databases, in which case the full text of the article can be read for free.
Use online research guides.
Majority of colleges and universities, librarians create online library research guides for use by students and others. So that students can easily know how to search for their work and where they can find the material for their research topic or assignment.
Use real, print books:
You may find many research materials online, as new books and journals are increasingly available on internet. But there are is so many research material in books which is not published on internet, the plus point of this is that majority of your classmates will not go after that material, so you can follow that material, which is very useful and authentic and will give you extra marks in your assignment.
Use ILL:
One of the resources is interlibrary loan department. Here students can borrow books from different universities, normally this is free and quite fast as well. To see what kind of books is available on library, check out WorldCat (it is used to be called as FirstSearch) in its public version.
Use citation tools.
It's really important to create footnotes or write down the citation of the paper because it gives your idea that how much old the research is or on which country the researcher belongs to. Actually, if you find any research article try to search all the references which they have given in the paper. In this way, you can get ten to fifteen more articles related to that topic. This way you have idea about the past researchers and present one as well. There are so many different software's for preparing references in a paper, normally colleges give you access to those software's for your own good. A good research paper normally has ten to twenty references. References tell other reader about your research skill and about your work skills as well.
University Of Management And Technology Umt Lahore
249 Articles
171 Articles
79 Articles
Punjab University PU Lahore
57 Articles
Punjab University College Of Information Technology Lahore
56 Articles
Allama Iqbal Open University Aiou Islamabad
55 Articles