In the era of modern technology, different learning methods have been introduced throughout the world. If we look at a decade before, there was no such concept of different types of learning methods other than the physical model. The online study method is another mode of learning that has reached new heights. It wouldn't be wrong to say that the pandemic has played a huge role in giving rise to online education. When the whole world went down, the only way to continue education was through online means. That's when the world took education to a more advanced level. In the current circumstances, online education is now an option provided at almost every university abroad.
Online Education is the education you gain through online means instead of physical appearance at the campus. It has made education approachable from anywhere in the country. Students who do not have access to academies for the preparation for exams can now learn through online sources including study apps and websites. You can look up courses online, or even take some skill-based courses to enhance your abilities through online means.
There is a wide range of skilled courses available through online study that provide you with certification on completion. The online skilled courses include freelancing, content writing, digital marketing, and several more. As far as online education has provided immense convenience and accessibility, it has major cons as well, which include a lack of social interaction, less effective assessments, and a lack of routine.
Online Study was never the norm in Pakistan as it is now. Edtech startups have made it more accessible, especially in the rural areas of Pakistan. There are now several platforms of study and websites that provide online education. The following are some edtech startups currently providing online studies in Pakistan.
| Platform | Study Apps/ Websites | Paid | Website Rank | App Downloads | Coverage | Launched |
| --- | --- | --- | --- | --- | --- | --- |
| Digiskills | Website/ App | Free | 16 | 500,000+ | Skilled base | 2018 |
| Ilm Ki Dunya | Website | Free | 1 | - | Course work | 2004 |
| Maqsad | App | Free | - | 100,000+ | Course work | 2021 |
| Sabaq | App | Free | | 10,000+ | Course work | 2012 |
| Campus.pk | Website/ App | Free | 55 | 10,000+ | Skill/ Course work | 2019 |
| Edkasa | App | Paid | - | 100,000+ | Course work | 2017 |
| Tutoria | App | Paid | 692 | 100,000+ | Course work | 2021 |
| Noon | App | Free | - | 10,000,000+ | Course work | 2013 |
DigiSkills:
Digiskills is one of the well-known study apps in Pakistan. It is a project initiated by the Government of Punjab in 2018. The main purpose of this edtech startup was to provide digital education to the population of Pakistan. The app has various online skill-based courses providing an opportunity to gain free education throughout the country. The app is playing an essential role in the establishment of various freelancers, digital workers, and much more. There is a large number population who has earned jobs at platforms like Fiverr and Upwork through the skills they learned at DigiSkills. The app is free of cost and is accessible throughout Pakistan. All you need is a mobile phone with an internet connection to gain knowledge from the app. The app is not directed at any specific type of age group but anyone can gain this opportunity from home.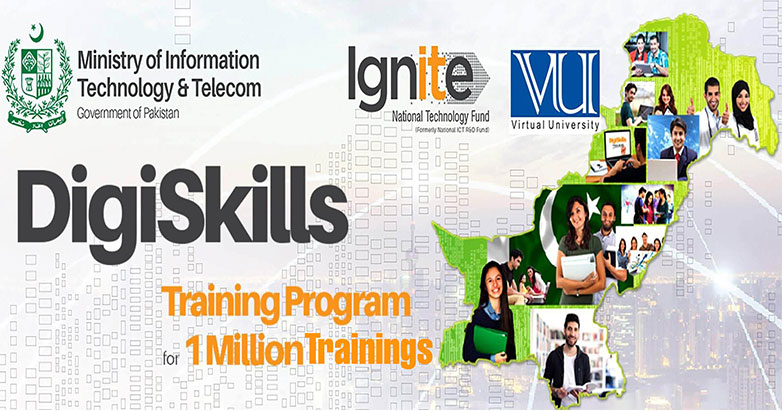 Ilm ki Dunya:
Ilm ki Dunya is one of the biggest educational websites in Pakistan. Apart from all the educational information the website also provides free online study. The content is based on coursework for different classes. They provide lecture and online tests, which helps in the preparation for exams. Not every student in Pakistan has an access to a good academy for the preparation, especially for the board exams. Keeping that in mind, Ilm Ki Dunya is playing an integral role in providing education through online means which is accessible to every student throughout Pakistan.
Campus.pk:
Campus.pk is a study app, a project launched to assist every student in achieving academic success. It is feasible learning and preparation option for students providing education free for all students. To help students prepare especially for their exams lectures, quizzes, study notes, and other learning material is available on the website. It helps to keep track of education through online modes from anywhere in the country.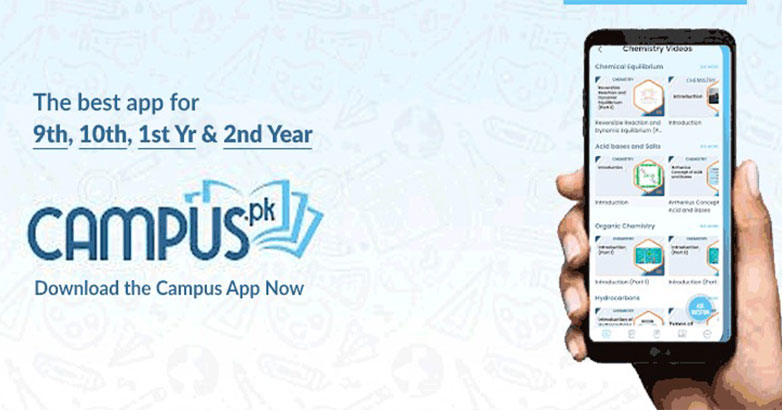 Maqsad:
To make education accessible to the population, two young Pakistani men took an initiative of an Edtech startup. The aim of the app is to provide online study to more than 100 million Pakistani students. The purpose of Maqsad is to grant an opportunity to students of Pakistan in rural and urban areas. That they can access education with just a click. It is a mobile app designed for students to prepare for exams and other information. The founders have highlighted that the rural areas of Pakistan, especially girls, face a lot of hurdles to gain an education. This app will help them get the required knowledge from their homes. The app has seen a boost during the pandemic when online study platforms were the only source of education.
Edkasa:
Edkasa is an online study mobile app that provides an opportunity for students to prepare for their exams. The app is specially designed for online study and board exam preparations. The platform has a wide range of practice test questions, online courses, and video lectures provided by the most capable tutors.
Noon:
Noon App is providing a facility for online education from grade 1 to grade 12. The students of the board of intermediate and secondary education can avail this opportunity. They can prepare for their exams just through the app. The noon app also provides assistance who are looking forward to university and need to prepare for the entry test exams. The students can download this app on their mobile phones easily. All students can avail this opportunity of free online education. All the coursework subjects are included in the app.
Education has been made accessible to all the students in every part of Pakistan through online study. Various edtech startups have made it easier for students to gain an online education either for coursework or to gain any skill.
University Of Management And Technology Umt Lahore
249 Articles
171 Articles
79 Articles
Punjab University PU Lahore
57 Articles
Punjab University College Of Information Technology Lahore
56 Articles
Allama Iqbal Open University Aiou Islamabad
55 Articles