All set for revision? winter is over and finals are approaching .You might have completed your curriculum for this year and your teacher are conducting revision classes in the institution .What about your personal revision plans ?If you have drawn a time table for the exam's revision it's good; get stick to it but be sure to make your revision really workable.
It's the time of year where students are hidden in their books, making sure that they are prepared for their exams. Many students overburden themselves for the sake of revising the whole curriculum in one time .This will ruin all your efforts. Therefore be strategic and avoid these drastic mistakes while revising your lesson.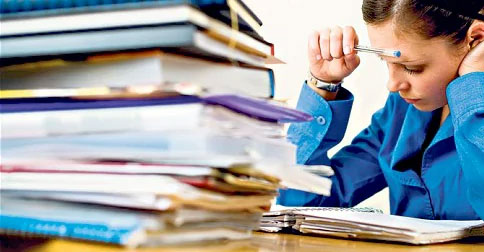 US psychologists found that many preferred revision techniques are quite ineffective .Institutions, teachers and even parents offer students miscellaneous guidelines to help them remember their lessons but they do not know about how memory absorbs the content and which techniques are the most effective. Therefore Prof John Dunlovsky, of Kent State University has proposed some tips to avoid futile revision techniques while preparing for your exams.
Mistake1
Making revision the last priority:
Most students are so confident that they can revise the lessons a month before the exam .This is a wrong idea .You have to revise the concept periodically, especially when the topic has ended in your class. This will help you to retain the lesson in your mind and if for some reason you don't get the time of revision, you can write the basics about the relevant topic. For some subjects like maths and physics, practice is mandatory so set a short time for daily revision practice.
Mistake 2:
Cramming:
Cramming is the practice of learning intensively to absorb bulk of information in little time. An educational expert Prof John Dunlovsky, from Kent State University stated that 'Students who cram may pass the exam but they don't retain the material'. Instead a distributed practice approach will be more effective for revising your lesson. Distributed practice is a technique of learning in which student distributes his/her study plan in a given course over many learning sessions that are short in duration.
Prof John Dunlovsky is highly in favor of distributed practice .According to him when students will take their advanced classes in the subject, they develop their knowledge through the lessons they memorize through distributed practice. He further suggested that: "A good dose of cramming that follows up on lots of distributive practice is the best way to go."
Mistake 3:
Writing Summaries:
This might sounds weird to some students as writing summaries seem to be an effective tool for revising your lesson in minimum time but some studies has reported that, writing summaries doesn't help at all. In contrast, students who re-read their lessons learn as much as students who write a summary when they are reading. Lea Corinth, who is studying international business and Spanish at the University of Westminster believes in re-reading technique and has commented in this regard 'I make summary notes of everything important, put it in a folder and memorize everything'.
Mistake 4:
Applying Mnemonics in every sort of study pattern:
Revision guides and teachers usually advise you to use effective memory aids, or mnemonics. Undoubtedly, this is an effective technique to memorize many things but they can be helpful to remember some specific materials but, practically these techniques are not applicable for every sort of learning material like mnemonics become ineffective in learning long passages or solving mathematics or physics derivations.
Mistake 5:
Using too much Highlighter:
A valid research - published in Psychological Science, a journal of the Association for Psychological Science narrates that to color specific pieces of writing in florescent shades can deter your concentration. The study further suggested that when students are using a highlighter they are generally focusing on a single concept at a time and are not quick to integrate the wide-ranging information they have collected. That could destabilize their comprehension of the whole material. This doesn't mean to ban the highlighters forever .The study advised to limit the use of highlighters.
USEFUL LINKS:
https://www.oxford-royale.co.uk/articles/revision-study-skills-tips-science-a-level-students.html
University Of Management And Technology Umt Lahore
249 Articles
171 Articles
79 Articles
Punjab University PU Lahore
57 Articles
Punjab University College Of Information Technology Lahore
56 Articles
Allama Iqbal Open University Aiou Islamabad
55 Articles