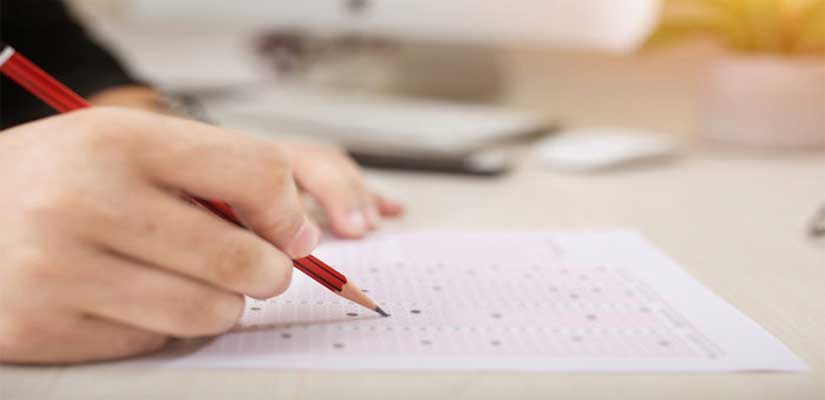 UET combined entry test 2023 registration is open now for BSc Engineering and BSc Engineering Technology programs
News Submitted By: Ilm Ki Dunya

16-Jan-2023

Views: 742
It is to be informed that the University of Engineering and Technology (UET), Lahore is conducting Combined Entry Test 2023 for the admission in engineering institutes of Punjab for BSc Engineering and BSc Engineering Technology programs. It common Engineering colleges admission test that interested candidates have to clear for admission in BSc Engineering and BSc Engineering Technology programs. The University stated that the UET combined entry test will be conducted in the various exam centers across Pakistan during the second week of March 2023.
About UET ECAT:
Per the direction of the Government of Punjab, University of Engineering and Technology (UET) Lahore has been conducting the combined Entrance Test for admission in Public Sector Engineering and Technology institutions of Punjab since 1999. Per Pakistan Engineering Council letters no. PEC/EAD/45-VCC/Edu-Policy/ 2022 dated: 31-08-2022 and No. PEC/EAD/45-VCC/Edu-Policy/2022 dated: 28-09-2022, this Entrance Test is now mandatory for admission in the undergraduate engineering / technology programs of public/private engineering institutions of the Punjab.
Entry Test Orientation Date and Time:
On March 10 and 11, 2023, respectively, a fifteen-minute orientation session will be held to familiarize candidates with the computer-based test. Exam center, date and time for both entry test orientation and entrance exam will be chosen by the candidate and will also be printed on the candidate's admit card. The entrance test will be held from Monday and Friday (13 to 17 March 2023). Candidate can choose both orientation session and entrance test date and time to be held in one of the following exam centers: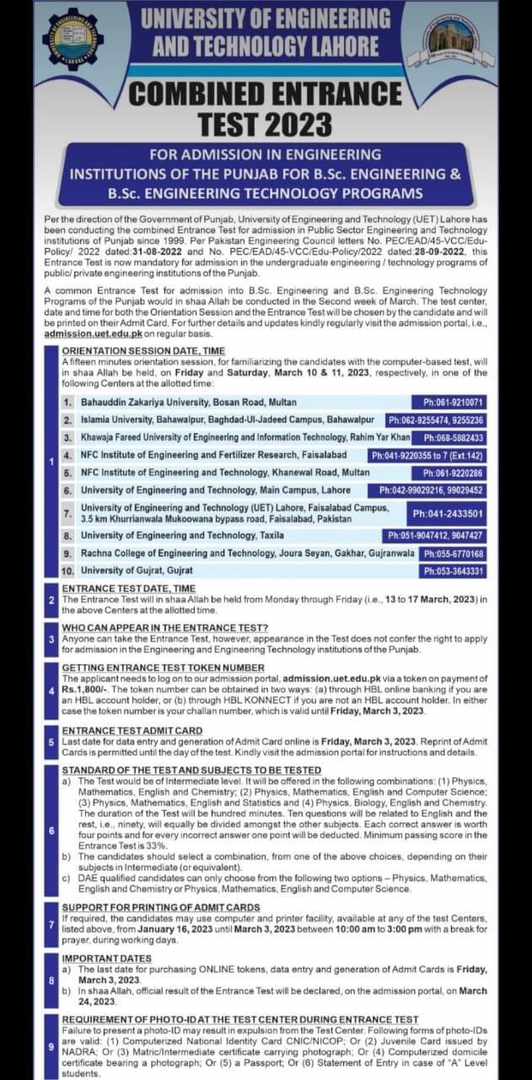 Who Can Appear in the UET Entrance Test?
Anyone with minimum intermediate qualification (science group) can apply for the UET combine entry test 2023.
Overseas Pakistani candidates with the equivalent qualification can also apply.
How to Apply for the UET Combined Entry Test:
Visit the UET entry test admission page by the link: admission.uet.edu.pk
Click on the "Purchase Online Token for Entrance Test" button.
Enter your CNIC Cared number (without dashes), name etc. and generate the challan form.
This will take you to another page, carefully note the serial and challan number.
Pay the Rs. 1800/- (non-refundable) entrance test fee online till Friday, 3rd March 2023.
Candidates can pay the entrance test fee by HBL online banking system or by HBL Konnect app by using your challan number. Further details on how to pay entrance test fee will be given on the challan form.
Come back to admission page now select the "Online Form for Entrance Test" Button.
Enter serial number and your paid challan number as token number.
Now fill out the UET entrance test form and upload the scanned copies of required documents and finally submit your application.
Candidates will receive their entry test admit card in their UET admission portal before the last date for applying.
UET Entrance Test Pattern:
1. The Test would be of Intermediate level and will be offered in the following subject combinations:
Physics, Mathematics, English and Chemistry
Physics, Mathematics, English and Computer Science
Physics, Mathematics, English and Statistics
Physics, Biology, English and Chemistry.
2. The duration of the Test will be hundred minutes (1 hour and 40 minutes).
3. 10 questions will be related to English and the rest, ninety, will equally be divided amongst the other subjects.
4. Each correct answer is of 4 points and for every wrong or incorrect answer 1 point will be deducted.
5. Minimum passing score in the UET Entrance Test is 33%.
6. The candidates should select a combination, from one of the above choices, depending on their subjects in Intermediate (or equivalent).
7. DAE qualified candidates can only choose from the following two options:
Physics, Mathematics, English and Chemistry
Physics, Mathematics, English and Computer Science
UET Entrance Test Important Instructions:
Candidates are required to bring UET admit card along with their Photo-ID at exam center.
Following form of Photo-ID is are valid to bring to the entrance center:
Computerized national identity card CNIC or NICOP
Juvenile Card issued by the NDRA.
Matric or inter certificate bearing photograph.
Computerized domicile carrying photograph.
Passport.
Statement of entry in case of A-level students.
A candidate who fails to appear in the UET entrance test in allotted center on allotted time, will be permitted to retake the entry test.
The entry test will be conducted on computer so it is advised to conduct one of the orientation session before the test.
Since the entry test is fully automated, no rechecking facility will be provided to any candidate.
Students can use the computer and printer facility of the above mentioned exam centers from 16th January 2023 to 3rd March 2023.
Reprint of admit card is permitted until the day of entry test.
UET Entrance Test Admission Schedule:
| | |
| --- | --- |
| Last Date to apply for the Entry Test | 3rd March 2023 |
| Orientation session | 10th March 2023 – 11th March 2023 |
| Date of Entry Test | 13th March 2023 – 17th March 2023 |
| Date of Entry Test Result | 24th March 2023 |