Are you looking for the latest news concerning CSS Examination Schedule 2023? Then you have arrived at your destination. CSS applicants will find all information concerning their Upcoming CSS Schedule 2023 on this page. The FPSE had announced the CSS (combined competitive examinations) 2023 schedule, according to which it provided an official advertisement on October, 2022
FPSC CSS Examination Schedule 2023
Are you worried about to find the latest announcement regarding the Combined Competative Exams 2023? No need to worry more, because we are pleased to announced that, Federal public service commission (FPSC) Islamabad has announced the CSS Exam Date 2023. According to the notice, CSS 2023 Exams will start from 1st Feburary 2023 the Graduates of age between 21-30 Years can appear in civil service exams. CSS MPT Test, total marks are 200 and passing marks are 33%. Further details are mentioned in below table.
| Examination Details | Schedule Status | Commencement Dates |
| --- | --- | --- |
| CSS Written Exams 2023 | Announced | From 1st Feburary 2023 |
| CSS MPT Test | Announced | 2nd October 2022 |
| CSS MPT Test Result | Announced | 17 October 2022 |
| Last Date To send documents | Announced | 24 November 2022 |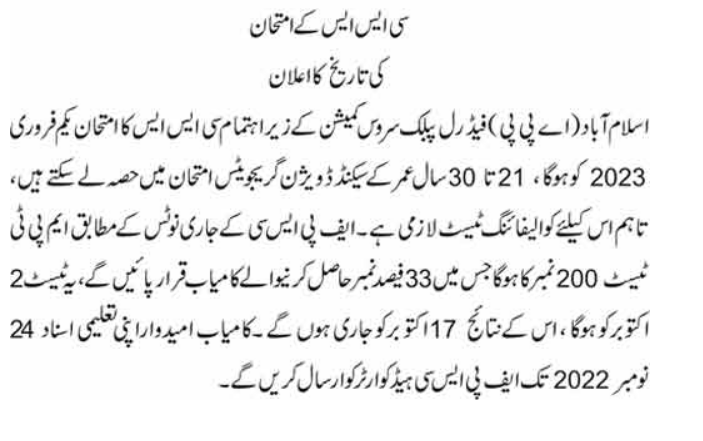 CSS Syllabus 2023
As mentioned above, Federal public service commission Islamabad announced the CSS examination dates. After the issuence of exams dates, the most important part is the collection of syllabus. Ilmkidunya has Syllabus of CSS optional subjects and CSS compulsory subjects in PDF format. To download the FPSC CSS Syllabus 2023, Just click on the given below button and download the all books syllabus in PDF.
CSS 2023 Advertisement
As mentioned above, Federal Public Service Commission (FPSC) Islamabad isssued the CSS 2023 Schedule. To check the complete schedule like, MPT Test registration, MPT test date, CSS written exam dates, CSS written exam registration and announcement of results, download the CSS 2023 Advertisement from the given bolow button.
FPCS CSS Past Papers
The CSS applicants can download the past papers of all compulsory and optional subjects from this platform. Just click on the given below link and download the FPSC CSS past papers.
CSS Past Papers PDF Free Download
CSS Examination MPT Test Schedule 2022
CSS applicants who wished to apply for their MCQ based MPT test were notified through FPSE that the last date would be from 08 To 22 August 2022 so they should apply for the MPT test in the specified time frame. Students and CSS examination applicants must go through their MPT test to be carried out on 02 October, 2022 (Sunday).