To succeed for gaining the desired career path, the student needs basic management and disciplinary skills. Attending your educational institute regularly is one of such disciplinary attributes. Unfortunately, over the last two decades the college attendance in Pakistan has terribly declined. Moreover, the government has also failed to implement the rule of 75 per cent mandatory attendance at the colleges.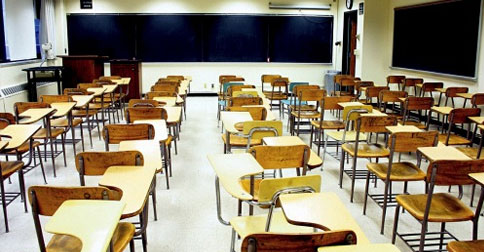 The Magnitudes of college attendance in Pakistan:
According to a recent statistic, just 10 to 15% of the 0.4 million students attend classes in Sindh government colleges. Currently Senior Sindh Minister for Education, ordered to install biometrics system to monitor enrollment and attendance of students in schools and colleges. Similar is the case with Punjab and other provinces where the inspecting team reveals that students remain absent from the colleges after the mid-term or prelim examinations and submission of admission forms to the board and university.
Reasons for poor attendance:
There are many reasons behind such irregularities. Terrorism, safety problems, unskilled teachers, college politics; long distances, lack of transport facilities and the growth of evening tuition centers are some of the causes that make students vanish from their respective colleges. Is this the right trend? Or we need some solution to this problem!
The Solution:
To resolve the issue; higher authorities, teachers and students should collaborate and reframe the problem to bring out some effective solution. General meetings, workshops or written suggestion could be taken to bring improvement in college attendance.
What College Authorities or Government should do to implement punctuality in colleges?
As government has taken the initial steps of Biometric inspection for the student's attendance; the following are some other effective strategies that can draw students towards their own colleges.
Implementing 100 %safety measures within and around the institutions' boundaries.

Conducting classes on a regular schedule.

Connecting with parents via email or messaging.

Appointing real professionals for the relevant subject.

Ensuring the presence of appointed teacher during the college timings.

Upgrading the existing curriculum with effective learning strategies.

Identifying study topics in the curriculum which are out of work.

Providing accessible transport facilities to students.

Conducting extra-curricular activities and inter-college competitions regularly.

Taking regular feedback of the academic sessions and college environment.

Monitoring or otherwise banning political groups in the college.

Maintaining a workable timetable for every study group.

Providing necessary equipment and atmosphere for conducting scientific experiments.

Distributing rewards and incentives among regular and punctual students.
How a Student can aid to improve college attendance and learning possibilities?
As college and/or government authorities are accountable to take the above mentioned steps, similarly the student should realize the value of attendance and take it as the prime responsibility to attend his classes regularly .This attendance will help the student in several manners. A responsible student is expected to:
Attend his college regularly.

Reach and come out of college on assigned timings.

Concentrate on the lecture.

Does not get involved in any type of violation.

Attend the practical classes regularly with concentration.

Take care of the college belongings and assets.

Take regular test and show the result to his parents.

Take active participation in extra- curricular activity.

Co-operate with teachers, college staff and his fellows.
Benefits of Attending College Regularly
It's the student who will benefit from the punctuality as attending college regularly will bring added advantages to your learning experience and progression for the right career.
If you are attending a public or government college it will save you from extra cash that you spend on private institution or tuition centers.

Attending college daily will make you an early riser and keeps you fit .You are now in a good routine and can constructively spend your whole day.

Listening lectures from your teacher will help to absorb the vocal instruction which is stored in your memory and it happens many times that your teacher teaches you some significant points about your lesson which you don't find in books.

It will help you to become socially active s you pass your time with your age group and learn how to cope with them

You can take up the opportunity of enrolling in national and international extra-curricular activities that will help you in future.
Thus attending a college will benefit you in every aspect, it's all upon the student to take this regular attendance as an opportunity or make it destructive with a violent approach.
USEFUL LINKS:
https://tribune.com.pk/story/748398/no-show-only-15-per-cent-of-college-students-attend-classes/
University Of Management And Technology Umt Lahore
249 Articles
171 Articles
79 Articles
Punjab University PU Lahore
57 Articles
Punjab University College Of Information Technology Lahore
56 Articles
Allama Iqbal Open University Aiou Islamabad
55 Articles