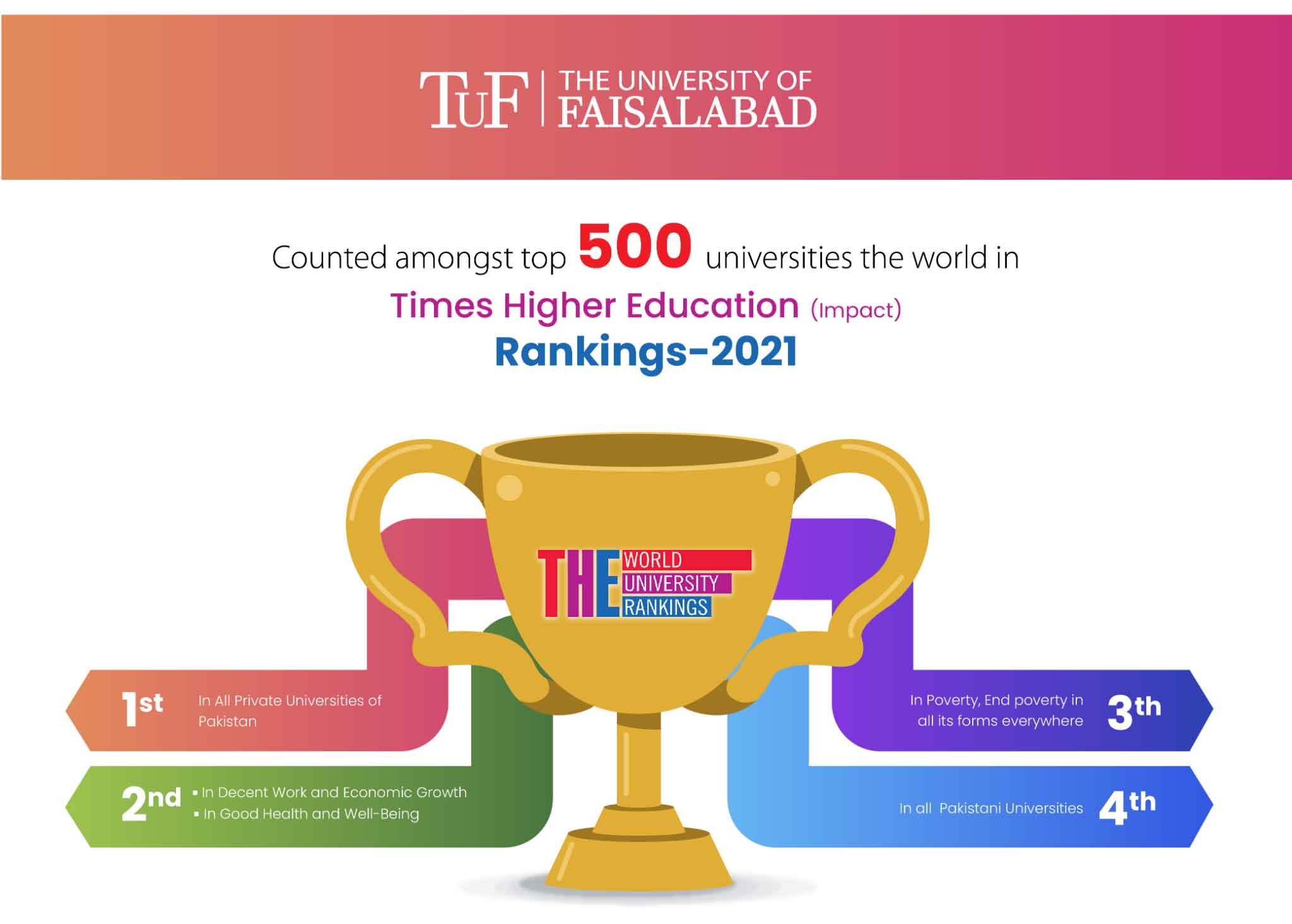 Increasing erosion of nature, rising temperatures and greenhouse gas emissions surrounding us directly threaten humanity and the ecosystem. The Sustainable Development Goals (SDGs) provide a comprehensive platform where organizations, civil society, and government representatives solve the world's biggest challenge of environmental deterioration.
The education sector also plays a significant role in addressing this issue. The University of Faisalabad works as a milestone to promote, support and contribute in this regard. We encourage collaborations with many organizations and communities to achieve this objective.
The University of Faisalabad is growing in the field of leadership and strengthening its sustainability commitments, which means that, since becoming a signatory of the SDGs agenda in 2017, it has been embedding its strategies, processes, policies and practices, including curriculum, research, governance and operations to divert the outcome onto fruitful achievements. That's Why we are proud to secure a ranking among the top 500 universities of the world. The University of Faisalabad got selected by The Times Higher Education, 2021 upon the following endowments:
Good Health And Wellbeing
MTH
In collaboration with TUF, Madinah Teaching Hospital acts as a model institute to alleviate the sufferings of ailing humanity, particularly patients from the underprivileged cross-section of the society, by providing high-quality specialist, preventive, consultancy, diagnostic therapeutic and rehabilitative services, free of cost.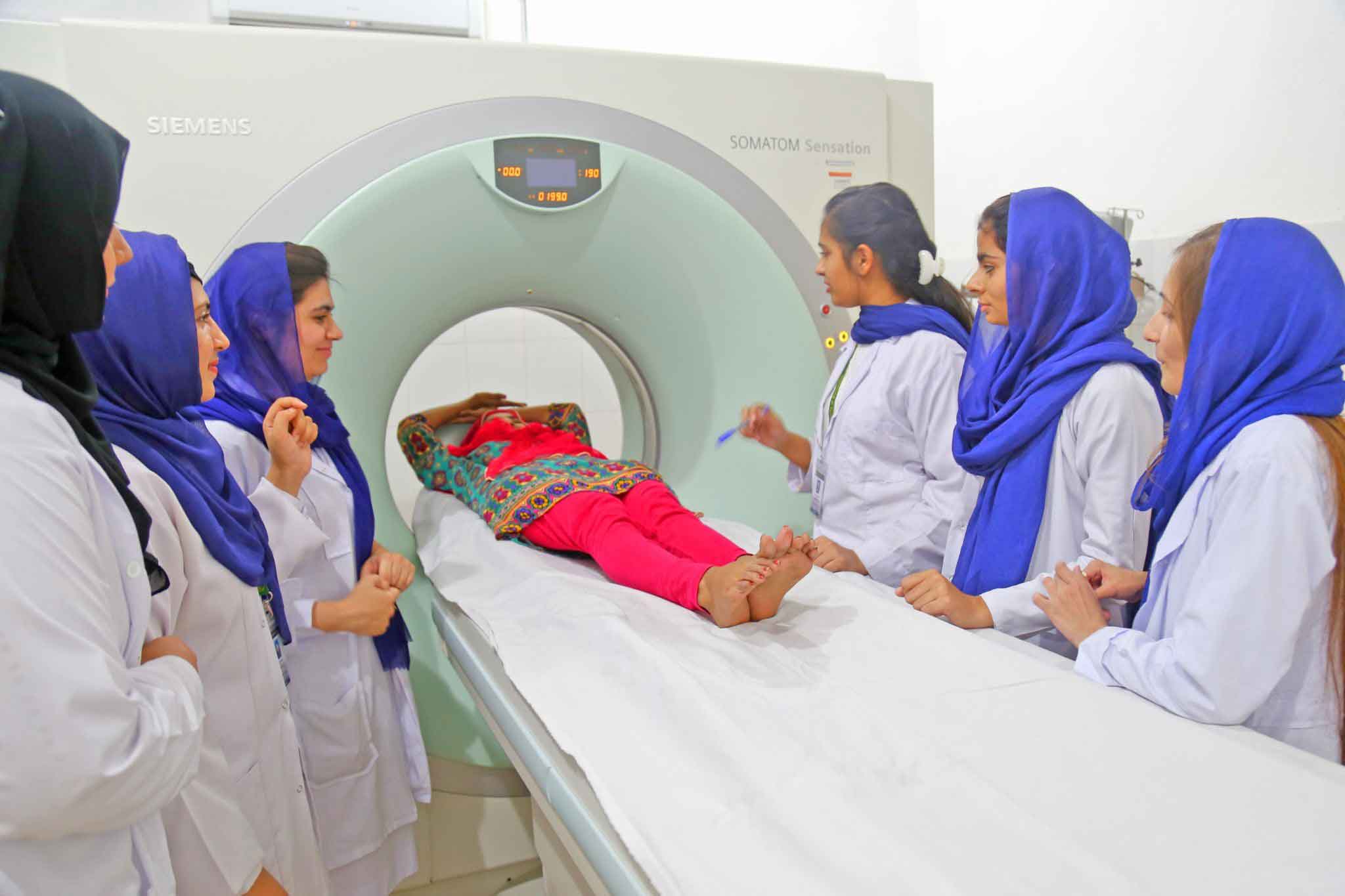 MTH Clinics
Free Camps For Women / Rural Areas
We believe in improving our health care system where costs are skyrocketing. Therefore, TUF sets up free medical camps as a life-saving program with the sacred aim of providing initial care amongst the deprived population ratio having lack of basic healthcare services.
Blood Donation Camps:
To inculcate the sense of social responsibility and to help patients fight fearlessly against serious diseases, TUF arrange blood donation camps] in university and hospital premises to facilitate needy patients with the collected blood.
Free Medical Of Students And Faculty Members:
We are committed to providing free of cost medical and health services to our students and faculty, including consultancy, investigations, diagnoses, treatment, medicines, surgery (major and minor operations) and hospitalization.
UMDC And Medical Graduates :
Mission of the University medical and dental college is to bridge the gap between science and society. We refine medical professionalism to underpin the trust the public has in doctors and health care professionals.
Decent Work and Economic Growth
TUF Works As A Knowledge Provider
We have been successful in our mission to nurture insightful leaders and change makers with a top-notch education. We equip our students with the capabilities to tackle the challenges of society.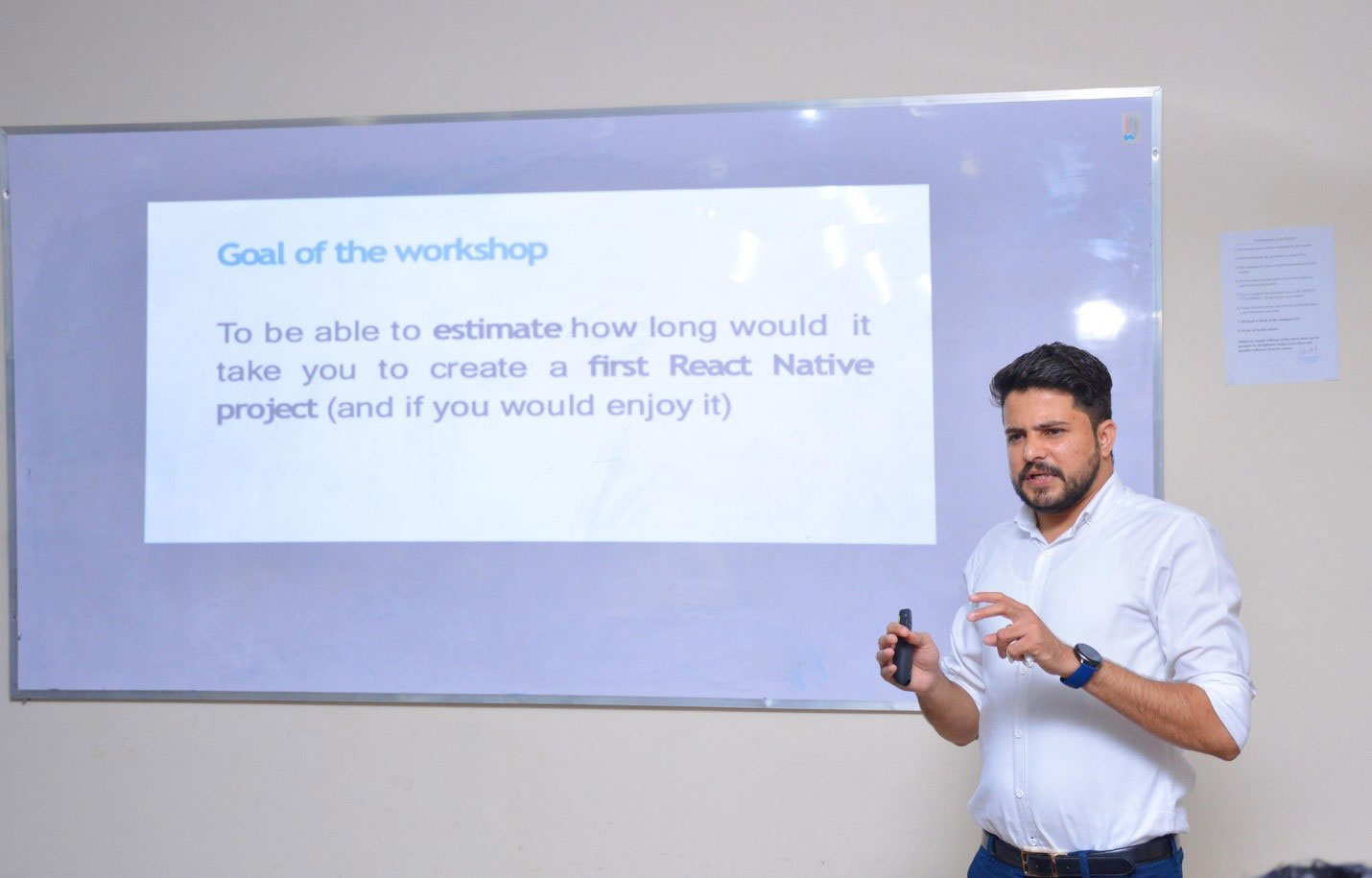 Faculty Member
TUF, with its socially responsible outreach, a rigorous and modern curriculum and cutting edge research, is aspiring to achieve national and international leadership through holistic education to serve the critical needs of society
TUF Work As Facilitator/Broker
We offer a wide range of services to our students in all areas of career planning, including higher education placements and jobs. We work as a facilitator for identifying appropriate candidates, developing their skill set at advanced levels by collaborating with professionally developed organizations, and matching their skill set with the requirements of potential employers, hence aiding stability in society.
TUF As Innovation Investors
Our goal is to facilitate the creation and research of inclusive educational experiences. We collaborate with partners to develop interdisciplinary and engaging content, build new technology, design personalized learning experiences, and host events that bring thought leaders together. We focus on developing projects that foster equity and inclusivity in education.
University Work As Talent Builders And Attractors
We focus on leveraging the potential of our students, which eventually enhance their competitiveness in their career fields. Our focus is targeting and strengthening the broader range of talent that can help meet the goal of a flourishing society.
We reconfigure our students by identifying their hidden talents and preparing them to tackle problems creatively so none of the skills will remain underutilized.
Gender Equality:
The University of Faisalabad is passionately working to establish high-level corporate leadership for gender equality by facilitating quality education, training and professional development. The university always emphasis on supporting human rights and non-discrimination among gender. Every year, The University encourages female students to take admission by allotting equal seats in all fields.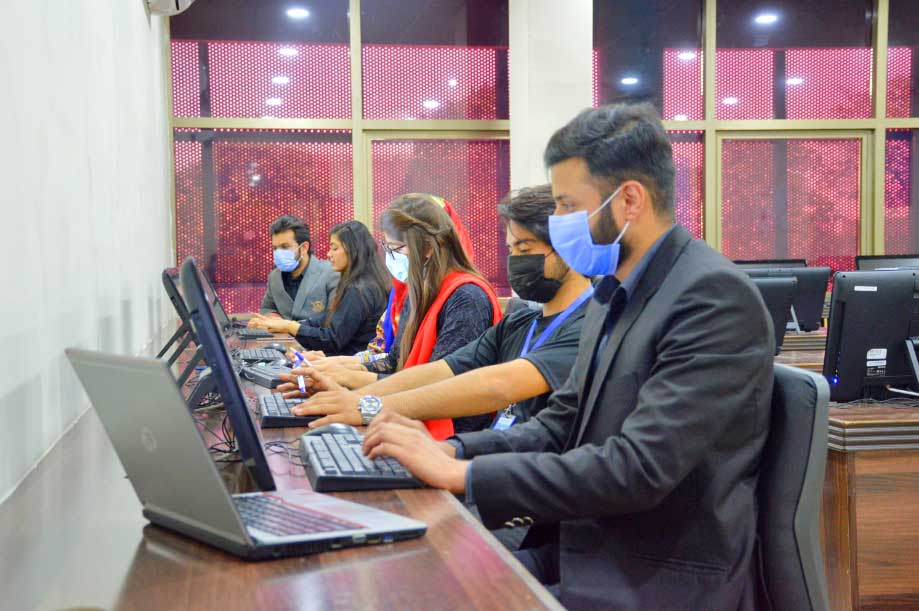 Equal Opportunities
TUF has a separate female wing to give equal options to every family grade to give equal options. We also offer an approved scholarship policy in which female students get up to 100% fee waiver for deserving students with free of cost food, transportation, accommodation and clothing.
We understand the value of education for women, and we emphasize students from underrepresented areas of education who do not have the knowledge and lack counselling. The university also offers job opportunities from lower to higher grades and pays equal remuneration, including other benefits. They ensure workplace policies and practices that are free from gender-based discrimination. The university implements gender-sensitive recruitment and retention practices and proactively recruit women to be in managerial and executive positions.
Additionally, we support faculty and administrative staff by facilitating them with a quality daycare facility. Even students can also benefit from this facility.
Partnership goals:
The University of Faisalabad gets accreditation from all relevant departments. Each of our program is accredited with its respective accreditation councils such as:
Higher Education Commission

Pharmacy Council of Pakistan

Pakistan Engineering Council

Pakistan Nursing Council

Pakistan Medical Commission

We collaborate with many organizations and universities to fortify our ability to undertake high-quality research and enhance the firms' capability to compete globally. The university maintains its partnership goals for broadening students and faculty experience, improving regional economic development and increasing placement opportunities for students.
Following is the list of universities with which we have collaborated to diversify our student's exposure:
Asian Institute of Technology, Bangkok, Thailand (AIT)

The University of Bradford (UOB), United Kingdom

University of Health Sciences (UHS)

University of Agriculture Faisalabad (UAF)

National Fertilizer Corporation – Institute of Engineering and Fertilizer Research

International Islamic University, Islamabad

The Society of Dyers and Colourists, UK

National Productivity Organization (NPO), Ministry of Industry, Production & Special Initiatives, Government of Pakistan

Small and Medium Entrepreneurs Development Authority (SMEDA)

Faisalabad Chamber of Commerce and Industry (FCCI)

Oiltek Sdn Bhd, Malaysia

University of Cambridge

Nantong University

Victoria University (Melbourne ,Australia)

Guizhou University

Chongqing University of Medical Sciences

Yunnan University

Third Military Medical Sciences

Din College Chiniot, Chiniot

GIFT University(Gujranwala ,Pakistan)
Contribution In Reservation Of Environment:
We have recently signed MOUs with the Go green and forestry department to promote a sustainable environment for resolving critical environmental issues. In that regard, we have contributed by planting to a huge extent and signing contracts for further services.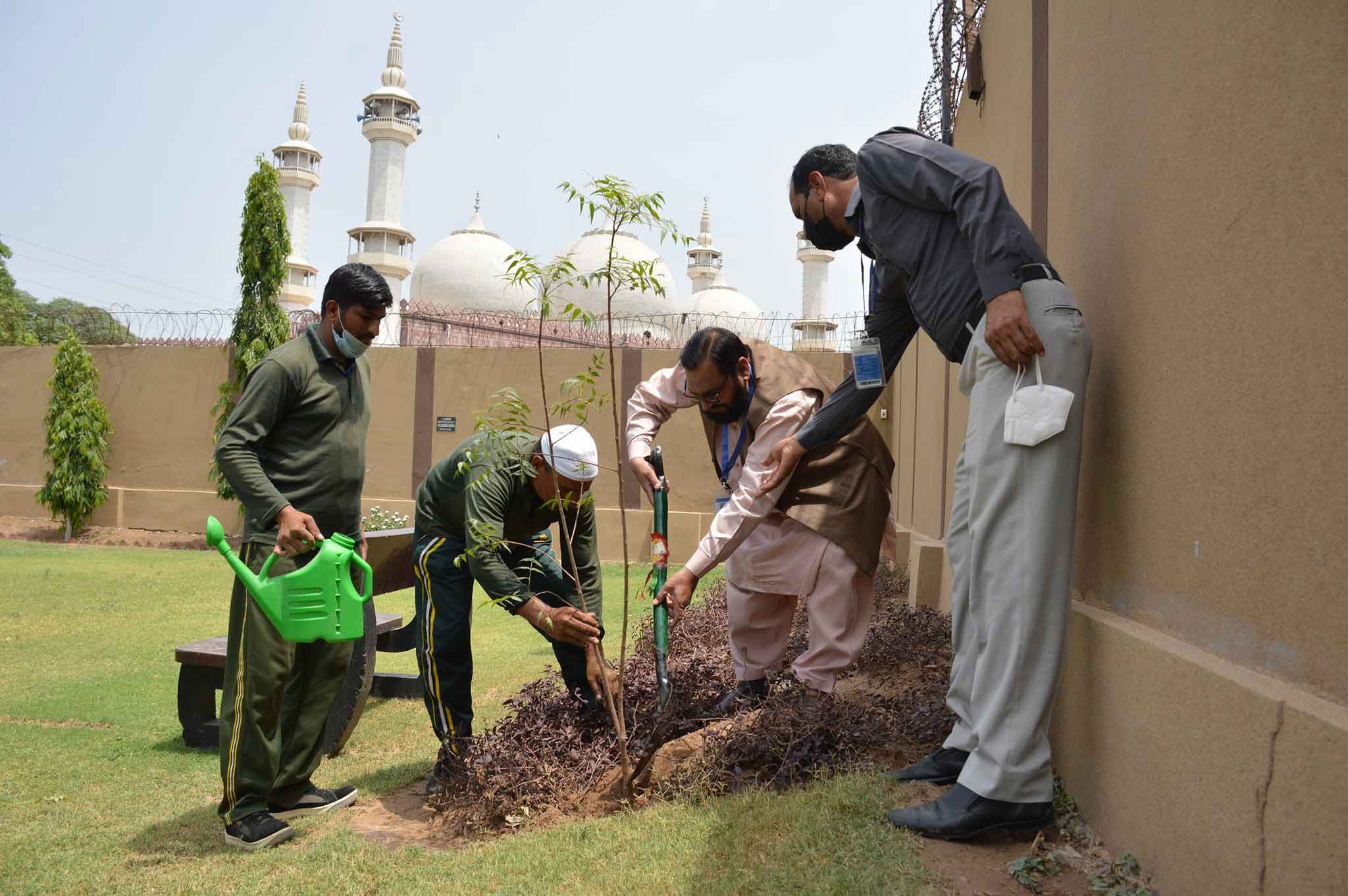 Environment Day
MOU with Organizations
The university has signed MOUs with many corporations to bring placement opportunities for students, following are some of those organizations:
Munawar textile

United textile

5 star textile

National silk mill and rayon textile industries

Faisalabad oil refinery

Madina Sugar Mills (PVT)LTD

Anjum Textile Ltd Faisalabad

Institute of Bankers Pakistan (IBP)

Aziz Fatima Trust Hospital & Ghafoor Bashir Trust Hospital

Pioneer Group of Education

University of Engineering & Technology (UET) Lahore

University of Sargodha

Bonton

Sitara Energy Limited (S.E.L)

Faisalabad Oil Refinery (PVT) Ltd

Chenab Ltd, Faisalabad

Pakistan Institute of Quality Control

National Institute of Biotechnology and Genetic Engineering

Faisalabad Oil Refinery

Government College university ,Faisalabad

COMSATS Institute of Information Technology Islamabad

National Textile University

Nust Trust Fund (NTF)

The Silk Road Cities Alliances etc

Ambassador ,People's Republic of China ,Diplomatic Enclave

Eastern Mediterranean University (Famagusta,North Cyprus)

Technische Universität Bergakademie Feriberg, Germany and World Forum of Universities of Resources on Sustainability

University of IDAHO,MOSCOW USA

NBGE

Wuhan Textile University

INONU University ,Turkey

Kotler Impact

United Lincolnshire Hospital NHS Trust ,England

Drug Advisory Training Hub (DATH)

The Graduate School of Energy Science and Technology (GEST),CNU, Korea

Intellectual Property Association of Pakistan -Punjab Zone
University Of Management And Technology Umt Lahore
249 Articles
171 Articles
79 Articles
Punjab University PU Lahore
57 Articles
Punjab University College Of Information Technology Lahore
56 Articles
Allama Iqbal Open University Aiou Islamabad
55 Articles