Amid the swarms of misguidance, inept coaches, and substandard or confusing books, Miss Syeda Saba Gilani, the best English grammar teacher in Pakistan, has become the hope for millions looking to build their English communication skills to give a boost to their careers.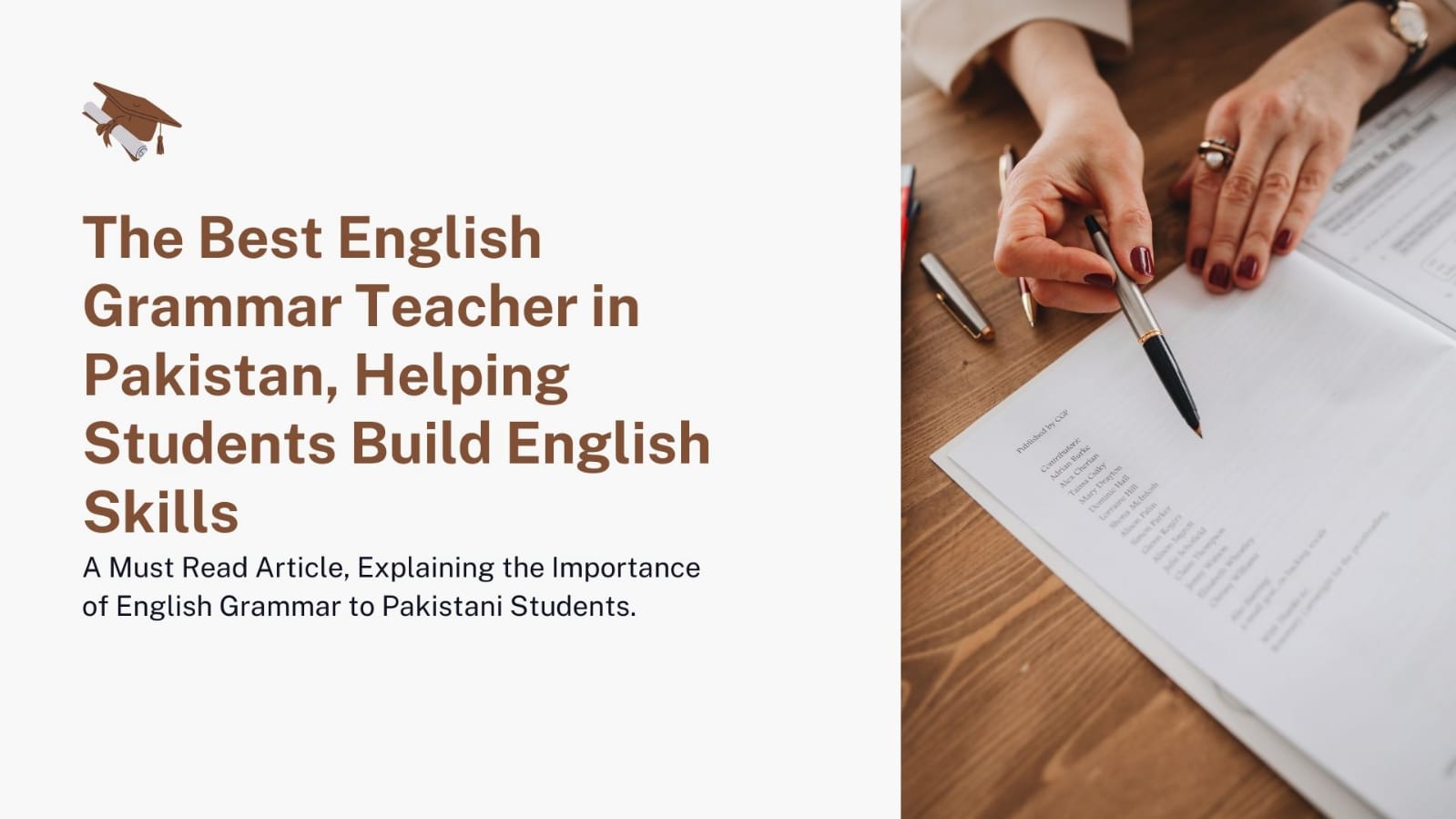 None can deny English communication's importance in the 21st century, whether at home or abroad. It is the most demanded skill today; the fields of MDCAT, ECAT, CSS, PMS, One Paper Exams, locally, and GAT, SAT, GRE, GMAT, IELTS, and TOEFL internationally, demand a firm grip on the verbal and written English communication skills. Moreover, being an internationally spoken and understood language, it is taught in over 118 countries; thousands of homemakers, students, and professionals aspire to speak and write English correctly and fluently. However, aspirants all around the globe, especially in developing countries like Pakistan, struggle to grasp the very fundamental concepts of English grammar and writing, which – in the long run – hinder their learning of advanced and professional concepts as well. Looking towards the solution, we find several books famous as the elixirs of English – like Wren and Martin, Michael Swan, and Raymond Murphy – yet they have failed to fulfil the need of competitive and ambitious learners in the country. Although such books possess detailed grammar rules and countless practice exercises, they remain unable to impart practical knowledge to the readers successfully. The reason is the unavailability of a good study guide and a lack of connection between various topics and chapters. For instance, if a chapter regarding nouns is studied without understanding nouns' interaction with verbs, one would never be able to get his hands on nouns fully. Thus the students look up to their teachers to fulfil the learning gaps. Here too, trouble awaits them; even the teachers and lecturers in colleges and universities do not know how to help their students have a good command of English grammar for similar reasons – a disconnect between grammar ingredients and reliance on mere tips and tricks. As a result, millions of students and professionals remain devoid of the core principles of English writing. Consequently, in the long run, such people are – unfortunately – unable to fulfil their desires in this highly competitive world. You must be familiar with such people yourself. Hence, the question remains unanswered where we might find a solution to learning English Grammar from basic to the advanced levels and get answers to our perplexing queries, especially in Pakistan. This detailed article explains the importance of English grammar in our lives and for competitive students and professionals and also tells you about Miss Syeda Saba Gilani, the best online English grammar teacher in Pakistan and highlights the best online English course in the country.
What is English Grammar, and why is it so important?
The word grammar means different to different people. To the non-natives, it means the correctness or incorrectness of some rules that they speak. To a student, it means a terminological study of sentences. However, it means reading and memorizing rules and their correction for a competitive aspirant. Nonetheless, knowledge of grammar helps students correct their mistakes in speaking and writing. We can't learn a foreign language accurately only through unconscious assimilation of correction rules alone. English Grammar is, for sure, a ground of reference and expertise when linguistic habits: reading, listening, writing, and speaking, fail us. So grammar is indispensable for the students, competitive aspirants, and professionals if they want to give their careers a boost.
English grammar is the study of how words work together in a sentence to help us communicate effectively, either through spoken or written. Sir Syed Kazim Ali, Pakistan's well-known CSS and PMS English writing coach, aptly says, "Without learning grammar, aspiring to learn written communication is futile." It is like a tale of a driver who only knows how to drive but doesn't know how the engine works. So he surely feels helpless when something troubles the engine. Similarly, reading English newspapers, watching movies, speaking to one another, and writing anything on the paper never help a Pakistani student or competitive aspirant get a good command of the English language if they do not learn and practice grammar. However, if you have learnt grammar from an expert teacher, like Miss Syeda Saba Gilani, grammar comes to your rescue when you are stuck while giving your thoughts words.
English Grammar and Pakistani Students
In Pakistan, English grammar is often misunderstood in the teaching field. Whether at the college or university level, our teachers view grammar as a collection of arbitrary rules about sentence structuring. They consciously or unconsciously put their students on cramming correction rules without helping them understand and comprehend these rules' practicability. Further, they think that sentence structuring does not have to be taught; their students will learn them by themselves. As a result, the future of millions of Pakistani students is compromised. According to a rough estimate, 95% of our students fail competitive exams in Pakistan, i.e., CSS and PMS, FIA, ASF, ANF, MOD, IB, Anti-Corruption, etc., because of a lack of English grammar skills. Whether it be a medical or engineering entrance exam: MDCAT, NMDCAT, or ECAT, immigration exam: IELTS or TOEFL, graduation entrance exams: SAT, GAT, GMAT, or GRE, one paper commission exams, or a civil or provincial service exam: CSS or PMS, English grammar undoubtedly has a hidden or an open role in them. Unfortunately, except for a few, a great number of English teachers never even bother to learn and update themselves with grammar; in consequence, our students always neglect grammar, thus, neglecting careers.
Now the question is, who is the best English grammar teacher in Pakistan? Without any doubt, Pakistan is a country that has many best English grammar teachers, including Miss Syeda Saba Gilani. The problem is that these best teachers never advertise themselves the way low-quality teachers and inept mentors do by using social media: Facebook, Instagram, YouTube, etc. The other problem is that these teachers are locality specific, which means they just teach in their respective cities. And to approach them can cost us accommodation and commute cost other than their fees. However, among all the English grammar teachers, Miss Syeda Saba Gilani is the only grammar teacher in Pakistan who teaches online. Therefore, joining her online classes can help us save our commute and accommodation costs. So let's know; who Miss Syeda Saba Gilani is, why she has been a famous English grammar teacher in Pakistan, and why hundreds of graduates, professionals, passionate English learners, and one paper commission student want to join her online courses.
Who is Miss Syeda Saba Gilani?
After much exploration of the world of English and discussing with a number of GAT, SAT, MDCAT, ECAT, FIA, ASF, MOD, ANF, CSS, PMS and other competitive exams successful candidates, I found Miss Syeda Saba Gilani the best English grammar teacher in Pakistan, a blessing for students and learners of basic to advanced English grammar. She is a well-known and dedicated English grammar coach at the top in Pakistan. Knowing her way around grammar rules and the basics of English writing like no one else does, she is the most sought-after teacher in the country's world of elementary English. In addition, she is the most relied on Grammar coach for aspirants of CSS and PMS, MDCAT, ECAT, One Paper Exams, SAT, GAT, TOEFL, etc. She teaches her students the very skills she possesses with great enthusiasm and devotion; her kind, passionate, and soft-spoken personality serves as the cherry on top of her fascinating lectures.
Why is Miss Syeda Saba Gilani the Best English Grammar Teacher in Pakistan?
You might be thinking about what makes Miss Syeda Saba Gilani stand out amongst all the English Grammar teachers in our country and why she is the best choice for students learning English grammar. The answer lies in Miss Saba's unique teaching style. First, she begins her lessons with the very basics of grammar and teaches the elementary rules of the subject matter to her students, and she makes them practice the learned techniques live in the class. Then comes the turn of understanding, detecting, and resolving rational errors relevant to the already taught rules; this builds the students' confidence in their learning. The third step is rigorous practice and evaluations, leaving no stone unturned for the students to get the hang of grammar. Last but not least, she moves to correction exercises on an advanced level – serving as the final garnishing on a well-cooked meal. Hence, she takes her students from the very basics of English writing and builds their fundamental and practical English skills by the end of her session.
Second, her classes are in no way comparable to the conventional 45-minute lectures we all are used to; instead, her lessons can run from anywhere between 2 to 3 hours unless the slowest student has understood the concepts. Thus, within 2.5 to 3 months, whole grammar is at students' fingertips. Not only this, Miss Syeda Saba Gilani is the only English teacher in Pakistan who has published thousands of free grammar MCQ's on the Howfiv and Cssprepforum websites. And the best part about her classes, all you need is a pen, a register, an internet connection, and your handy mobile phone; you can take the classes sitting casually on your bed – what more could a student ask for. Moreover, she counsels her students regarding their future studies and careers, building their confidence and helping them ace every step of life. Hence, her students treasure her and her engaging lectures and know how to play with words skillfully and express their thoughts clearly and coherently with their grammatically correct English, verbally and in ink, on any platform. On top of all, her greatest virtue is her belief in helping students become self-sufficient in writing and climbing their own mountains. All these things make Miss Syeda Saba Gilani Pakistan's top English grammar teacher.
Courses by Miss Syeda Saba Gilani
The following are the most famous online English grammar courses offered by Miss Syeda Saba Gilani.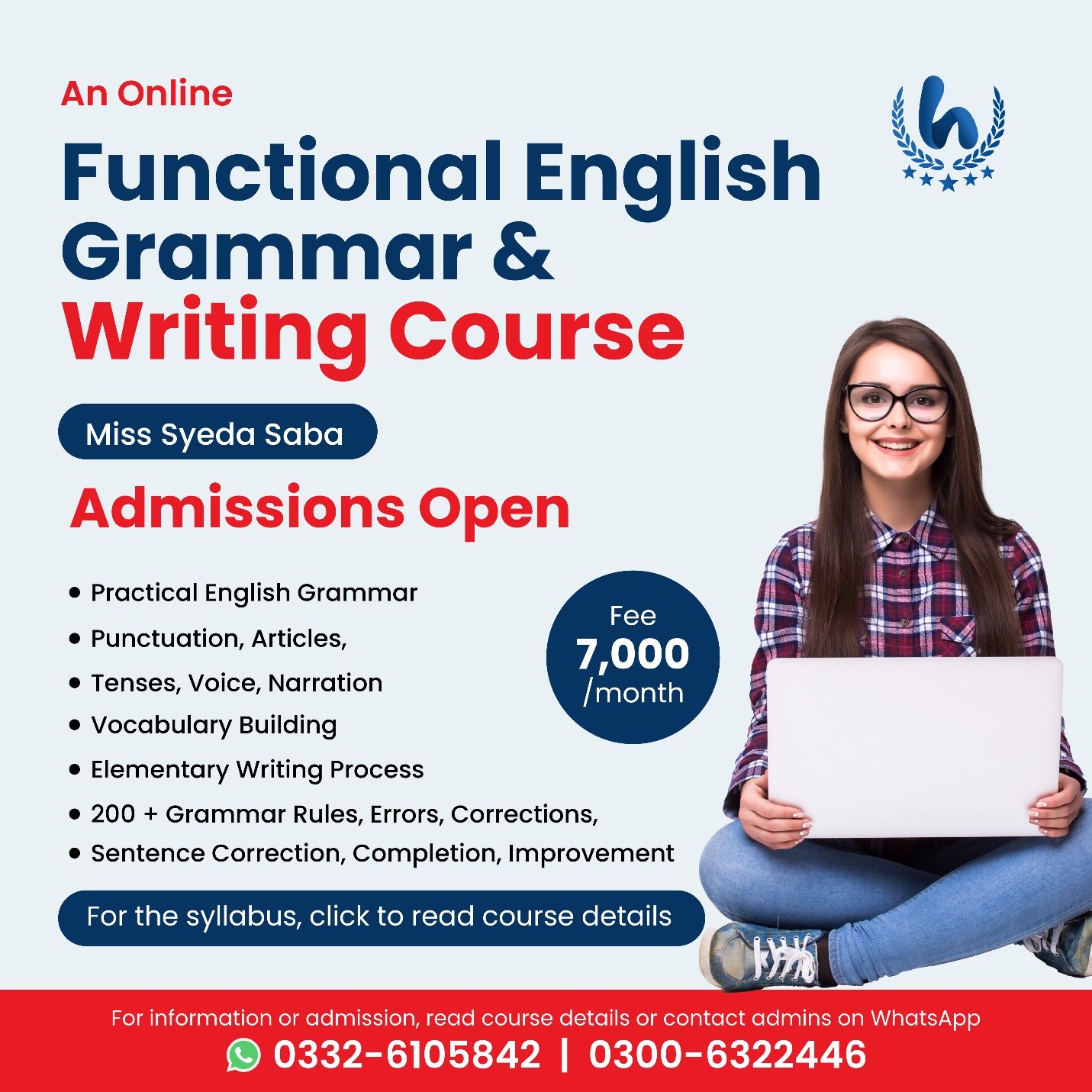 In a nutshell, learning skills requires more than merely a book, i.e. a teacher; likewise, getting one's hands on the nitty-gritty of English asks for an expert of the language. Such an expert in her area is Miss Syeda Saba. Her teaching methodology – along with her services to the Pakistani students' community in good faith – is evidence of her more significant goal of revolutionizing the education sector of Pakistan. Her credibility shines from the thousands of competitive exam qualifiers serving the country in several departments of the public and private sectors – all the students proud to call themselves mentees of Miss Gilani. All in all, analyzing the need of the hour of Pakistani students and the ever-increasing significance of English communication skills – including vocabulary, structuring, grammar, tenses, narrations, etc. – I would strongly recommend joining any of Miss Syeda Saba's English Grammar courses as per your needs. Her individual focus on all her students, interactive lectures, and approachable nature do wonders for her students. Joining her would also answer your grammar-related puzzling queries in the best possible way – and that too affordably for the average Pakistani. Notwithstanding, only a few students are incorporated into each batch to maintain quality. So, if you want to avail this opportunity, get yourself enrolled in the course as soon as possible, for a chance wasted is costlier than failure.
University Of Management And Technology Umt Lahore
249 Articles
171 Articles
79 Articles
Punjab University PU Lahore
57 Articles
Punjab University College Of Information Technology Lahore
56 Articles
Allama Iqbal Open University Aiou Islamabad
55 Articles