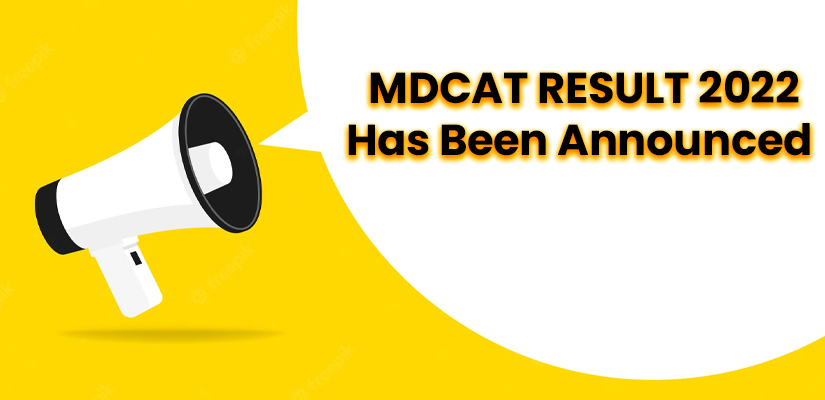 PMC Announced the MDCAT Result 2022 Throughout Pakistan
News Submitted By: Ilm Ki Dunya

23-Nov-2022

Views: 1759
PMC has announced the MDCAT Result 2022 on 23 November 2022 between 12:00 to 1:00 A.M. Students who have been anxiously waiting for their MDCAT 2022 results, now can check their results online through PMC's official website and from our website; Ilmkidunya.com too. Students can check their results by entering their CNIC number in the MDCAT result portal of PMC's Website and printable MDCAT 2022 Certificates will be available on PMC's Website from tomorrow. Merit Lists 2022 will be announced soon. Only one MDCAT 2022 Top Score has been announced so far:
Name: Ghazia Assar
Marks: 198 out of 200.
On Sunday, November 13, 2022, the MDCAT 2022 Exams were held in different provinces of Pakistan and were overseen by their appointed institutions. The MDCAT 2022 was attempted by over 200,000 students from all over Pakistan. On PMC's official website, MDCAT Answer Keys 2022 are already available.
The Medical and Dental Admission Test, or MDCAT, is a requirement for admission to a Pakistani medical or dental college or university. Its purpose is to test a candidate's capacity for critical thinking and problem-solving. Students who have completed an FSC (pre-medical) program or a program that is equivalent can attempt the MDCAT test. For the MBBS admissions, students will need to score 55% marks and for the BDS Admissions, 45%. PMC will organize a prize distribution ceremony for the MDCAT 2022 Toppers, to appreciate their efforts and hard work.
How to Check MDCAT 2022 Result:
Every year, PMC arranges the MDCAT Test in Pakistan and selects the administering institution to conduct the MDCAT in their particular province. The applicants can view their MDCAT results 2022 on the official website of PMC and on our page too. The MDCAT result 2022 has been announced on November 23, 2022 between 12:00 to 1:00 A.M.
Candidates must access their MDCAT Result 2022 by the following steps:
Open The MDCAT Result Portal on the PMC's official website.

A new page will open, go to the result search bar and enter your CNIC Number (without dashes) mentioned on your admitting card.

Then hit the "Search" button to view your MDCAT Result 2022.
PMC MDCAT Aggregate Formula:
Admission to the (MBBS) or (BDS) Universities of Pakistan requires passing MDCAT test. With the aid of the MDCAT aggregate calculator 2022–23, students can now calculate their merit through MDCAT aggregate formula. Using the MBBS aggregate formula for 2022, students can also learn how to calculate aggregate for MBBS 2022. The following is the aggregate formula of MDCAT 2022:
MDCAT 50% Marks

HSSC/Inter 40% Marks

SSC/Matric 10% Marks
How to Calculate MDCAT Merit:
The PMC has released the current year's Merit calculation method, which students can use to better understand their MDCAT Marks and Percentage. Students can calculate their MDCAT Merit 2022 by MDCAT Merit Calculator or by the following steps:
Divide you Obtained MDCAT Marks with 200 and then multiply the answer with 50, to know your MDCAT 50% Marks.

Divide you Obtained HSSC/Inter Marks with the total inter numbers and then multiply the answer with 40, to know your HSSC/Inter 40% Marks.

Divide you Obtained SSC/Matric Marks with the total Matric numbers and then multiply the answer with 10, to know your SSC/Marks 10% Marks.

Now add Your MDCAT, Inter and Matric percentages together know get MDCAT Merit 2022.
The MDCAT merit calculator, which can be found below, makes it simple for students to determine their MDCAT Merit 2022. For more updates related to Results, Exams, Date Sheets stay tuned to our website.