Attention all aspiring students! Admissions are open at Comsats University Islamabad, Sahiwal Campus. Comsats is accepting applications for their fall admissions 2023. These Comsats University Islamabad Sahiwal campus fall admissions 2023 are open for numerous undergraduate and postgraduate programs. Students who are seeking excellent ergraduate and postgraduate programs with innovative teaching style should really avail this chance. As one of the leading educational institutions of Pakistan the number of seats is limited, that's why all students are advised to apply as soon as possible. Students will also be able to sort out any problem they face during the admissions, but it can't be possible in the last days of admission.
Programs at COMSATS Islamabad Sahiwal Campus:
BS Biochemistry
BS Business Administration
MS Biosciences
MS Mathematics
PhD Mathematics
PhD Microbiology and Immunology
PhD Computer Science
PhD Management Sciences
Why Choose COMSATS University
It is one of the most renowned university of Pakistan
According to QS world university rankings Comsats is 2nd in Pakistan by subject ranking 2023.
The Comsats has been ranked 301 - 400 in Times Higher Education world rankings 2023.
Comsats offer scholarship opportunities for deserving candidates.
University has purpose built campus
The university also offers hostel and transportation facilities to students
The university also has digital libraries and Multimedia classrooms.
Quota seats
Admission on sports basis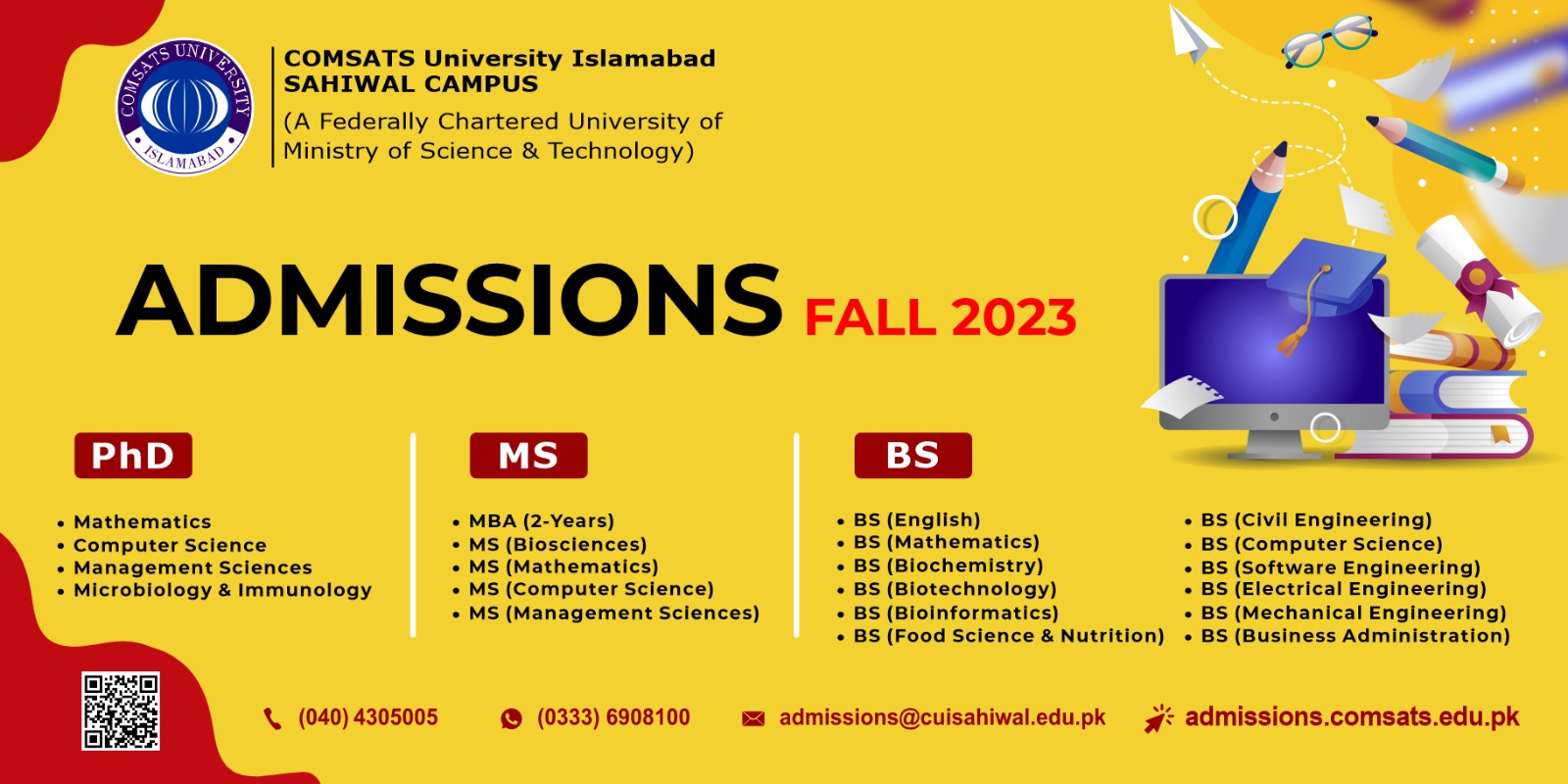 Documents Required for Admission
MATRIC/ O-Level mark sheet certificate or Equivalence
FA/ FSc / A-Level mark sheet certificate or Equivalence
Copy of candidate's CNIC Card or B form
Recent photographs
Photocopy of Valid NTS Result (if test already given)
Photocopy of Paid original NTS Challan Form (if NTS test not given)
Hope Certificate/ Affidavit (To be endorsed on Rs. 20/- Stamp Paper) mandatory for result awaiting applicants only
Undertaking (To be endorsed on Rs. 20/- Stamp Paper) mandatory for all applicants.
COMSATS Bachelor's Program Eligibility Criteria
Candidates must have cleared their HSSC/ inter or equivalent qualification with at least 50% marks from an HEC recognized institute.
O/A level applicants can also apply by providing equivalence certificate.
Valid score of NTS NAT Test is mandatory
COMSATS Master's Program Eligibility Criteria
Candidates must have completed 16 years education/ bachelors or equivalent qualification from university or institute recognized by HEC.
Candidate must have cleared his bachelors or equivalent with minimum CGPA of 2.5 out of 4.0
A minimum score of 50 in NTS GAT General Test is required.
COMSATS PhD Program Eligibility Criteria
MS/ MPhil degree with 6 credit hours of thesis from an HEC recognized institute is required.
Minimum CGPA of 3.0/ 4.0 in the semester system or 70% marks in the annual system is required.
Minimum score of 60 in NTS GAT Subject Test is required.
COMSATS Admission Process
Candidates have sign up for the student portal account of Comsats.
While setting up your account select for which program you are applying for.
Then on next step you can see all the requirements and additional details about your course.
Then you have to provide your personal details like name, CNIC Card number, mobile number and emails etc.
Similarly candidates have fill all other fields by providing all asked information.
Then candidates have to upload their scanned copies of documents.
Then candidates have to submit Rs. 1000/- as processing fee in any branch of Habib Bank limited or through Demand Draft in favor of CUI Islamabad from any bank.
Upload the paid receipt of application processing fee to your form.
If a candidate is applying for the NTS Test through Comsats then he have to provide the NTS payment prove too.
Then press the "Submit" button to send your application to Comsats.
NTS Test for COMSATS Admissions
For admission to the CUI, Sahiwal Campus, the NTS Test is required. The NTS NAT Test is required for entry into undergraduate programs, the NAT GAT (General) Test for entry into master's programs, and the NTS GAT (Subject) Test for entry into doctoral programs. On the NTS website, candidates can directly register for the NTS Test. Different NTS tests have different total scores and subject requirements. Students can view the details regarding the NTS test through this page.
COMSATS Admission Schedule
| Sr. No. | Details | Date |
| --- | --- | --- |
| 1 | Admissions Deadline | 12th July 2023 |
| 2 | Entry Test Dates | 9th, 22nd and 23rd July 2023. |
| 3 | Merit List | Will be notified through student portal |
| 4 | Commencement of classes | 4th September 2023 |