Associate degree programs or ADP is very popular undergraduate program among students of Pakistan. Historically many students opted for admission towards BA degree program which would eventually lead to future M.A or Master of arts. But, Higher education commission has recently stopped recognizing and admissions in the 2 year tenure BA degree program starting from 2022.
Associate Degree Program will considered officially recognized when student will complete associate degree program in Arts, Science, commerce or in any other subject. Admission in ADP are announced annually two times during the year by various universities in the public and private sector.
ADP Admission Requirements
To admission in associate degree program, you must have aIntermediate or 12 Years of education from any recognized board of secondary education. When you have any of one above degree, you can take Admission for ADP program in any College or University of Pakistan. Every institute has its own requirements for admission. Candidate must have english proficiancy to pass the associate degree program, examinations.
BA Admission Private 2022
All students know that, HEC closed the 2 Years BA Admission Private in Pakistan. No college or university is offering BA Admission Private 2022. If any student takes admission in BA, HEC is not responsible to issue the degree. So avoid to take admission in Old BA BSc program, because these program are closed in Pakistan. All students are advised to take admission in Associate Degree Program.
Malakand University BA BSc Admission 2022
University of Malakand (UOM) KPK issued the online application form and process for BA BSc Annual Exams 2022. According to the schedule, applications are invited from private/regular and late colleges candidates for BA BSc Part-I, II annual exams. Examination forms are available on the university website www.uom.edu.pk all branch of HBL, Allied Bank & NBP banks. Applicants are invited to submit the fee for BA BSc Annual Examination 2022 according to the mentioned schedule. Important note: Incomplete forms & received after due date forms shall not be entertained. You can check the fee details and submission of forms and fee schedule in the PDF advertisement that is given below.
BA BSc Admission 2022 Balochistan University
University of Balochistan (UOB) issued the Second Extended notification regarding the B.A B.Sc Annual and supplementary examinations. It is notified for the information of all fresh private candidates who are appearing in the B.A (Annual) Examination session 2019-2021 and failure of B.A/B.Sc (Supplementary) 2020 the dates have been extended for the submission of examination forms and fee. Fill the online examination forms at Online Examination Automation System UOB. Follow the below mentioned dates and submit the forms and fee.
Last date for submission of examination forms and fee without late fee is 25 Feburary 2022
Last date for submission of examination forms and fee with late fee Rs 300 is 04 March 2022
Last date for submission of examination forms and fee with double fee is 11 March 2022
Last date for submission of examination forms and fee with triple fee is 16 March 2022
Last date for submission of examination forms and closing of online portal is 19 March 2022
UOB BA Admission 2022 Fee Structure
Fee for Private (B.A) Fresh / Failure candidates is Rs 6000/-
Fee for Private B.Sc Failure candidates is Rs 4000/-
Bacha Khan University Charsadda BA Admission 2022
Bacha Khan University BA/BSc supplementary examinations are going to start from the last of March 2022, Tentatively. The candidates who appeared in annual exams, but placed in compartment, are informed that to submit their examination submission forms till 07-03-2022 with double Fee and upto 17-03-2022 with triple Fee. Examination forms are available at dealing and information desk, examination desk Bacha Khan University.
Punjab University Associate Degree Program Admission Revised Schedule 2022
University of the Punjab (PU) issued the revised online admissions forms and fee schedule for the Associate degree in arts/sciene Part-I, Part-II and B.A hearing impaired supplementary examination, 2021. According to the schedule, for PU ADA ADS and B.A hearing impaired supplementary exam 2021, online forms can be submitted from 01-02-2022 to 21-02-2022. Prior the last date was 15-02-2022. Single fee for A.D arts is Rs 6,030 and A.D science is Rs 6,940. Check the complete schedule here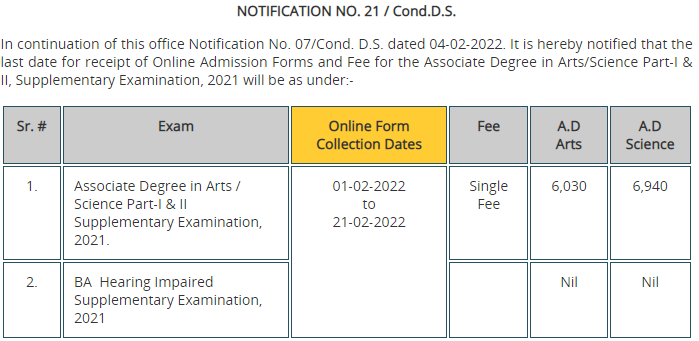 Important Note: Punjab University, Associate degree in Arts/Acience part-I & II and B.A hearing impaired supplementary exams 2021, are going to start from 3rd week of March 2022, But final dates not announced now. When university will issue any update regarding the official date sheet, we will inform here first.
Online ADP Admission Process 2022
There are two ways of ADP admission in public and private universities of pakistan. The traditional method is by hand, while the latest method is through online. Following general steps are required to take admission in adp/ba in any college or university.
Visit the college or university website, in which you want to take admission. For example, if you want to take admission in punjab university then search for www.pu.edu.pk.
Choose admission section of the university website.
Select associate degree program (ADP).
Some universities just ask for any gmail while some universities ask to make email account at their respective website. In order to make account at college or university website then write email and password in the given boxes.
Click on profile and enter the required details such as your latest photograph whose size may vary from 30kb to 50kb.
Submit the form and print admission it.
ADP Admission 2022 Eligibility Criteria
Following are the requirements to get the admission in associate degree program in Pakistan.
The candidates must have Intermediate degree/12 years qualification from the recognized institute while taking admission in the adp program.
A-level degree holders also eligible toa apply.
There is no entry test, required to take admission in ADP program.
ADP Admissions Frequenlty Asked Questions
ADP Admission 2022 in Pakistan
Here, you can check the all latest announced admissions, registration schedule for associate degree program of Pakistan's leading institutes.
Peshawar University B.A B.Sc Examination Admission Notice 2022
University of peshawar (UOP) issued the important announcement regarding BA BSc supplementary examination. According to the schedule, Peshawar University BA BSc supplementary examination 2021 are going to start from March 2022. The candidates who fail in annual examination, can register the failed courses in supplementary exam. All candidates are advised to submit the examination admission forms, complete in all respect. Submit the below mentioned fee for One or Two papers, before the closing dates.
| Examination | Fee Type | Fee Structure | Last Date |
| --- | --- | --- | --- |
| UOP BA BSc Compartment | Normal Fee | Rs 1980/- | 31-01-2022 |
| | Late Fee | Rs 2080/- | 05-02-2022 |
| | Double Fee | Rs 3510/- | 10-02-2022 |
| | Triple Fee | Rs 5040/- | 17-02-2022 |
University of Karachi Associate Degree Program (ADP) Registration 2022
Karachi University has been announced the registration schedule of associate degree programmes. It is inform to all candidates that, the forms for registration of Associate degree in arts , Associate degree in commerce and imporovement of division (B.A/B.Sc/B.Com) will be received from 10 January 2022 To 17 Feburary 2022 . Fee, for Karachi University ADP programs 2022 registration is Rs 5000/-. UOK ADP 2022 registration eligibility criteria: The candidate must have intermediate degree in the year 2020 or earlier. Registration forms will be available at Sindh Bank and Al-Falah Bank branches. Here you can download the Karachi university associate degree program registration schedule:
Punjab University Associate Degree Program Part-I Registration Schedule 2022
The university of the punjab (PU) has extended the dates for Associate Degree Program (ADA ADS) online registration. Now, the candidates can submit their Associate degree program registration 2022 registration forms till 15 January 2022with single fee plus fine. With double fee, last date to submit the PU ADA ADS registration 2022 forms is 31 December For Associate degree program registration Apply online Now. After the last date no registration form will be accepted. Students having F.A/F.Sc or equivalent Intermediate degree can register for PU Associate degree program Annual Examination 2022. Check the PU Associate degree Part-I fee structure.
Gujrat University Associate Degree (B.A B.Sc) Annual Examination 2022 Registration
University of Gujrat who is the famous public Univerity for Associate degree program (B.A B.Sc)in Gujrat, recently announced the registration schedule for adp annual examination 2022. The schedule is only for those who want to appear as a private candidate in annual examination, 2022. Last date to submission the adp program registration 2022 forms with single fee is 30 December. With double fee last date of registration form submission is 17-01-2022. For registration, single fee is Rs 3000/-. With Triple fee last date of registration is 31-01-2022. No registration forms will be accepted after 31-12-2022. Here you can download the UOG Associate degree program (ADA ADS) registration schedule:
Balochistan University BA Registration 2022
University of Balochistan (UOB) Quetta announced the registration schedule for BA Examination 2022. Last date to submission of examination forms is 16-03-2022. Complete advertisement will be available soon.
Allama Iqbal Open University ADP Admission
Allam iqbal open university revised the dates of second phase admission. Prior the date was 15 october, now the dates has been extended to 06 Docember. AIOU BA general / associate degree in Arts and science, admission dates extended without Late Fee. The schedule is also for the students of b.com, bba associate degree (2 years) and for different bachelor's program. Candidates can apply till 06 December. Apply online at www.aiou.edu.pk
University / College
Courses
Post Date
Last Date
Notice

BA Honors in Early Childhood Education

02-Feb-2022

N/A

BA Honors in Early Childhood Education

28-Jan-2022

N/A

BA Honors in Early Childhood Education

25-Jan-2022

N/A

BBA Bachelor of Business Administration
BBA (Hons)

12-Nov-2020

08-Dec-2020

BA
BBA Bachelor of Business Administration

17-Feb-2019

05-Mar-2019

BA
BBA Bachelor of Business Administration

01-Feb-2019

05-Mar-2019

BBA Bachelor of Business Administration

11-Mar-2018

30-Mar-2018

BBA Bachelor of Business Administration
BBA (Hons)

21-Jan-2018

01-Feb-2018

BBA Bachelor of Business Administration

16-Jul-2017

22-Jul-2017

BA Liberal Studies
BBA Bachelor of Business Administration

20-May-2017

N/A