Do you possess any of these seven habits of highly effective teens?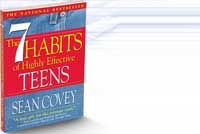 If you ever got a chance to read Sean Covey, you might comprehend his mission. This American author has written motivational books for children and teens. His best-seller, The 7 Habits of Highly Effective Teens is a genuine inspiration for our youth, who really want to succeed in their life and career.
The book entails many stories written by teens to exhibit each of the seven habits influencing the real life. The seven habits help you for your personal growth and career achievements.
According to the author, habits are things we do repeatedly but usually we are not aware of them. Let's read about those 7 effective habits
Habit 1: be proactive:
It simply means you are the real supervisor of yourself. Therefore, think before you act. Proactive teens make choices based on values while reactive people make selections based on impulse. To be proactive you have to stay calm and in control. Proactive attribute pays you positively as:
You are not easily offended.

Proactive teens always find a rational solution of the problem.

With proactivity you can focus on things you could handle leaving behind the stuff that could not be controlled.

They never become victims
Habit2: Begin with the end in mind:
Sean suggested using the gear of imagination prior starting any task. For this first you have to scan yourself and your past .It will give you an idea about your expertise. Without an end in mind we often follow others and usually fail .Therefore it is better to write a mission statement or motto about your life and goals. This habit will help you
To get satisfied with your destiny.

To uncover your hidden talents.

To become your own critic.

To decide your own future.
Habit3: Put first thing first;
This is the most required characteristic for a really successful teenager. Prioritizing things and organization saves you from many losses. This seems to be the toughest habit to adopt therefore start with simple steps:
Use a planner to set your goals in a list.

Identify your time wasters.

Try to say no.

Battle with the fear stopping you to get planned.

Identify the peer pressure.

Habit 4: Think Win- Win:
Sean's in- depth study about teenagers life improvements have bring this idea of win-win under spotlight. It means to have a faith that everyone can win. Don't get desperate by other's success, instead take responsibility of your own life and be happy about yourself. Secondly, don't compare and compete yourself with others .competitions are healthy but when they are used to create a self -image relative to others, competitions become poisonous. This win-win concept will
Don't let you underestimate yourself.

Win-Win style can resolve conflicts.

Set sincere relationships.
Habit 5: Seek first to understand, then to be understood
Logically, you have two ears and one mouth so listen first, talk second .This will help you to see things from others point of view before sharing your own opinion .This attribute helps you to effectively:
Communicate with parents.

Communicate with friends and teachers.

Comprehend logical point of views.
Habit6: Synergize:
Synergy is the ability to cope up with others and perform team work with perfection. This is an ongoing process. It means when different people think differently they can bring more productive ideas. The positive effects of synergy include:
Respecting other's way of thinking.

Open-mindedness.

Finding better ways to retain relationships.

Getting the task accomplished through team work.
Habit7: Sharpen the saw:
Coveys conclude the effective habits by sharpening the saw perspective, i.e. renewing yourself. This feature is a set of healthy habits you need to lead a happy life .Developing such habits will help you:
Consume healthy diet.

Exercise through your favorite activity.

Stay away from addiction.

Acquire habits that can sharpen your mental skills.
Grab a copy of this book and try to develop these habits!
University Of Management And Technology Umt Lahore
249 Articles
171 Articles
79 Articles
Punjab University PU Lahore
57 Articles
Punjab University College Of Information Technology Lahore
56 Articles
Allama Iqbal Open University Aiou Islamabad
55 Articles