Sometimes we think in life that we got success in our professional career/project/job/official work/interview but in reality there are so many failures unseen in it. Likewise, after a failure, one gets distrustful about his skills but in future he realizes that that failure has inculcated new skills in him. Success in my view point is a medicine which can kill your skill if it becomes over doze (sometimes, not always). When one is most of the time successful than he think that he is superior to others.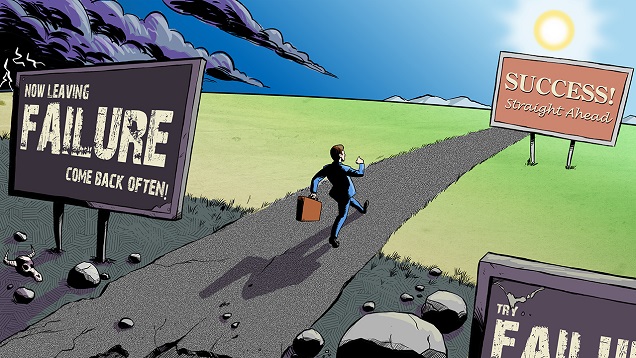 It bring conceit in your attitude and you start thinking that next time you'll also be right, what so ever, which force not be the situation. Success sometimes damage your creativity because one start thinking to be successful always, instead of being original. Failure is important to success, similarly success is also crucial to failure (One should be more careful after achievement about his/her strategies) after success one is not ready to face a failure also.
It seems that failure regularly to be more public than success. Or at least that's what we observe it to be. We fret it, we try to evade it, and we question ourselves every moment we have unusual ideas. But the simple truth is no big success was ever succeeded without failure. Failure is the only key that makes you think on your weaknesses. Failure understands you that it's the time to put some extra effort. Failure realizes you that it's to time to supply with the necessary items for a particular purpose yourself with more skills. After failure we start contrast with other successful aristocracies and naturally, we put ourselves in the competition. Which in turns increase our knowledge. Failure is not the end of life but the starting of a new success.
University Of Management And Technology Umt Lahore
249 Articles
171 Articles
79 Articles
Punjab University PU Lahore
57 Articles
Punjab University College Of Information Technology Lahore
56 Articles
Allama Iqbal Open University Aiou Islamabad
55 Articles