Cyclone denotes to any revolving storm that move in a circle around a low pressure center. The low pressure center is also mentioned to as the 'eye' of the storm, which is well known for being spookily calm differentiate with the areas under the revolving 'arms' of the storm. That the eye is watching what's going on down below, so it needs a clear alleyway, but the arms are where all the act occurs because this is where the storm is flinging out all of its rain and wind.
Tropical cyclones are what most people are acquainted with because these are cyclones that befall over tropical ocean regions.
Polar cyclones are cyclones that happen in Polar Regions like Greenland, Siberia and Antarctica. Dissimilar tropical cyclones, polar cyclones are normally stronger in winter months.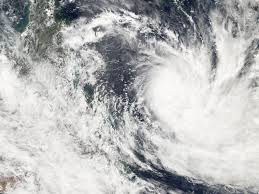 A mesocyclone is when part of a storm cloud starts to spin, which may ultimately lead to a tornado. 'Meso' means 'middle' so you can think of this as the mid-point between one type of thunderstorm and the other. Whirlwinds all come from storm clouds, but not all storm clouds make whirlwinds.
Cyclones generally hit the Sindh coast than the Baluchistan shoreline in Pakistan. During the last 100 years a number of cyclonic storms have struck Pakistan's shoreline areas. The years involved were 1895, 1902, 1907, 1944, 1948, 1964, 1985, 1999, 2007 and 2010 and now this 2014. Other whirlwinds that are listed below caused rains as leftovers.
Cyclones in the Arabian Sea form mostly from May till June and then from September till October, monsoon season plays a vigorous role for the creation of cyclone in this basin. Tropical tempests that hit Pakistan are commonly remnants by the time reach Pakistan or make landfall in south eastern Sindh which is not very much populated they infrequently move towards the Baluchistan seaside.
University Of Management And Technology Umt Lahore
249 Articles
171 Articles
79 Articles
Punjab University PU Lahore
57 Articles
Punjab University College Of Information Technology Lahore
56 Articles
Allama Iqbal Open University Aiou Islamabad
55 Articles