Sadia Bashir is a young video game entrepreneur and a part of a select team from Pakistan for those who are completely self-made. As a child she loved playing games and was keen to develop them and now is a developer and owner of a game development academy. Sadia's journey is exceptional yet no different than to all those who work through their hardships realizing their dreams.
As a child she used to go to arcade to play video games with her brothers. Though the arcades vanished but her love for video games continued. She started off as fun but later developed it as a career. She always dreamt about making video games one day.
Her family wasn't very supportive, they couldn't even pay for her fees but this didn't stopped her, she told that she use to stitch clothes and gave tuition to kids so that she could pay her fees. The Faisalabadi girl who use to live in Islamabad, did her Bachelors and Masters from COMSATS Institute of Information Technology.
The first game which she developed was a first-person shooter, she developed it as her final year project for her bachelors. She developed it using the Unreal Development Kit (UKD). Along with it she used to present her games at several conferences during her time at the university.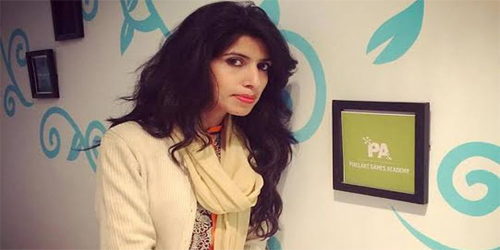 She started as an artist at Keychain Films, which is a production media house. After that, she joined Urchin Games as an artist and worked with them for two years. She did projects with popular publishers like Wild Tangent, Game House, G5 and many more. She has worked with both Pakistani and International studios.
She along with her brother-in-law started to make games after her thesis. She has been working with the startup academy which has relations with international stakeholders they even organize international events like Global Games Jam, Hackathons, etc.
Sadia is currently working for two games. One is PRG and second one is a social game.
She said that time have changed and now women are also contributing in IT. She motivated the girls to be determined about their dreams, and should work hard to achieve them. She hopes to see more women in video game industry and would also give scholarships to those women who wish to study in her academy.
University Of Management And Technology Umt Lahore
249 Articles
171 Articles
79 Articles
Punjab University PU Lahore
57 Articles
Punjab University College Of Information Technology Lahore
56 Articles
Allama Iqbal Open University Aiou Islamabad
55 Articles