Excellent writing skills are an asset at all stages of life. Either at academic level, or to start and continue the professional life; it is always a key to success. If you are weak in writing, it will be difficult to get a job because you will hardly get through the initial test process. For the job, every employer looks for the skilled people, because they don't want to spend much on staff trainings. Being poor in writing can even ruin reputation and record of the person; even if he somehow gets entry to an opportunity, because this weakness will not let him sustain in the job.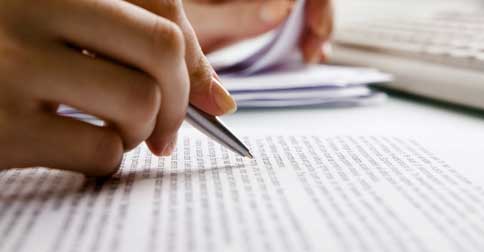 Since English is an international language to communicate on worldwide level, so, it is most important to survive as an employee, or in the business sector. In the current trends, report writing is a must skill that is required for every employee. This is the main reason, why regular enhancement of this skill helps individuals to achieve success in their field.
Following tips can really help you to enhance your writing skills:
The title of the report must be appropriate and self-explanatory, in accordance with the theme of the paper and capable to gain the attention of the right reader group.

The first paragraph is very important; if the first part is not as per required quality, the reader will develop bad image at the beginning and stop reading.

A good report is only that, which can achieve its major objectives; communicating the right message according to the precise audience.
• The best thing to involve the audience and gain their attention throughout the report, is to organize it well.

The entire content must be linked with each other presenting the same idea.

If you are going to write a long document, you must distribute the text into small paragraphs and different sections. This will make it reader friendly and easy to read.

Its length should be according to need of the matter. Too long document may be a headache for the reader and may not be read completely; and at the same a small document may also fail if it could not cover the whole idea and finished in a hurry.

Selection of good headings can be really helpful. These may be successful to grab attention on one side and convey the sense of the message in the paragraph, even when it has not been completed yet.

Proof reading is another important activity to write a good report, don't share any report with the management until you have thoroughly reviewed it.

When you have completed the report, read it aloud, at least for three times. This is a proven method to find even the smallest mistake, because even despite extreme carefulness, there may still be a chance of mistakes.

Don't avoid small errors; sometimes, even a smallest mistake can embarrass you.

If it is possible; get your report reviewed by someone else. It is also proven that sometimes others can quickly find your mistakes, even before you can do it yourself.

Automatic software is not reliable as correction tool. There is a high possibility that the words are replaced with wrong alternates.
• Never mind when someone points out your mistakes; you will only learn if you try to learn from what you did wrong last time.

Always use dictionary and google to learn new words; this you way you will feel that your vocabulary will automatically increase and you will learn several good words.
By using these small tips, you will be able to write good reports; with minimum errors, however maximum practice is required.
University Of Management And Technology Umt Lahore
249 Articles
171 Articles
79 Articles
Punjab University PU Lahore
57 Articles
Punjab University College Of Information Technology Lahore
56 Articles
Allama Iqbal Open University Aiou Islamabad
55 Articles