My curiosity to experience TUF couldn't stop me from visiting, as I always heard about its recognition and value from around. So literally, when I saw it, it wouldn't be wrong to say that it was the most fantastic experience for me. Moreover, as my sister was already studying there, I got a chance to explore the campus when I decided to submit her fee on my own, with the additional intention of experiencing the campus. So, having aspiration in my heart, I reached university when my sister was taking classes there already.
The first thing I found appropriate was the security staff and monitoring system, not just at the campus entrance but also within the campus.It was much of the comfort to have a surface-level car park at the parking lot, having a capacity of 300 vehicles with check-in and check out monitoring and additionally, the security guards were very cooperative.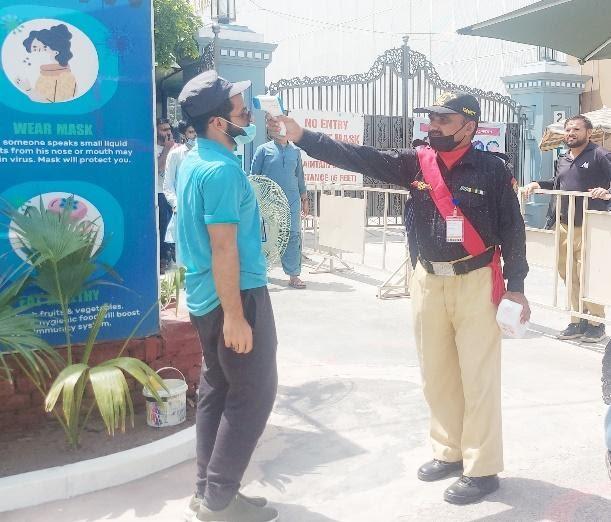 Strict security and proper parking
Well, with the secured feeling, I entered the campus after receiving my visiting card, not knowing about anything initially, after experiencing the ambience of greenery, stepping into the main building, the roofed courtyard, the natural light from glass walls, the vastness itself, the chandelier, the state of the art infrastructure and the architecture overall was outstanding which moved me.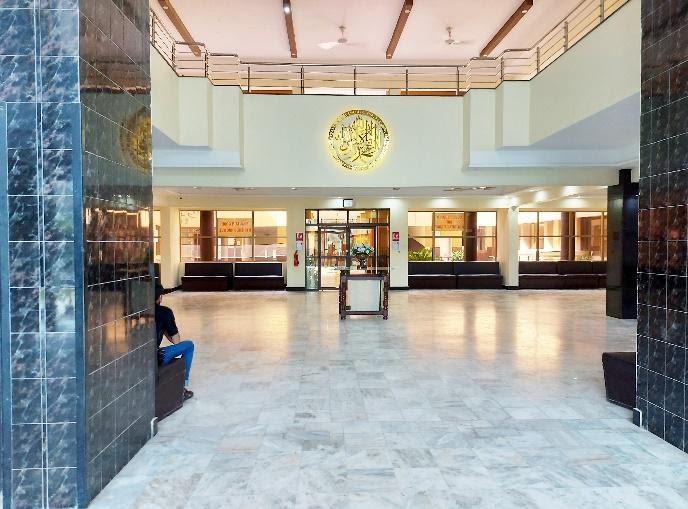 Beautiful entrance
I decided to submit my sister's fee before having a tour around, for that reason though few student's misguided me (as they considered it to be some fun ), but instead of reacting over that, I found 'accounts office", where the staff was highly cooperative and guided me well about the process and procedures regarding fees submission.
After that process, my interest was to get some information about admission criteria (for my youngest sister too, who will finish her intermediate soon this year).It wasn't challenging to find the admission office; it has a welcoming environment with highly professional staff and a serene atmosphere. It was so nice that they provided not just information. Instead, they also cleared first-hand perspectives and concerns about affordability, diversity, student life and more.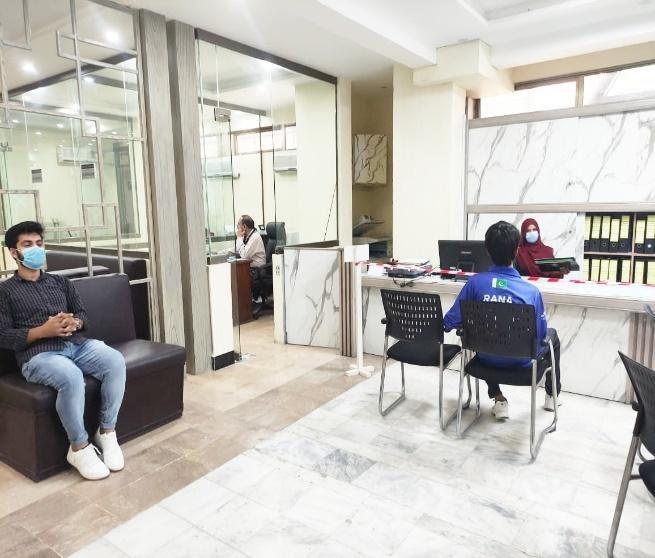 Student affairs and accounts office
A very noble aspect I observed was the idea of a counselling system for students there, as the university is a jumping-off point for freshers who are exposed to responsibilities suddenly, which sometimes panic them. University policy follows through on the systemic remedies for that purpose.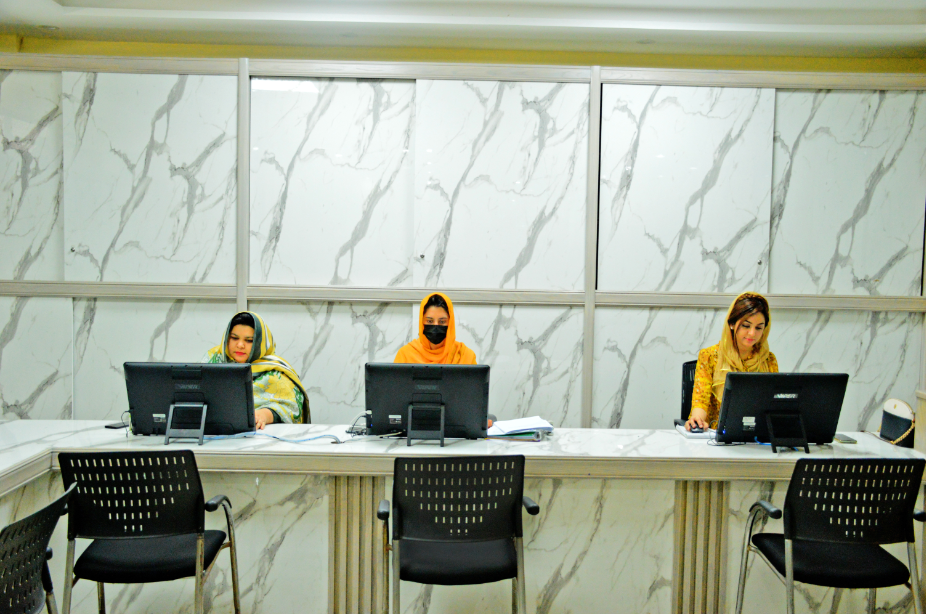 Admission office
Until then, my sister got free from her classes and accompanied me as a guide for the campus tour. While exploring different facilities and amenities, we came across many labs, which I visited and found very up-to-date, having all essential facilities/equipment for learning. For example, electrical, chemical and civil engineering labs were well furnished.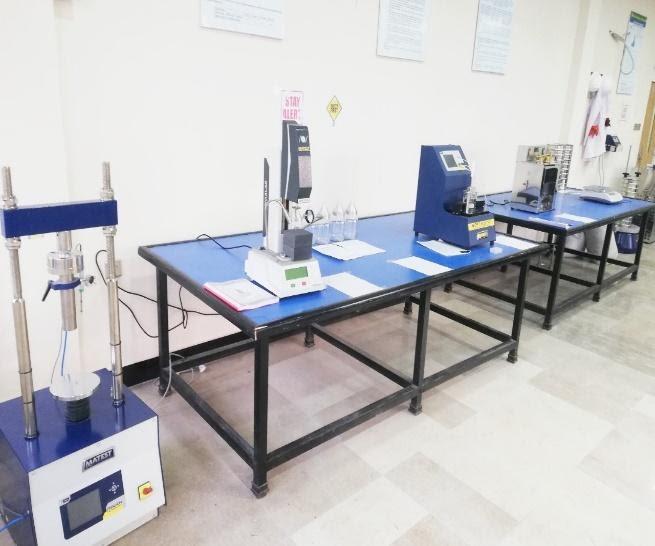 Engineering labs
Then in the medical block, the DPT and nutrition lab had all facilities. I visited OPDs ( separate for males and females), demonstrative room, nutritional office, pediatric /adult gym, occupational and executive rooms, and was finely organized for patients and student learning.
Clinic and OPD
the computer science department had a programming lab, system lab and general lab; Medical labs were well established as well.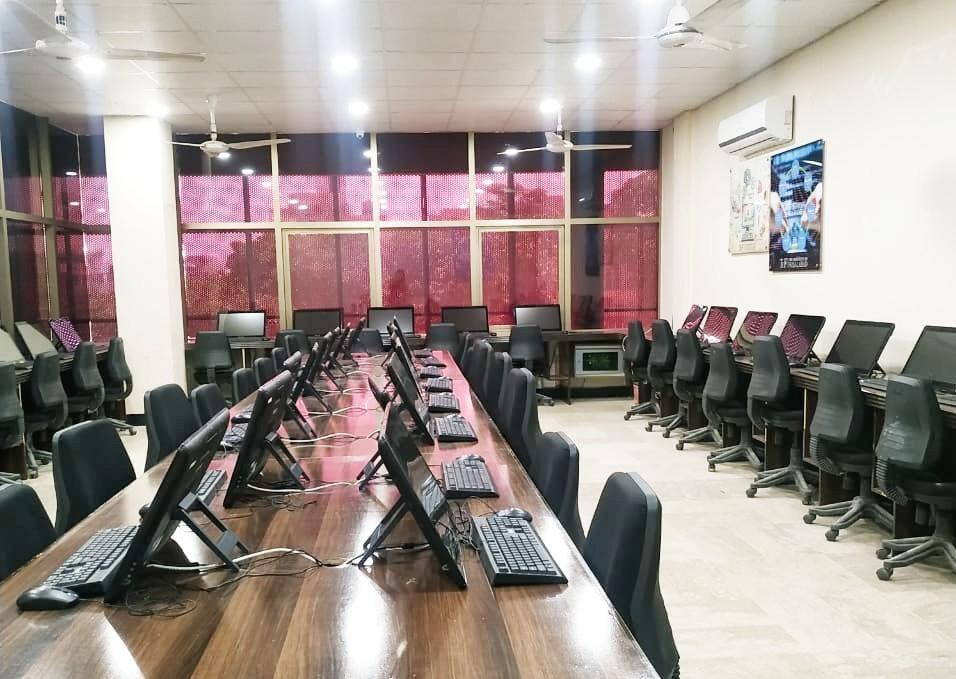 Computer lab and class room
All classes and labs were elegant and clean, along with a 24-hour electricity supply with solar backup, providing the perfect advanced venue to accomplish the mission of research and outreach
I was astonished to find that the gym in the campus has the latest machinery, free Medical Monitoring, free Nutritional Counseling, clean lockers and changing rooms and well-trained trainers.
After visiting the gym, we went to the sports complex of the university, which has a basketball court, cricket ground, indoor badminton courts, table tennis and futsal court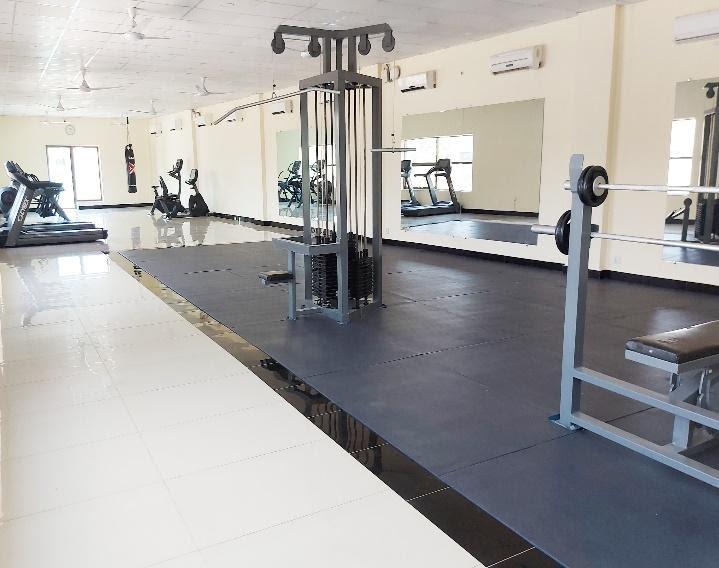 Gymnasium and badminton court
Walking toward the main ground, the transparent door of the library grabbed my attention. It was a very specially designed library with wood surfaces and modern furniture designed by one of the architecture's greats, with more than 12000+ printed up-to-date books and manuscripts, 5000+ unique electronic journals ,8000+ electronic books, and the latest learning technology and computers. The environment was relaxing and reflecting overall.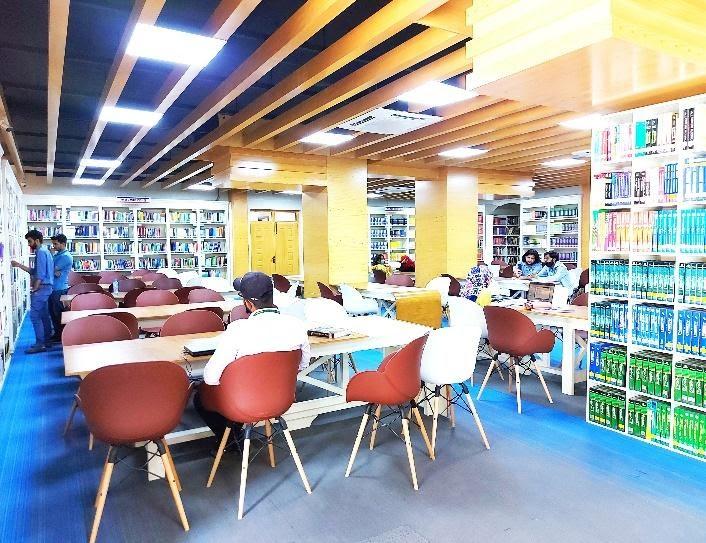 Libraries
After visiting the central learning place, we decided to see the auditorium and seminar halls and conference room. Comfortable sofa sittings, perfect stage in front, projection system, video/audio conferencing facilities, air conditioning, and sound setting were meant to give a proper environment for grasping knowledge from speakers at special commencements, events and inaugurations. These halls bring back so many memories.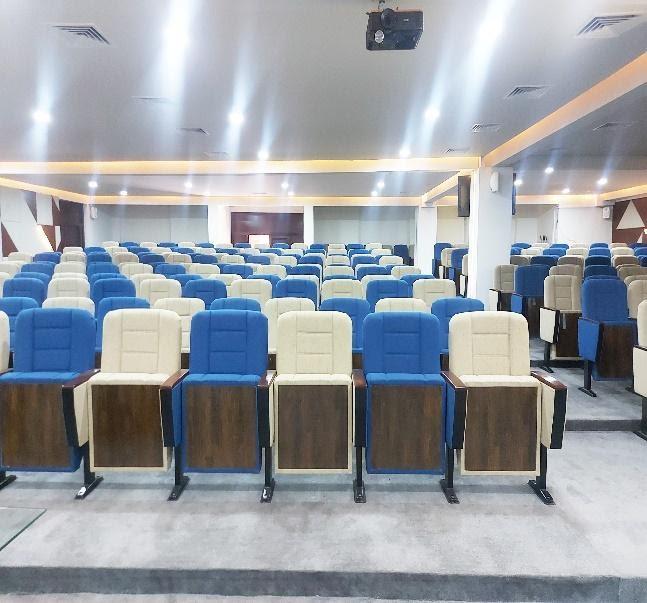 Mukhtar auditorium and seminar hall
In students, I felt the alive spirit and exuberance in every corner of the campus, and it was so refreshing to see the delight on their eager faces; all credit goes to the university's management and setting, which proved itself to be a source of comfort in educating youngsters.
Meanwhile, the question of accommodation for hostelers clicked my mind, upon which the cooperative staff there guided me about separate blocks for girls and boys hostel having a comfortably-furnished interior with 24 hr electricity supply, water plants, TV rooms, 24x7 Wi-Fi connectivity, proper Caretakers and housekeeping services, strict security system with CCTV cameras, and main thing, i.e. high quality & cost-effective mess, amazing to know!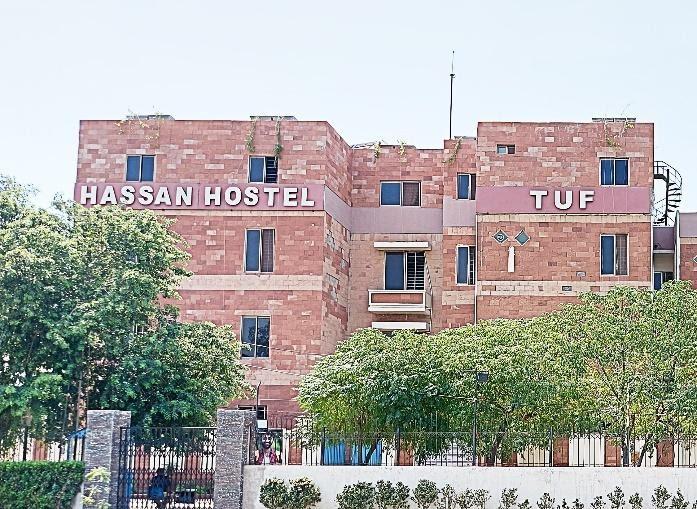 Hostel facilities
Until then, I started feeling very tired, and we decided to refresh ourselves at the cafeteria, so heading toward there, the delight of greenery and flowers around was awe-inspiring. Reaching the café, we ordered a few items from the attractive menu, and my experience was very good with the food there. It was delicious and of high quality.
They did an excellent job of maintaining the café as the environment was very satisfying and, well kept hygienic standards, well-furnished facilities, air conditioning, very comfortable sitting and again, modern infrastructure!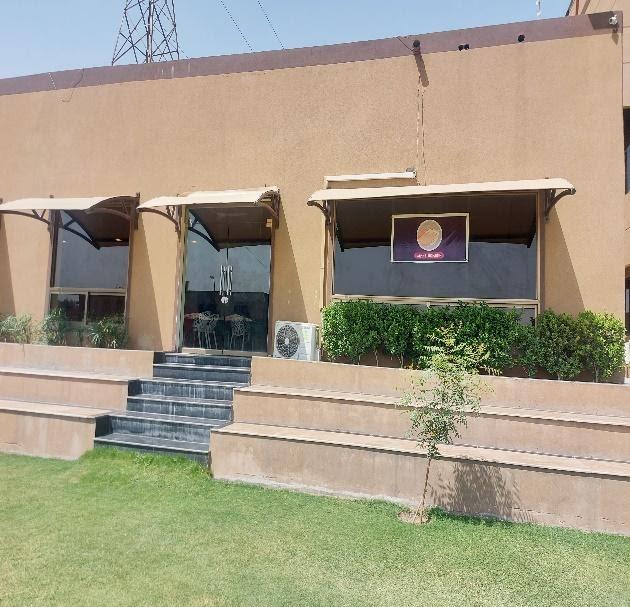 Cafeteria
The big ground in the backside of the campus was such a serene spot for sky gazing and bird watching; after getting tired, in my view, it's a great place to do more reflection-based work while sitting on the bench in greenery and quiet. Additionally, this place looks pretty nice for rendezvousing with friends.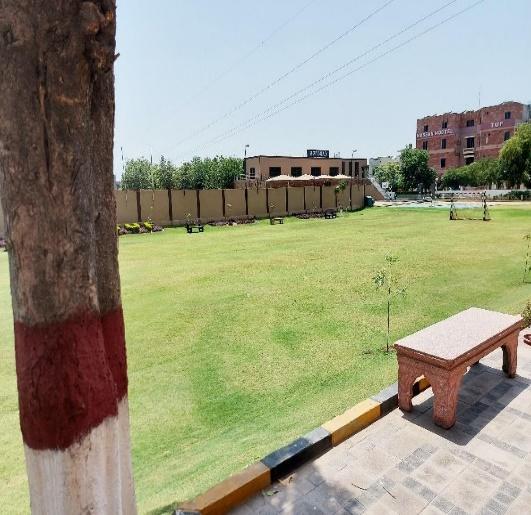 Ground

Two things that made me ponder upon were:
First, I found no one smoking on campus, not a single person!
When I mentioned it to my sister, she smiled and informed me about the university's "smoke-free campaign" for making the campus atmosphere smoke free and with no drugs. What a good initiative of reminding youth about all important perspectives.
The second was that I noticed no political activity or grouping, for which my sister clarified to me about university's policy against political segregation and that's worth-praising because these kinds of issues are usually ignored in educational institutions, which eventually leads to more significant conflicts in the long run.
The best thing was rigorous cleanliness around, maintained by highly responsible staff, which is highly appreciated. Even in the prayer room, every nook and cranny was neat and clean. At that point, after offering prayer, we decided to leave as we were tired.
From renowned professors to great friendships, I grasped from my overall experience of the visit that the students at TUF find the best community there that embraces them, challenges them for new ideas, and exposes them to innovative learning. With so many opportunities afforded to students, TUF is unique for every student. And yes! No doubt the infrastructure is the best one, that isn't anywhere else in the city.
University Of Management And Technology Umt Lahore
249 Articles
171 Articles
79 Articles
Punjab University PU Lahore
57 Articles
Punjab University College Of Information Technology Lahore
56 Articles
Allama Iqbal Open University Aiou Islamabad
55 Articles