"Failure is the opportunity to begin again more intelligently." What a great motivation by Henry Ford!
Not every student tops, some passes with good grades while others are named under- achieving. These underachieving students became desperate and lose hope. A common trend among students is that if they have scored less continuously, they give up hope and surrender.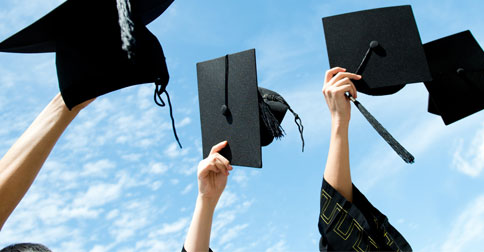 Is this the right attitude? No, it's never too late to take a fresh start. An impulsive piece of writing has named these under-scorers as under- motivated personalities. It means, what is necessary to fuel up these under- achievers, is nothing but a motivational jerk.
These under-motivated students dearth behind for two reasons: lack of interest and carefree lifestyle. The most promising reason is the carefree attitude as most young chaps don't take anything seriously.
Whatever be the reasons, now it's time to work on the solution .If you are ready to take a fresh start then follow these suggestions and get a full make-over of your personality.
Self- Assessment:
Asses the perspective that why you are behind from others.

Look where are you standing right now.

Analyze how you could improve the situation.

Identify your goals.

Prioritize your aims
Rule your thoughts:
Getting depressed or stressed is a normal habit as we all get disheartened with disappointments but we have the power to master our thoughts. Try to be happy without any reason as God has gifted uncounted blessings to you and combat the negative thoughts powerfully.
Be determined:
Set a crystal clear goal for your future and begin with the end in mind .If you analyze the things beginning from the end and get fully determined to reach your goal ,you'll surely succeed.
Develop a Passion:
One thing is necessary to reach your target .The goal should be your dream and once you become passionate about your goal you'll automatically struggle to reach it.
Learn to Ignore Criticism:
These all habits are those which successful people around the world commonly shared. If you are standing behind because of other's opinion about you, try to learn ignoring people and their behavior and focus on your own goal.
Self- Reliance:
This is the most crucial aspect which generally lacks in our youth as we always look for some help either from our parents or from some other sources .Don't seek help from others believe in yourself and move ahead.
Believe in yourself:
Don't give an ear to those who mock you and underestimate your skills, rather trust your own abilities without any proofs.
Struggle hard to polish your skills:
Whatever suggestions are mentioned above are stated to warm up your spirit and upsurge your determination but now it's time to get practically prepared to accept the challenges .For this you have to work hard to reach your goal.
The first thing which is most vital is the time management .Set a regular study schedule. This time you have to give more time to your studies than any other activity if you really want to re-achieve what you have lost.

Most students remain behind because they have not focused on the concepts of the subject therefore take some time to review those concepts which you have not understood before.

Evaluate your writing and language skills and make necessary changes.

Practice a lot to master the difficulties.

Hunt for helpful resources that can aid you in your studies.
Take help from Technology:
You are very fortunate to live in the era where technology is there to help you. A recent research has revealed that when you get engaged with technology and spend more time on learning tasks than students who study by traditional means. These Students show a higher level of comprehension and develop a passion to learn new things in future. Students are free to express their ideas very clearly through these communication media.
Dear students, never give up as there are countless opportunities waiting for you. Be confident to take risks and accept challenges. Chase your dream by following this brainy quote which states. 'Your dream doesn't have an expiry date so take a deep breath and try again.'
University Of Management And Technology Umt Lahore
249 Articles
171 Articles
79 Articles
Punjab University PU Lahore
57 Articles
Punjab University College Of Information Technology Lahore
56 Articles
Allama Iqbal Open University Aiou Islamabad
55 Articles