Even though it took a significantly long period for VoIP to become a part of the WhatsApp feature group, it looks like that we will not have to wait long for a video calling feature for the app. Yes, Whatsapp video calling is coming very soon.
The latest app that allows the video calling will first be rolled out to iOS devices and after that to the Android mobile phones as per the rumors. The leaked image that you can see below displays that that the feature is running on an iPhone, and as per the reports, the video calling feature that is said to keep that video calling function is version 2.12.16.2.
Presently, the WhatsApp version available on App Store of Apple is version, 2.12.12, representing that the very next software can very well bring the exceedingly coveted feature to the platform of iOS. Like for what other various things the user will be getting from the new , have been listed below.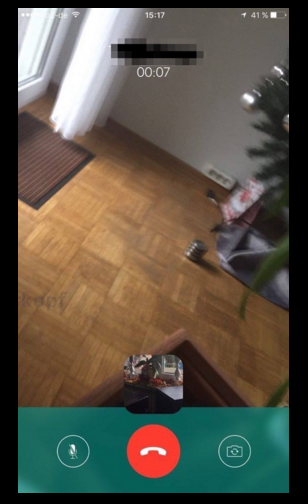 This new will be carrying in multiple chat tabs. Along with this feature, the user would be able to switch back and forth among the individual chats, and he will not be needed to go back to those chat lists, which utilized to waste a lot of time earlier. Furthermore, there is also going to be a complete new design renovation for the app, plus would be featuring the signature color of the app; that is green. Though, the only remaining question is that when would it be arriving for iOS consumers and even more significantly, when would it be arriving for Android consumers, which are far greater in number as compared to mobile operating system of Apple.
Neither WhatsApp nor Facebook have still given any comment on when the feature will be arriving, however we should be expecting that it does not take as long as the VoIP calling feature took to arrive on the multiple boards. After this , the only other feature that we would have to worry regarding is a dedicated application for both Windows as well as Mac OS X. Whereas there is a web application present, it does need both your computer system and your mobile device to be connected to the similar wireless network.