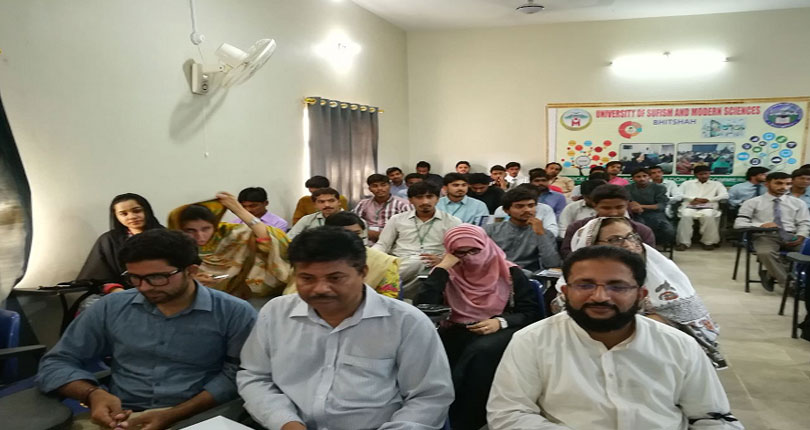 University of Karachi Signs a MoU with Tianjin Institute of Industrial Biotechnology (TIB)
News Submitted By: Ilm Ki Dunya

11-Jan-2019

Views: 685
The MoU has prime objectives of promoting collaborations between both countries in the fields of chemical, biological, and biomedical sciences. The MoU was signed in an event organized by Tianjin Institute of Industrial Biotechnology at its campus in China on Tuesday. The signatories of MoU are International Center for Chemical and Biological Sciences (ICCBS), University of Karachi (UoK) and Tianjin Institute of Industrial Biotechnology (TIB), Chinese Academy of Science, China.
He said that ICCBS is involved in various projects of Research and Development (R&D) for chemical, biological, and biomedical sciences fields. It has 10 research buildings which consists highly efficient and fully stocked laboratories. While addressing to the attendants of the event, Tianjin Institute of Industrial Biotechnology Director Prof. Dr. Yanhe Ma said, ' his institution is focused on providing fundamental, strategic and directional support to science and technology and industrial biotechnology field of China through education and research. According to terms added in the MoU, both of the institutions will do academic and research collaboration, exchange research staff and facilities , students exchange programs and scholarship programs from Pakistani students in China.
The ICCBS-UoK Director Prof. Dr. Muhammad Iqbal Choudhary said while addressing the media on the event, 'Both of the institutions have expertise in advance science and technology, through collaborating further innovations can be done to help in the progress of both countries'. In order to address regional and national challenges, the academic institutions should play their responsible roles and contribute to economy through research and education. He further said that ICCBS is a reputable center of excellence
Sufi University to Be Established In Lahore: Punjab Minister for Auqaf
The Punjab Minister for Auqaf, Sahibzada Saeed ul Hassan has announced that a University offering courses on Sufism will be established in Lahore soon. He made this announcement while visiting the local Auqaf office in Lahore on Wednesday. He said that the University will be consisted of a Sufi Research Council which will provide platform to PhD scholars for translating the Sufiana Kalam into different languages.
The Minister that the Muslims Sufis contributed greatly in prevailing Islam in sub-continent of India taught the true teaching of Quran and Sunnah in an understandable language. In order to promote and preserve their prestigious literary work, a Sufi University will be established in Lahore. During the meeting, Provincial Minister for Social Welfare & Baitul Maal Ch. Ajmal Cheema, Zonal Administrative Auqaf Ayyaz Mehmud Lashari and Zonal Khateeb Qari Fateh Muhammad were present.
Furthermore, the Minister said that the shrines of Sufis are provided with required facilities and security so that their followers have no issues while paying their respects. He said that the Sufis promoted peace in the country through their teachings and now it's up to us to follow their footsteps in tackling terrorism in Pakistan and for this the religious scholars can contribute. The Sufi University in Lahore will be instrumental in promoting Sufism in Lahore and the provincial government has started to work on its establishment plan.