In a significant development, educational authorities have announced the rescheduling of the Medical and Dental College Admission Test (MDCAT) 2023. The test, which holds immense importance for aspiring medical and dental students, is now set to take place on September 10th, 2023 as expected. This decision aims to provide students with a more generous timeframe to prepare comprehensively and excel in their examination.
The decision to postpone the MDCAT Test 2023 from its initially planned date has been made with the students' best interests at heart. By allowing more time for preparation, educational stakeholders are hoping to level the playing field and provide equal opportunities for all aspirants to shine in the examination. The extended timeline will enable candidates to adjust their study strategies, delve deeper into their subjects, and adequately review the syllabus, ultimately contributing to a fairer and more successful testing experience.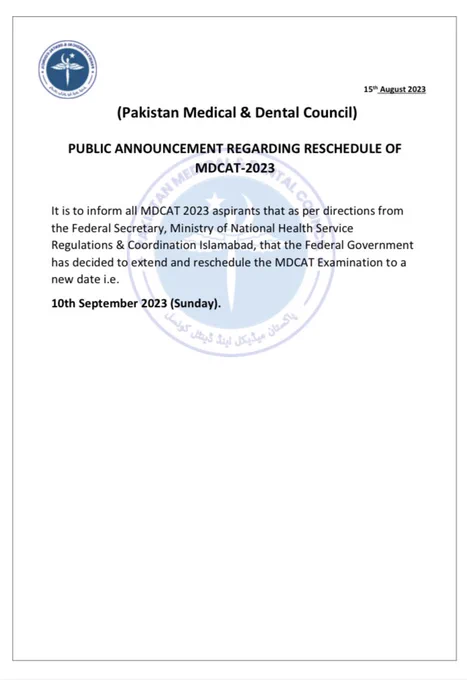 Educational experts are hailing this decision as a step toward recognizing the challenges that students face in preparing for such a high-stakes examination. The extended preparation period is expected to reduce stress and anxiety levels among candidates, ensuring that they can approach the MDCAT Test 2023 with confidence and a clearer mindset.
Both students and parents have expressed gratitude for the postponement, viewing it as an opportunity to better align their study schedules with the revised test date. The added time will enable candidates to address any gaps in their understanding and engage in thorough revisions, enhancing their overall performance and boosting their chances of securing a seat in their desired medical or dental institution.