It is to be informed that Ghazali Institute of Medical Sciences (GIMS) is offering career oriented health care programs for the 2023 admissions. Ghazali Institute of Medical Sciences (GIMS) admissions 2023 are open for DPT, Post RN, Pharmacy category B and for various BS (4 year) and 2 year diploma programs. All the interested candidates can apply at GIMS, by filling out the GIMS admission form online. SIMS 2023 Admissions eligibility criteria, application process and admissions deadline can be found further below on this page.
GIMS BS (4 years) Programs:
BS Emergency Care
BS Pathology
BS Anesthesia
BS Cardiology
BS Radiology
BS Surgical
BS Dialysis
BS Dental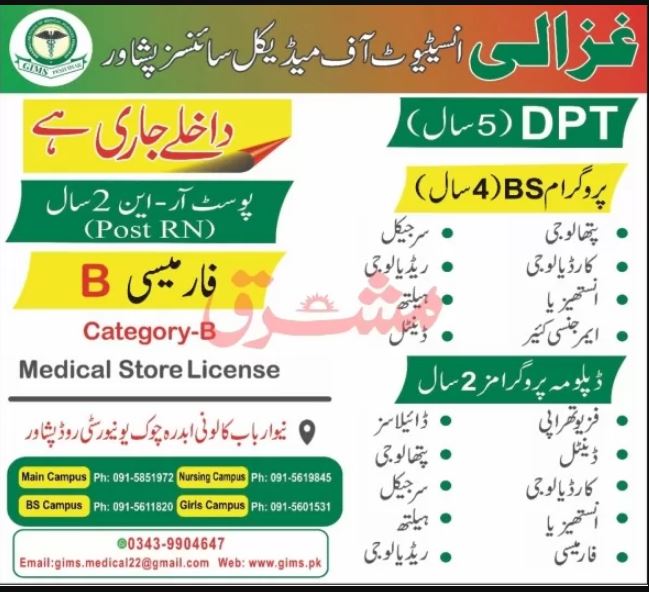 GIMS Diploma (2 years) Programs:
Physiotherapy
Health
Pharmacy
Pathology
Anesthesia
Cardiology
Radiology
Surgical
Dialysis
Dental
GIMS Other Programs:
DPT (5 years)
Post RN (2 years)
Pharmacy Category B
Documents Required for the Admissions 2023:
Matric/ SSC Academic Transcript
HSSC/ FSC Pre-Medical result
B-Form/ CNIC
Domicile
Paid Application Fee challan
GIMS Eligibility Criteria:
Candidates with 50% marks or above in FSC Pre-Medical can apply for BS 4 year programs.
For admission in DPT 5 year program, a candidate require 60% marks in FSC Pre-Medical.
50% marks are required for admission in GIMS diploma programs with relevant subjects.
GIMS Application Process:
Visit the official website of Ghazali Institute of Medical Sciences.
From the homepage you can find the "Apply Now", press it to start filling out your admission application.
Fill out form and provide all the requested documents.
Generate the application fee challan.
Submit the application processing fee, as advised in the challan.
Upload the paid receipt of application fee challan to your online form and submit it.
GIMS Admissions 2023 Deadline:
Admissions at GIMS are open for the session 2023. Getting an admission at Ghazali Institute of Medical Sciences (GIMS) is not that easy that's why we advise interested candidates to apply as soon as possible. Note the date that admissions 2023 at GIMS are open till 20th March 2023.
About GIMS:
For a very long time, the Ghazali Institute of Medical Sciences (GIMS) in Peshawar has been creating medical professionals who work in a variety of hospitals and clinics across Pakistan. GIMS Peshawar is a paramedical institute which was established in 2008 in Peshawar. Currently, there are three campuses of GIMS: the Main Campus (Arbab Road), the BS Campus (Phase - III) and the Nursing College (Town Peshawar). Each campus has a laboratory, museum and well-stocked library that covers all technologies and fields of study and all students gets the same management model and facilitation method in order to make contributions to the health field.