Attention students! We are here to announce that the DHA Suffa University fall admissions 2023 are now open. This is your chance to apply for a wide range of undergraduate and postgraduate programs. Whether you aspire to pursue a bachelor's degree or continue your education at the postgraduate level, DHA Suffa University has excellent academic programs for all. The programs are available at both the DHA Suffa main campus and the DHA city Karachi campus. Don't miss out this excellent opportunity to join a prestigious institution known for its academic excellence and vibrant learning environment. Start your journey towards a successful future by applying for the fall admissions at DHA Suffa University now.
Programs at DHA Suffa Main Campus:
BS Data Science
MBA (Evening & Weekend Program)
MS Computer Science (Evening & Weekend Program)
MS Management Sciences (Evening & Weekend Program)
MS Mechanical Engineering (Evening & Weekend Program)
MS Electrical Engineering (Evening & Weekend Program)
PhD Mechanical Engineering
PhD Electrical Engineering
PhD Computer Science
PhD Management Sciences
Programs at DHA City Karachi Campus:
Why DHA Suffa University
The University is highly recognized by HEC
The university has been ranked 1001+ in Times Higher Education world rankings
The university also offers credit mobility to Brock University of Canada in Computer Science
Scholarship opportunities for deserving candidates.
Online admission test option for overseas students.
The university also offers hostel and transport facilities
Digital Library and Multimedia classrooms are also a plus point for DSU.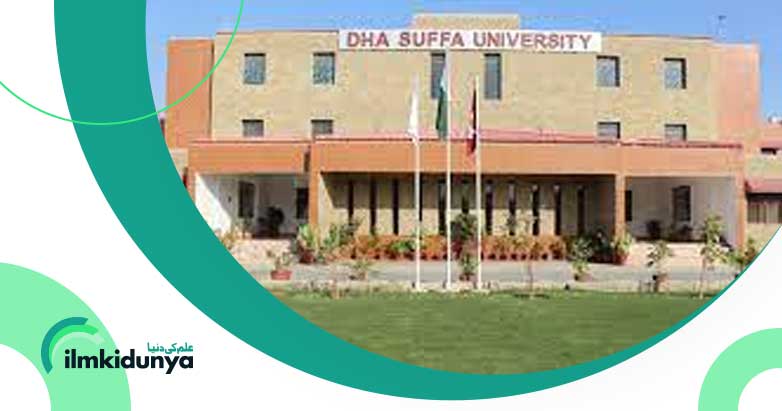 Documents required for Admission
Matriculation / O-Level Certificates and Marks Sheet or Statements
Intermediate / HSSC / A-Level Marks Sheet or Statements and Certificates
Bachelors or equivalent Marks Sheet or Statements
Candidates with O-Level / A-Level must submit equivalence certificate from IBCC
A photocopy of CNIC or B-Form
8 passport size photographs with white background
Admit Card or Statement of Entry is required, if candidate is waiting for the final result
DSU Bachelor's Program Eligibility Criteria
Candidates must have cleared their HSSC/ inter or equivalent qualification with at least 50% marks from an institute recognized by HEC (For engineering programs).
Applicants must have achieved at least 50% marks in HSSC/ inter or equivalent qualification from a recognized board (For computer science programs).
O/A level candidates can also apply by proving their qualification in relevant subjects.
Candidates will be called out for the admission test.
DSU Master's Program Eligibility Criteria
Candidates must have cleared their bachelors or equivalent qualification in relevant subject with from an HEC recognized institute.
A minimum cumulative score of 50% on the NTS GAT General Test.
Candidate have to clear the DSU admission test with at least 50% marks if he doesn't have valid NTS GAT General Test score.
DSU PhD Program Eligibility Criteria
Master's degree or equivalent with eighteen years of education in a subject relevant to the field of study with minimum CGPA of 3.0/ 4.0 in the semester system or 60% marks in the annual system.
Minimum cumulative score of 60% on the NTS GAT Subject Test
Candidates have to appear and score 50% in the DSU admission test if they don't have valid NTS GAT Subject Test score.
DSU Admission Process
Candidates have submit their admission application online by filling out this form.
Candidates have to provide their personal details like name, CNIC Card number, mobile number and emails etc.
Then candidates have to select their desired programs.
After filling out the form candidates have to press the "NEXT" button to submit their scanned copies of documents.
After submitting the document click the "Submit" button.
Then candidates will receive an e-voucher through their provided email or mobile number, with unique transaction ID.
Candidates can submit the Application processing fee through online banking apps, by visiting any branch of Silk Bank / Meezan Bank & Al-Barka Bank.
Application processing fee is Rs. 1500/- for on-Campus candidates & Rs. 2500/- for off-Campus candidates.
Then candidates have to wait for their DSU admit card which will notify students about the admission test & interview date.
After appearing in the admission test only successful candidates who will score 50% marks in the test, will receive an offer letter from the university along with the fee voucher.
The candidate is responsible for providing all of the documents, and the university has the right to take disciplinary action if they are found to be fake or forged at any point, which could result in the candidate's admission being canceled.
DSU Admission Test:
All candidates have to appear in the DSU admission test except for the postgraduate candidates with valid NTS GAT test scores. University may also conduct interview from some candidates. Students have to appear in the DSU admission test and score at least 50% marks to get admitted by DSU. The duration and total marks of DSU admission test vary depending upon the program. Students can view the total marks and time duration of their admission test through this sample paper.
DSU Admission Schedule:
| | | |
| --- | --- | --- |
| Sr. No. | Details | Date |
| 1 | Admissions Deadline | 22nd June 2023 |
| 2 | Issuance of Admit Card | 22 – 23 June 2023 |
| 3 | Admission Test Date | 24 June 2023 |