Are you searching for BS Physics Past Papers? Then worry no more as you will find your required information on this page. Students often have various responsibilities towards their home as well as other financial issues and obligations due to which they cannot give proper time towards the preparation of their annual exams or final term exams. Students can now relax as they will be provided BS Physics Past Papers links on this page for better preparation for exams.
Physics science being a diverse science field deals with the processes, states, natural laws, and the properties of space, matter, time, and energy. Physics is also responsible for the recent advances that we see around us including advances in the field of medicine, information technology, electronic devices, radio wave technology, nuclear technology, reusable energy sources, and advanced biotechnology.
Importance of BS Physics Past Paper
Students by studying and examining past papers could gain a competitive edge in their field and towards their competition as going through popular past papers like BS Physics Past Papers Punjab University would give them ideas and understanding like, what to expect in the annual exam or what kind of difficult questions or pattern that has been set the respective board. By attempting and solving past papers would provide undergraduate students with real-time exam practice.
Students who are studying BS physics will enable to get the opportunity to do specialization in the fields of electromagnetism, medical physics, astrophysics, radiation and nuclear physics, quantum mechanics, optics and lasers, thermodynamics, mechanics, relativity among others.
BS Physics Past Paper and Examination Preparation
Bachelor of physics students by going through BS physics Past Papers will enable students to have a good understanding of physics theoretical nature concepts as well as various mathematical techniques applied in the field of physics including quantum physic, classical mechanics, thermodynamic, and electromagnetism.
Students who practice previous BS past papers Government College University Faisalabad gain upper hand and will manage their exam time accordingly by giving proper time to all sections of the annual board exams. In comparison students who do not attempt physics past papers may face difficulty in their final term exam time management.
Students who study bachelor of physics degree program will enable students to carry out various physics experiments, analyses, and measurements of data in advanced physics lab equipment. Advance computers will enable students to simulate various physical phenomena, perform research analysis, collect and study numerical data in dedicated labs.
BS Physics Past Paper and Diversification for Graduates
Students will learn various foundations in the field of electromagnetism, waves, unification of space and time, wave-particle duality, statistical mechanics, special relativity among others when they go through BS Physics Past Papers.
Students will be able to study diverse topics after studying the foundation and concepts of classical physics and develop their expertise towards molecular structure, electro-magnetic radiation, atomic structure, lasers, cosmology, nuclear physics, particle physics while working with advanced knowledge of theoretical physics.
Frequently Asked Questions
Past Papers
Qualification Level
>
Boards / Universities
>
Class Level
>
Subjects
>
Years
>
Past Papers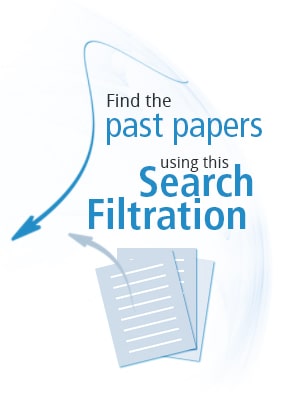 BS Physics