The Teachers' Day is celebrated throughout the world with special activities in schools and colleges arranged by students to honor their mentors for helping them in shaping a career.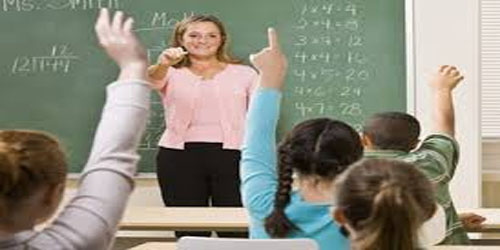 Here are 15 quotes that will inspire you to choose teaching profession:
1. A good teacher can inspire hope, ignite the imagination, and instill a love of learning.
— Brad Henry, Former Governor of Oklahoma
2. A good teacher, like a good entertainer first must hold his audience's attention, then he can teach his lesson.
— John Henrik Clarke, Pan-Africanist writer
3. The best teacher is an entertainer.
— Bob Keeshan, American actor
4. A great teacher who is full of excitement and love for her students can make all the difference in their lives.
— Deval Patrick, Former Governor of Massachusetts
5. The best teacher is very interactive.
— Bill Gates, Microsoft founder
6. Parents can shape a child, but a great teacher can, too.
— Susanne Bier, Danish film director
7. A teacher enlarges people in all sorts of ways besides just his subject matter.
— Wallace Stegner, American novelist
8. A teacher should have a creative mind.
— APJ Abdul Kalam, Former Indian President
9. Every child grows; everything depends on the teacher.
— Shinichi Suzuki, Japanese musician
10. Everyone who remembers his own education remembers teachers, not methods and techniques. The teacher is the heart of the educational system.
— Sidney Hook, American philosopher
11. The teacher who is indeed wise does not bid you to enter the house of his wisdom but rather leads you to the threshold of your mind. — Khalil Gibran, Lebanese-American writer
12.It's the teacher that makes the difference, not the classroom. — Michael Morpurgo, English author
13.Of all the hard jobs around, one of the hardest is being a good teacher.
— Maggie Gallagher, American writer
14.Any good teacher knows how important it is to connect with students and understand our culture.
— Adora Svitak, American writer
15. The best teacher is the one who suggests rather than dogmatizes, and inspires his listener with the wish to teach himself.
— Edward G. Bulwer-Lytton, English novelist
University Of Management And Technology Umt Lahore
249 Articles
171 Articles
79 Articles
Punjab University PU Lahore
57 Articles
Punjab University College Of Information Technology Lahore
56 Articles
Allama Iqbal Open University Aiou Islamabad
55 Articles