Pakistan is witnessing the adverse impacts of climate change, including rising temperatures, water scarcity, and extreme weather events, which pose significant challenges to agriculture, public health, and the economy. The country has experienced a steady increase in average annual temperatures, with a rise of approximately 0.6°C since the 1960s. Water scarcity has become a pressing issue, with water availability per capita falling below the water stress threshold. Pakistan has also seen a surge in extreme weather events, causing damage to agriculture and infrastructure.
To address the climate crisis, Pakistan must urgently transition to eco-friendly housing and real estate practices. Eco-friendly housing emphasizes energy efficiency, water conservation, and the use of renewable resources. By implementing features such as solar panels, rainwater harvesting systems, and green roofs, the housing sector can significantly reduce its carbon footprint and contribute to a greener future.
Embracing eco-friendly housing offers numerous benefits, including lower energy costs, improved indoor air quality, reduced reliance on fossil fuels, and decreased greenhouse gas emissions. It aligns with global sustainability goals, such as the United Nations' Sustainable Development Goals.
Both real estate developers and homeowners have a crucial role to play in adopting eco-friendly practices. Developers can incorporate sustainable designs and features into their projects, while homeowners can make conscious choices to make their homes more environmentally friendly.
With the gravity of the climate change crisis, it is essential for Pakistan to take decisive action in embracing eco-friendly housing as a sustainable solution. By doing so, the country can mitigate the adverse effects of climate change and pave the way for a resilient and sustainable future.
Eco-friendly housing represents a forward-thinking and sustainable approach to construction and living. It encompasses various principles aimed at reducing environmental impact and promoting a greener future. Core aspects of eco-friendly housing include energy efficiency, water conservation, and the utilization of renewable resources.
Energy efficiency plays a central role in eco-friendly housing. By incorporating energy-efficient appliances, insulation, and lighting systems, homes can significantly reduce energy consumption. This not only lowers carbon emissions but also results in substantial cost savings for homeowners. According to the U.S. Environmental Protection Agency, energy-efficient homes can reduce energy costs by up to 30% compared to conventional homes.

Water conservation is another critical element of eco-friendly housing. Implementing features like low-flow fixtures, rainwater harvesting systems, and efficient irrigation methods can significantly reduce water consumption. In a world where water scarcity is becoming increasingly prevalent, these measures contribute to the conservation of this precious resource. For instance, a study by the Pacific Institute found that water-efficient homes can reduce indoor water use by up to 45%.
Furthermore, eco-friendly housing emphasizes the use of renewable resources. This includes incorporating solar panels for electricity generation, utilizing sustainable building materials, and promoting recycling and waste reduction practices. By tapping into renewable energy sources, homes can reduce their dependence on fossil fuels, contributing to the mitigation of climate change. The National Renewable Energy Laboratory reports that solar panels can provide up to 100% of a home's electricity needs, resulting in a significant reduction in carbon emissions.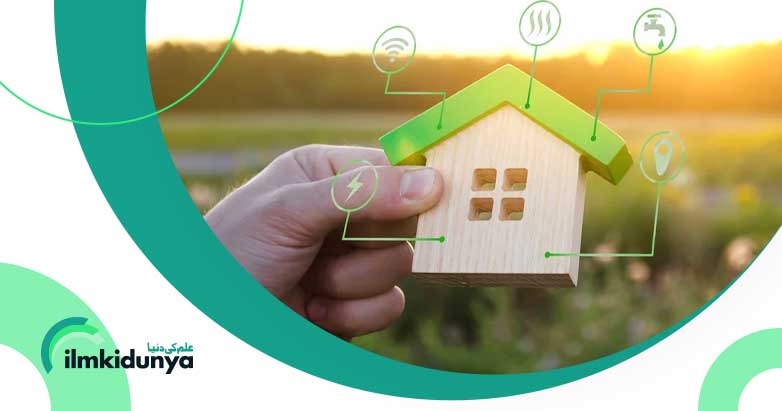 Real estate developers and homeowners play crucial roles in the transition to eco-friendly practices, contributing to a more sustainable future. As key stakeholders, they have the power to drive change and make a significant impact on the environment.
Real estate developers have the responsibility to incorporate eco-friendly features into their projects. Successful case studies showcase innovative approaches to sustainable construction. For instance, developers can integrate energy-efficient designs, utilize sustainable building materials, and implement renewable energy systems like solar panels. These initiatives not only reduce the carbon footprint of new constructions but also inspire others in the industry to follow suit.
One notable example is Luxurious Marketing, a renowned real estate agency in Islamabad, has set itself apart by offering commission-free dealings in eco-friendly properties. With an impressive track record of handling 165 eco-friendly properties and successfully managing two eco-friendly housing schemes, Luxurious Marketing is revolutionizing the real estate industry. Their commitment to promoting sustainable living has gained them immense popularity among the people of Islamabad and garnered appreciation nationwide. By eliminating commissions and focusing on eco-friendly installations, Luxurious Marketing is not only facilitating environmentally conscious buyers but also contributing to a greener future for Pakistan.
Overall, in Pakistan, the urgency of addressing climate change through eco-friendly housing cannot be overstated. Rising temperatures, water scarcity, and extreme weather events demand immediate action. Individuals and the real estate sector have a pivotal role to play in combating climate change. By embracing eco-friendly housing practices, such as energy efficiency, water conservation, and renewable resources, we can make a significant impact. It's time to support sustainable initiatives and contribute to a greener and more resilient Pakistan. Let's prioritize eco-friendly housing, reduce our carbon footprint, and pave the way for a sustainable future for generations to come. Together, we can make a difference.
University Of Management And Technology Umt Lahore
249 Articles
171 Articles
79 Articles
Punjab University PU Lahore
57 Articles
Punjab University College Of Information Technology Lahore
56 Articles
Allama Iqbal Open University Aiou Islamabad
55 Articles