Being one of the top countries to add COVID-19 patients is not a good sight for Pakistan. Before April Pakistan had the situation under control. The Corona Positive Patients rate in Pakistan is the lowest among other countries. But in the month of June, these figures changed drastically.

Pakistan has now become the 6th fastest country to add Covid-19 cases. Over 113,697 positive patients have been recorded until today in Pakistan. In the month of April, this total was limited to just 25,000 patients. But, now Pakistan has entered the league of the most affected Countries by COVID-19.
Most Affected Areas in Pakistan:
Just in the month of May over 68,000 Patients are being recorded in Pakistan with more than one thousand casualties. Sindh and Punjab is the most affected province. The number of COVID-19 patients in Sindh has crossed a total of 41,303. Followed by Punjab in which the number of Positive COVID-19 cases has reached a total of 43,460.
Karachi and Lahore remain the most affected Cities of Pakistan. In Lahore, the number of positive cases has reached 15,000 followed by Rawalpindi. Similar to that Karachi has over 15,000 cases of COVID-19. Till March over 36,308 People have recovered from COVID -19 in Pakistan and 2255 patients died with this fatal disease.
The Reason Behind This Recent Outbreak of COVID-19 in Pakistan:
There are two main reasons for this disaster. One is an ineffective lockdown that the provincial government was supposed to impose. The second big reason is the irresponsibility of citizens. The provincial government resumed local transport in the month of May. This was the first wrong step taken by the administration.World Health Organization said Coronavirus May Never Be Eliminated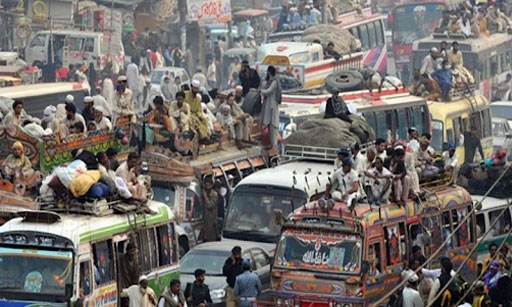 Due to that people traveled in local transport from one city to another and the spread of COVID-19 increased. If the provincial government imposed proper lockdown over local transport there were fewer chances that we would end up in this state.
Irresponsible Citizens:
The second reason behind Pakistan becoming the 6th fastest country to add COVID-19 cases is the irresponsibility of citizens. People are not following the safety guidelines given by the government or the WHO (World Health Organization). More than 50% of people are not using face masks in public places.
During the Event of Eid people have totally violated the instructions of social distancing. They have arranged family dinners and mass gatherings. They were hugging and greeting each other physically. So, all in all, the instructions to decrease COVID-19 spread to minimal was being neglected in May of the month. According to research just wearing face masks can decrease the chances of COVID-19 spread to 40%. But the people of Pakistan violated all these instructions and put us in a very critical spot
University Of Management And Technology Umt Lahore
249 Articles
171 Articles
79 Articles
Punjab University PU Lahore
57 Articles
Punjab University College Of Information Technology Lahore
56 Articles
Allama Iqbal Open University Aiou Islamabad
55 Articles