To accomplish the intermediate 1st year Board Examination several pairing schemes are published by the Punjab board. The paper schemes are declared to facilitate students to prepare better for their final board exams. It just not only help to prepare for the final examinations but also provide the idea of the paper format and marks division. It highlights the important chapters for students to focus on. Paper schemes are an essential source to succeed in exams with good grades.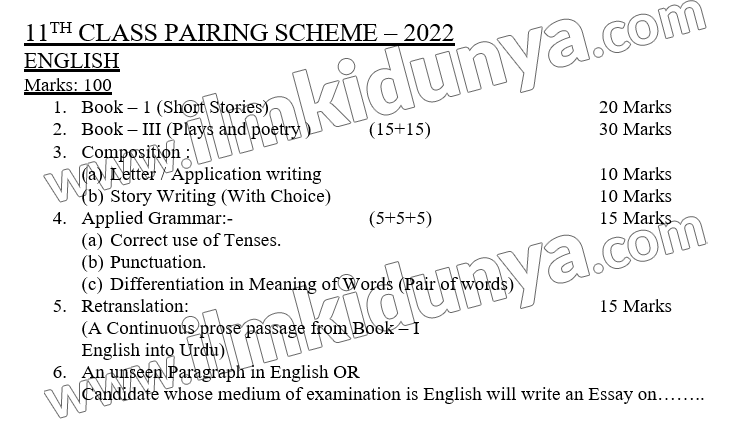 1. Book – 1 (Short Stories) 20 Marks
2. Book – III (Plays and poetry ) (15+15) 30 Marks
3. Composition :
(a) Letter / Application writing 10 Marks
(b) Story Writing (With Choice) 10 Marks
4. Applied Grammar:- (5+5+5) 15 Marks
(a) Correct use of Tenses.
(b) Punctuation.
(c) Differentiation in Meaning of Words (Pair of words)
5. Retranslation: 15 Marks
(A Continuous prose passage from Book – I English into Urdu)
6. An unseen Paragraph in English OR
Candidate whose medium of examination is English will write an Essay on……..

The Punjab Board conducts the intermediate examinations according to the schedule like every year. The Board issues paper schemes and various model papers for every subject, to help students score better in their Intermediate 1st Year Board Exams. Paper schemes enable you to prepare for your exams in a way that would not have been possible otherwise. It draws attention to the more important areas.
English Piaring Scheme Class 11
English is one of the compulsory subjects of the Intermediate Board. The course is designed to grant understanding of grammar, vocabulary, and writing to students. English is an easy subject for some while some students find it hard to attempt essays and other various assessments. To make it easier for students, the Board of Punjab has published the 1st Year pairing scheme for English. It will not only aid students in their learning, but it will also provide them with an idea of which portions to concentrate on more.
1st Year English Paper Pattern
The 1st Year Pairing Schemes will help in the understanding and learning ability of students. It will highlight the important topics and their distribution percent. Students are advised to look forward to these pairing schemes issued by the Punjab Board for 1st Year Intermediate Exams. They will be able to attempt papers more easily.
1st year english paper pattern is for all Punjab Boards that include Lahore Board, Gujranwala Board, Bahawalpur Board, Multan Board, Rawalpindi Board, Faisalabad Board, DG Khan Board, Sahiwal Board, and Sargodha Board. Stay tuned for more information regarding board exams. Students who want to excel in final Board Exams should study according to the 11th class English pairing scheme.