For the 10th class, the syllabus has been specified for every subject for the annual exams 2023. The students that want to learn about the 10th class Urdu paper scheme 2023 are notified that it is mentioned here on this platform. The students can access it easily without having any inconvenience. Although some students might consider Urdu as a simple subject but still a lot of preparation is required to attain good marks in it. To assist the students the 10th class Urdu pairing scheme 2023 is provided so that the candidates can consider it during the preparation phase of the exam.
10th Class Urdu Paper Scheme Table of Contents
The 10th class paper scheme of Urdu for the Punjab Board provides a comprehensive outline of the marking scheme and exam pattern for the Urdu subject in the 10th grade exams of the Punjab Board. This 10th Urdu Paper Pattern Punjab Board is an essential resource for students as it helps the students to understand the weightage of different topics, the type of questions that may be asked, and the distribution of marks across different sections of the exam. By studying the pairing scheme of Urdu, students can prepare effectively for their exams, focus on important topics, and manage their time wisely during the exam.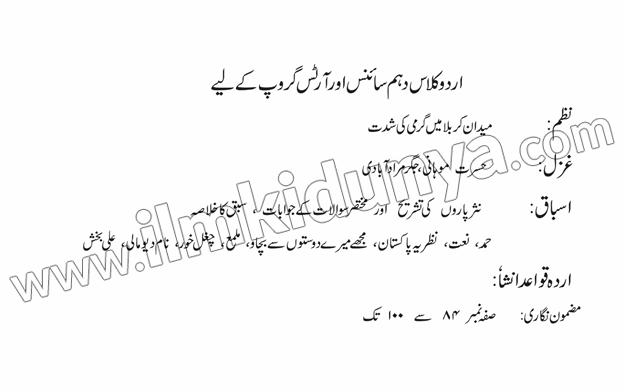 The paper scheme allows the students to learn about the division of the questions for the objective and subjective portion that will be followed in the question paper of the subject. Moreover, by preparing for the exams as per the paper scheme the students feel easy to cover all the contents mentioned in the syllabus. The 10th urdu pairing scheme/assessment scheme is applicable for all the Punjab boards such as BISE Lahore, BISE Gujranwala, BISE Rawalpindi, BISE Bahawalpur, BISE Faisalabad, BISE Multan, BISE DG Khan, BISE Sahiwal, and BISE Sargodha.
10th Class Urdu Paper Scheme Federal Board 2023
Urdu paper Pattern Class 10 Federal Board which shows the pattern, marking scheme, and weightage of different topics for the Urdu subject in the 10th grade. 10th Urdu Pairing scheme 2023 is important for students to prepare effectively for the exams and focus on the topics that are more important from the exam perspective. Students can easily download the Urdu paper scheme in PDF form from here.