While preparing for the annual exams the students generally prefer to consider the paper scheme announced by the concerned officials. The basic purpose of providing the paper scheme is to assist the students by providing the specific paper pattern and the division of the questions. The students can check the chapters included in the 10th class Islamiat pairing scheme 2021 to devise their preparation strategy for the annual exams. The paper is based generally on the same pattern but the division of the questions from each chapter may vary so it is advised to the candidates to must follow the 10th class Islamiat paper scheme 2021.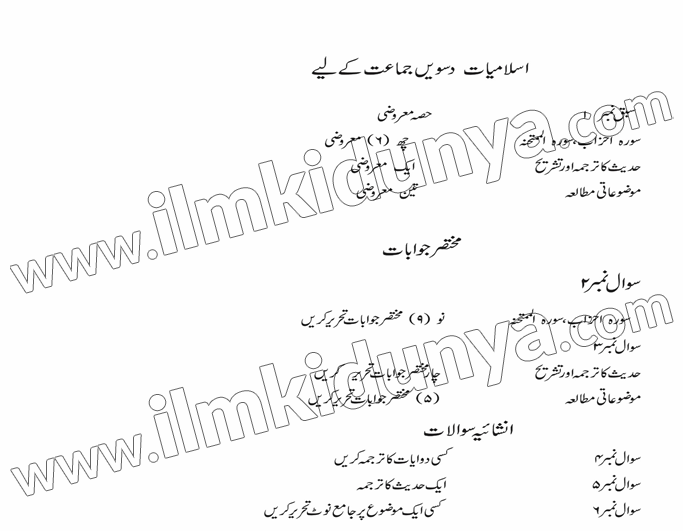 Class 10 Islamiat Paper Scheme
CH NO. MCQ CH NO. S/Q
Surah Ahzab 6 Surah Ahzab Q.2: 9
Surah Mumtahna Surah Mumtahna
AHADEES 1 AHADEES Q.3: 4
MOZOATI MOTALHA 3 MOZOATI MOTLHA 5
LONG QUESTIONS:
Q.4: Tarjuma 3 may sy ksi 2 Ayaat ka----Surah Ahzab 2 Ayaat--- Surah Mumtahna 1 Ayat
Q.5: One Ahadees ka Tarjuma or Tashreeh
Q.6: One Mozoaati Motalha
Besides the translation, the questions will be also asked so the students need to focus on all the provided topics in the syllabus to score well. By following the paper scheme the students find it easy and convenient to cover the wholesome syllabus and focus on the key points of the chapters. The students who intend to appear in the 10th class exams are advised to properly follow the pairing scheme of 10th class islamiat and prepare for the exams accordingly. There are nine Punjab boards such as BISE Lahore, BISE Gujranwala, BISE Rawalpindi, BISE Bahawalpur, BISE Faisalabad, BISE Multan, BISE DG Khan, BISE Sahiwal, and BISE Sargodha and the 10th islamiat pairing scheme/assessment scheme is valid for all these educational boards.
Islamiat Paper Pattern of 10th Class 2021
From the following table, you can get to know the paper pattern of Islamiat 10th class according to Punjab Board examination in 2021:
Objective Type

Subjective Type

Total Marks

10

Total Marks

40

Time Allowed

15 minutes

Time Allowed

1:45 hrs

Number of MCQs

10

Number of Questions

5

Distribution of Marks

Each MCQ of 1 mark

Distribution of Marks

Attempt 6 questions out of 9 having 12 marks

Total

10 MCQs

Attempt 6 questions out of 9 having 12 marks

Translate 2 Quranic verses out of 3 having 8 marks

Translate and explanation of Hadith having 3 marks

Attempt 1 long question out of 2 having 5 marks

Total

40 marks