Updation December 2024
Punjab Board had announced the new paper scheme of class 10th. For the Students of class 10th the New Paper Scheme 2024 of 10th class Physics is available in this page of ilmkidunya.
The 10th class physics pairing scheme 2024 contains the details of the topic/chapters that will be included in the annual exams. Before the conduction of the exams, the pairing scheme is issued for the students that give the idea about the division of the questions from each chapter for the objective and subjective portion. The chapters included in the 10th Class physics paper scheme 2024 are Simple Harmonic Motion and Waves, Sound Waves, Geometrical Optics, Electrostatics, Current Electricity, Electromagnetism, Basic Electronics, Information and Communication Technology, and Atomic and Nuclear Physics. From this page students can download the 10th class physics scheme 2024.
10th Class Physics Paper Scheme Table of Contents
The candidates preparing for the exams can check the announced physics class 10 scheme 2024 to learn about the paper pattern followed in the exam. Besides the theoretical questions, the candidates are also needed to prepare the practical portion as well. There are also a number of numerical problems that are a part of the syllabus and the information of such questions is specified chapter wise so that the students can prepare accordingly.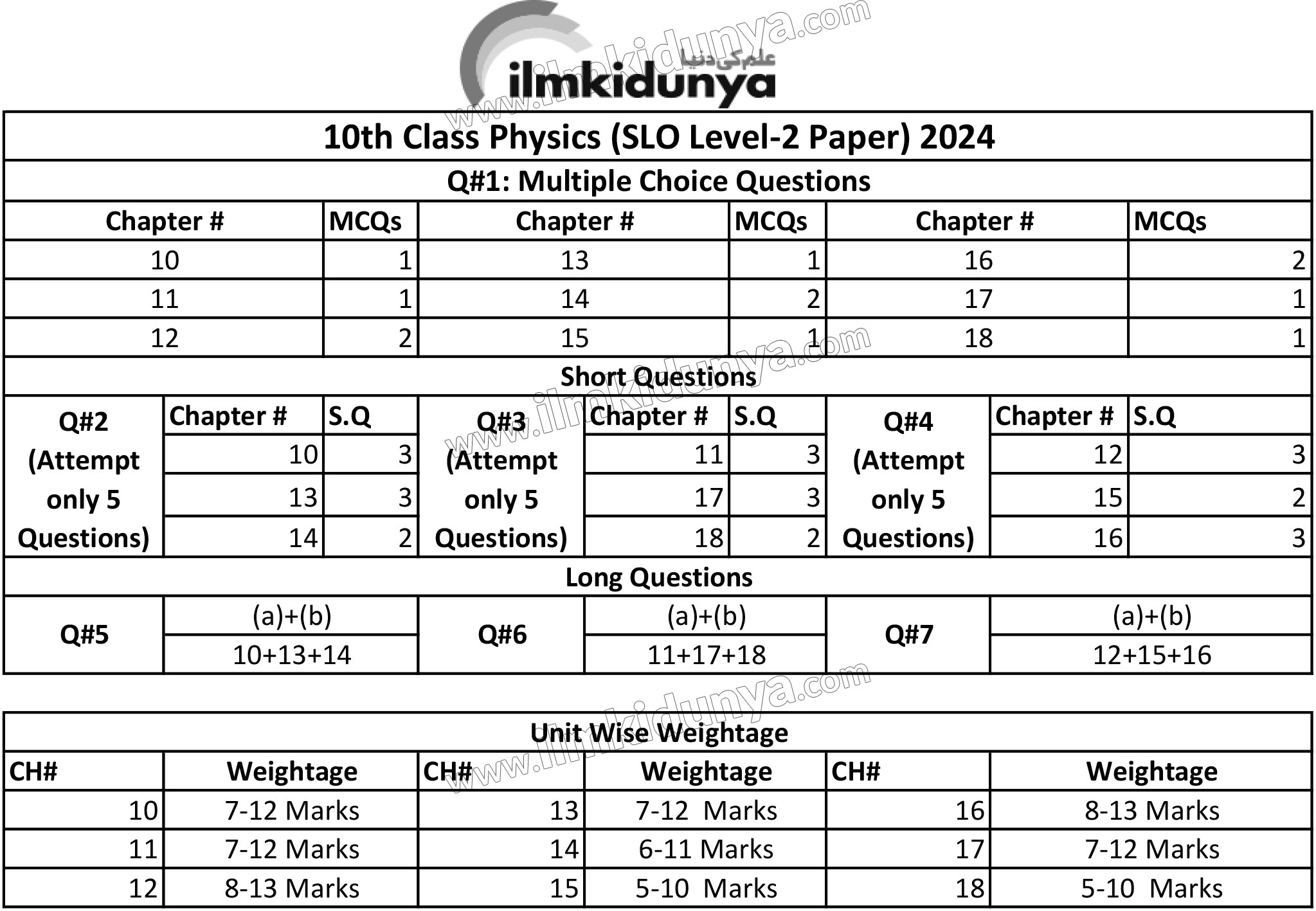 10th Class Physics Pairing Scheme 2024 Federal Board
The 10th class paper scheme 2024 of Physics for the Federal Board where you can find marking scheme, pattern, and distribution of marks for the physics subject. The Physics pairing scheme is designed to guide the students about the expected pattern of questions, marks allocation, and the type of questions that may be asked in the exam. This paper scheme of physics 10th class 2024 is important for students to prepare effectively and focus on the topics that carry more weightage in the exams.