The 10th class physics pairing scheme 2021 contains the details of the topic/chapters that will be included in the annual exams. Before the conduction of the exams, the pairing scheme is issued for the students that give the idea about the division of the questions from each chapter for the objective and subjective portion. The chapters included in the 10th Class physics paper scheme 2021 are Simple Harmonic Motion and Waves, Sound Waves, Geometrical Optics, Electrostatics, Current Electricity, Electromagnetism, Basic Electronics, Information and Communication Technology, and Atomic and Nuclear Physics.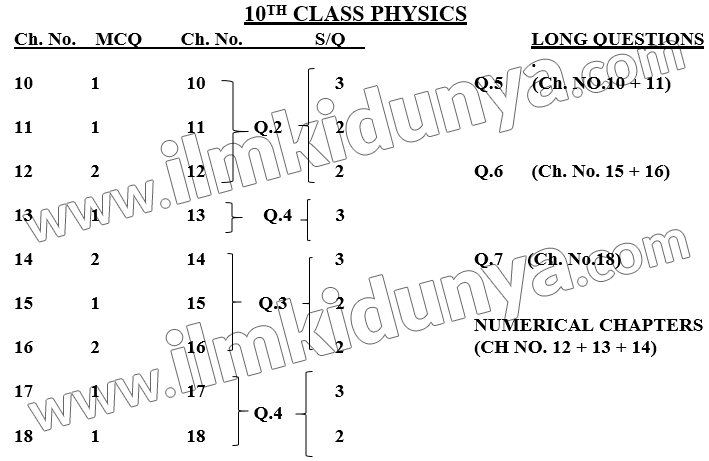 10th Class Physics Pairing Scheme
CH.NO

MCQ

CH NO.

S/Q

LONG QUESTIONS

10

1

10

3

Q.5:

(Ch NO.10 + 11)

(Ch No. 15 + 16)

11

1

11

Q.2:

2

12

2

12

2

Q.6

13

1

13

Q.4:

3

14

2

14

3

Q.7

(Ch No.18)

15

1

15

Q.3

2

NUMERICAL CHAPTERS

(CH NO. 12 + 13 + 14)

16

2

16

2

17

1

17

Q.4:

3

18

1

18

2
The candidates preparing for the exams can check the announced pairing scheme to learn about the paper pattern followed in the exam. Besides the theoretical questions, the candidates are also needed to prepare the practical portion as well. There are also a number of numerical problems that are a part of the syllabus and the information of such questions is specified chapter wise so that the students can prepare accordingly. So candidates are notified that without wasting any time check the physics 10th pairing scheme and focus on the studies to get the maximum marks in the exams. To assist the students the page numbers of the textbooks of the included chapters are also mentioned in the syllabus.
Physics Paper Pattern of 10th Class 2021
From the following table, you can get to know the matric paper pattern of physics according to Punjab Board examination in 2021:
Objective Type

Subjective Type

Total Marks

12

Total Marks

48

Time Allowed

15 minutes

Time Allowed

1:45 hrs

Number of MCQs

12

Number of Questions

5

Distribution of Marks

Each MCQ of 1 mark

Distribution of Marks

Attempt 5 short questions out of 8 having 10 marks

Total

12 MCQs

Attempt 5 short questions out of 8 having 10 marks

Attempt 5 short questions out of 8 having 10 marks

Attempt 2 long questions out of 3 having 18 marks. Each question has 9 marks.

Total

48 marks
Note: Theoretical paper consists of 60 marks. 15 marks are of practical.