Past papers depicts that papers which are previously performed by the Board of education. Student must read last 5 years papers of each subject. In this way the student will go through that how papers will come in the examination. They provide the paper pattern, paper duration, papers sections, marks distribution and some other related things. By reading or reviewing them, the pattern of paper will capture into your mind and you will be familiar about your exam and then you prepare your mind automatically that how to do the exams or papers.
On this page, students can discover the past papers of 10th class Punjab board, Sindh board, KPK board, Ajk and Balochistan Board. You will get all the past papers of 10th class English, physics class 10 past papers, Biology,10 class math past paper 2023, Computer Science , Islamiyat, Chemistry Class 10, civics past papers etc. It is also crucial for you to know the marking criteria so kindly go for 10th Class Pairing Scheme so that you can easily understand them.
Check: Past Papers of chemistry class 10 Federal Board and English class 10 past papers
By reviewing past papers such as biology class 10 past papers or solved past papers of 10th class federal board, the students experience the methods and styles of the questions that they would really going to face in the examinations.

They also enable them to grab the possible idea or format to make the answer of the question for achieving better marks such as Fbise past papers solved or maths class 10 past papers Fbise.
The preparation through them also allows students to make the time fixing regarding examination time allowed such as in chemistry class 10 past papers.

By reviewing matric past papers 2023 such as past papers Fbise class 10, the students can get the ideas about the important and less important questions.

Simply, the most important questions you see repeated in past exams such as of past papers Fbise class 10 by which one can easily get the idea about the importance of the questions.

A complete paper pattern and marks distribution can also be known by making the exam preparation through them.
You can make your preparation with our 10th Class Online Test. The most important benefit of past papers matric is that they can guide you about how many short and long questions in each paper. They will also guide you about the number of MCQs and objective questions in all the papers. Following is the list of all 10th class BISE Boards of Pakistan including Federal Board of Intermediate and Secondary Education (FBISE), Lahore Board, Gujranwala (BISEGrw), Multan, BISE Fsd, Peshawar, Bise Sahiwal, Bise Rawalpindi , AJK, Bise Sargodha, DG Khan, Board of Secondary Education Karachi, Quetta, Hyderabad etc. of all subjects through which you can take advantage and can make improvements in your percentage which leads to better marks in matriculation.
Tips to Make Better Use of Past Papers
Make it sure that you are not tending to move towards the past papers until you do not have completed your syllabus or even revised it with at least one time revision.

The students also make sure that they do not use them at the near time of your exams. This is really causes too harsh to the students to review them just before going to examination.

If you really want to use them for your better success in the examination then you must read them at least twice before final exams.
Model Paper 2023 for class 10 Karachi board pdf has been issued by matric board Karachi which will be helpful in your studies. You can download solved model paper 2023 class 10 Sindh board pdf from the official website of BIEK. You may want to know date sheet of 10th class 2023 Lahore board.
Past Papers
Qualification Level
>
Boards / Universities
>
Class Level
>
Subjects
>
Years
>
Past Papers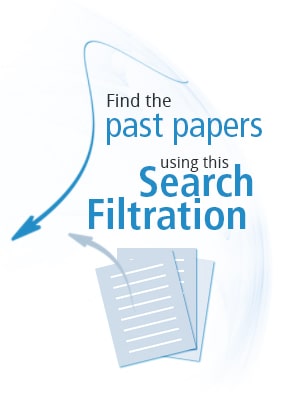 Student

Consultant

Employer