Posted On 13 Mar
Last Date 28 Mar
Job Name
Study Level
Vacancies
Bachelors

1 Posts

Bachelors

1 Posts

Bachelors

3 Posts

Bachelors

2 Posts

Masters

1 Posts

Bachelors

1 Posts

Bachelors

1 Posts

Bachelors

1 Posts
Posted On 11 Mar
Last Date 28 Mar
Job Name
Study Level
Vacancies
Bachelors

1 Posts

Bachelors

1 Posts

Bachelors

3 Posts

Bachelors

2 Posts

Masters

1 Posts

Bachelors

1 Posts

Bachelors

1 Posts

Bachelors

1 Posts
Posted On 15 Jul
Last Date 30 Jul
Job Name
Study Level
Vacancies
-

3 Posts

-

1 Posts

-

4 Posts

-

4 Posts

-

5 Posts

-

3 Posts

-

1 Posts

-

4 Posts

-

20 Posts

Matric

1 Posts

Matric

2 Posts

Matric

5 Posts

Matric

3 Posts

Matric

3 Posts
About Health Department Govt of Punjab:
The Punjab Health Department is a government based regulatory body who is responsible to take care of the health of people of Punjab. It aims to prevent the spread of diseases and ensure the appropriate health of the people of Punjab. Many Health Department jobs are being offered by the Punjab government in clinical schools and Universities present in Pakistan. Here at ilmkidunya.com, there is a detailed list of available vacancies and the eligibility criteria to get recruited in the Punjab Health Department.
Jobs in Health Department services
The Punjab Health Department has always been offering good jobs. Latest Punjab Health Department jobs 2022 include:
Jobs for Incharge of Operations
Jobs for Local area Physician
Jobs for Medical attendant
Jobs for X-Ray Technician
Jobs for Lab Technician
Jobs for Information Handler
Jobs for Watchman
By applying for the Healthcare Department Jobs 2022, applicants can get the job according to their requirements. Here at ilmkidunya.com, you can look for the ads about the latest Health Department jobs 2022. It is to be noted that all the commercial ads posted here are linked with those posted at the official website of Punjab Healthcare department.
Benefits of Applying for job in Health Department
Candidates who apply for jobs in the Health Department enjoy a lot of benefits other than good salary and favorable office working environment. Some of them are stated below:
Free learning and training programs
Gratuity funds
Post retirement benefits
Pick and drop facility for females
Travelling allowance
Medical and health care facilities
Qualification Requirements:
Punjab Health Department jobs have certain requirements. They require qualified, skilled, and confident candidates in the recent Jobs in Health Department Punjab.
They should be at least matric degree holders
The least age to apply for jobs in Health Department is 18 years
Candidates with job experience will be preferred
How to Apply in the Health Department Govt Jobs?
Qualified and eligible applicants applying for Healthcare Department Jobs 2022 should apply through the given Application Form.
Applicants should send copies of all the documents and keep it safe for further use.
Applicants should provide correct contact information such as email and phone number as this will later be used for Information about Test Date and other Purposes.
Applicants are required to bring all the documents whether original or copy if they are called for the interview.
Just shortlisted applicants will be called for tests and the interview.
TA/DA will not be permitted for tests and interviews.
Punjab Health Department holds the right not to fill the post or retain an application against the promoted job post.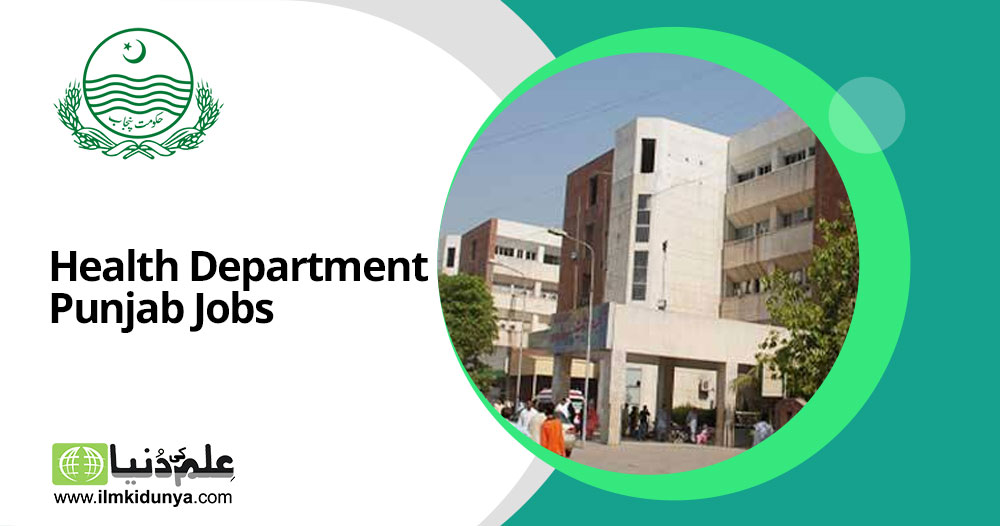 FAQ's
Health Department Govt of Punjab
The Punjab Health department is governmental body which works for prevention and control of diseases in Punjab. It has administration wing, development wing, technical wing and procurement specialist wing. The Punjab Health department has 2,461 basic health units, 293 rural health centers, 88 Tehsil headquarter hospitals, 34 districts headquarter hospitals, 23 Teaching hospitals/tertiary care hospitals, according to Wikipedia. The directorate general health services Punjab is responsible to ensure delivery of all the functions that fall under this department. The health care services present all over the province is administrated by the directorate. The private hospitals and health care departments working privately also function in accordance to rules and regulations directed by the Punjab Health department directorate. The Children's Hospital and Institute of Child Health, Punjab Pharmacy Council and Provincial Quality Control Board are attached to Punjab Health department. Medical colleges and Universities present in Pakistan are also obliged to set their rules in accordance to Punjab Health Department. Punjab Health care department works for following health care levels such as:- preventive care, curative care, primary health care and tertiary care. The department forms its own policies and management system. The guidelines are set by the team of specialists. Expenditure, budget, planning, development and implementation are also its functions. It is widespread department also include mental health departments, pharmacies, eye hospitals, human organ transplants departments and drugs rehabilitation centers. Vacancies are filled according to merit.