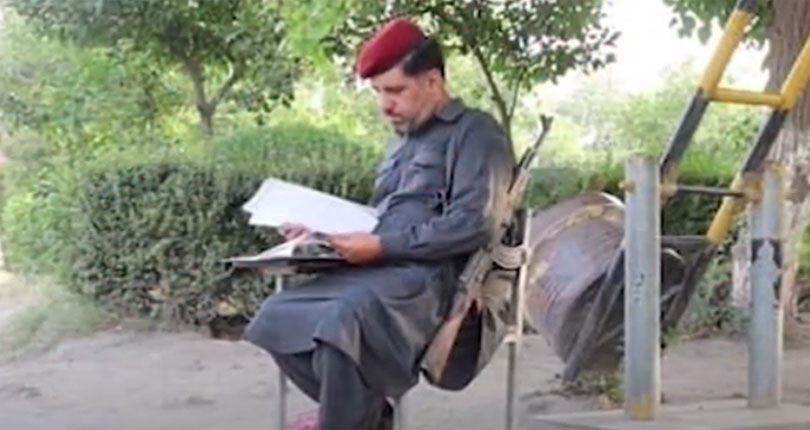 University of Peshawar Watchman Completed His Mphil Degree While On Duty
News Submitted By: Jawairia

28-Jul-2020

Views: 1967
Indeed education is also a great blessing that can change the life of a person. There are countless people across the globe who benefited from it and have achieved the great heights of success. Only the dedication of a person and pursuit to move forward can bring the destination closer. One such work has been done by Noor MarJan Khan, a watchman at University of Peshawar.
University of Peshawar Watchman Completed M.Phil Degree
Noor Marjan Khan, a guard at Sheikh Zayed Islamic Center at the Peshawar University, received his M.Phil degree because of his hard work and dedication. Security Guard Noor Marjan did his M.Phil in Islamic Studies and his research topic was a comparative study of the customs of the tribal districts with the customs of the Hindus and Sikhs.
About Noor Marjan Khan
Noor Marjan Khan has been working in University of Peshawar for 20 years and his love for education and desire to get it also enable him to accomplish M.Phil degree. Noor Marjan Khan belongs to Khyber District of Khyber Pakhtunkhwa (KPK).
Views of Noor Marjan Khan Over This Great Achievement
While expressing happiness over this great achievement, Noor said that the purpose for which he had obtained higher education has not been fulfilled yet. Twenty years ago, I was recruited as a watchman after matriculation, now I have got M.Phil degree but still I am a guard and I don't know how long I will serve as a watchman.
Noor Marjan Khan's Appeal For Government and University Management
While making an appeal for the government as well as university management he said:
"My request is that I should be given a duty as per my education." He further said that said that I have M.Phil including B.Ed and M.Ed which belongs to the field of education. Thus, if I am not a lecturer, at least I should be given the duty of a teaching assistant so that I can use my education for the betterment of my children.