The Government of the Punjab has launched the Chief Minister Merit Scholarship Program for the year 2023 under the supervision of the Punjab Educations Endowment Fund. Like every year, top Pakistani students who fulfil the eligibility criteria for the fully funded PhD scholarship receive the chief minister merit scholarship to pursue their doctoral education at a well-accredited international institute. It is an excellent opportunity for students who want to pursue a doctoral degree program at a foreign university. Previously, it has been estimated that the Punjab Education Endowment Fund has successfully awarded more than 440,000 scholarships. The last date for CMMS applications 2023-24 is April 14, 2023. Following are the details for the Chief Minister Merit Scholarship.
Eligibility Criteria for CMMS:
A number of students look forward to achieving a doctoral degree abroad. However, students who fulfill the following eligibility criteria can avail of the Chief Minister Merit Scholarship.
Students must have an admission offer from any of the top 50 institutes of the world as per the QS rankings in the preferred subject by CMMS.
Applicant must possess at least 60% marks throughout the academic period.
Applicants are required to provide the details of family income which should be less than or equal to 200,000/-.
The maximum age to apply for the PhD fully funded scholarship program is 35.
Applicant must not have availed any international scholarships in the past.
All Pakistani male and female students are eligible to apply. However, teaching faculty of public sector institutions of Pakistan are not eligible to apply for the PhD scholarship.
Lastly, the scholarship must be availed in the offered year.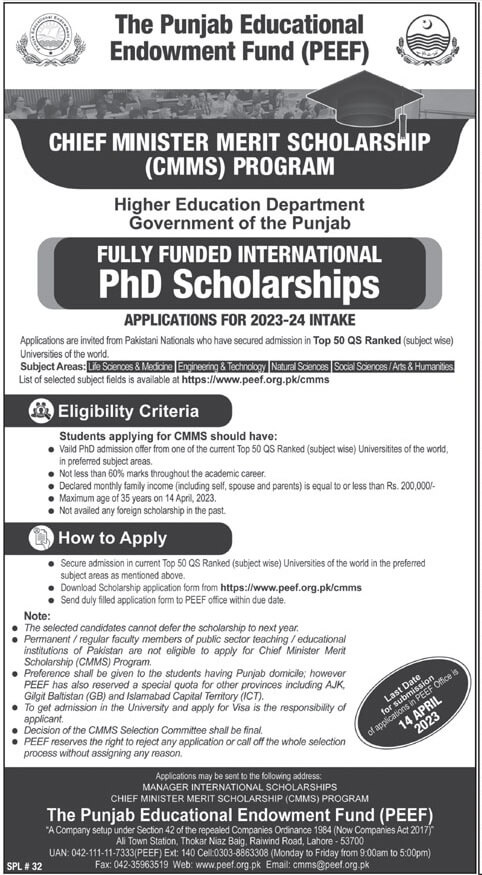 Scholarships Details:
The Chief Minister Merit Scholarships includes the following.
100% tuition fee (Fully funded)
Airfare
Health Insurance
Boarding expense
Reserved Seats for Scholarship:
The Chief Minister Merit Scholarship is offered to the students of Punjab. However, 10% of scholarships are offered to students of other areas of Pakistan. The scholarship has 80% of seats reserved for Science discipline and the other 20% seats for students of Arts and Humanities.
How to Apply?
The procedure to apply for the Chief Minister Merit Scholarship is mentioned below.
Eligible students can simply download the application form from the official website of Punjab Education Endowment Fund.
Candidates are required to submit application form to the PEEF office within the due date.
Preferred Subjects for Chief Minister Merit Scholarships:
Punjab Education Endowment Fund has declared the list of subject areas for scholarships.
Life Sciences and Medicine
Natural Sciences
Engineering and Technology
Social Sciences
Moreover, students can check the detailed subject list on the official website of PEEF at https://www.peef.org.pk/system/files/Sunject%20Ares%20%28CMMS%29_0.pdf