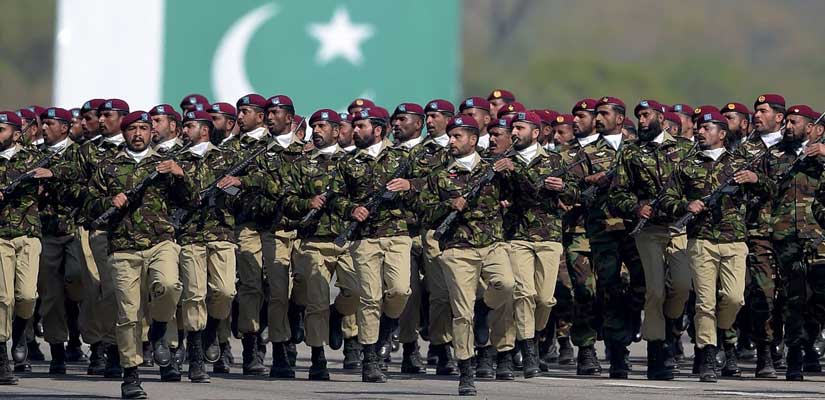 Pakistan Army is Inviting Medical Graduates to Join Pakistan Army as a Captain or Major
News Submitted By: Ilm Ki Dunya

09-Jan-2023

Views: 657
It's a privilege to get a chance to serve in the Pakistan Army, to serve your own country. You can avail this prestigious opportunity to join Pakistan Army as a Doctor through Short Service Regular Commission (SSRC) / Pakistan Temporary Commission (PTC). All the medical qualified candidates are eligible to apply and the selected candidates or doctors will be ranked as Captain/Major. Both local and overseas Pakistani candidates can apply. Registrations have started from today and will be open till 31st January 2023. Candidates can apply online or by visiting the nearest Army Selection and Recruitment Center. Keep reading to know the eligibility criteria and registration process for the job.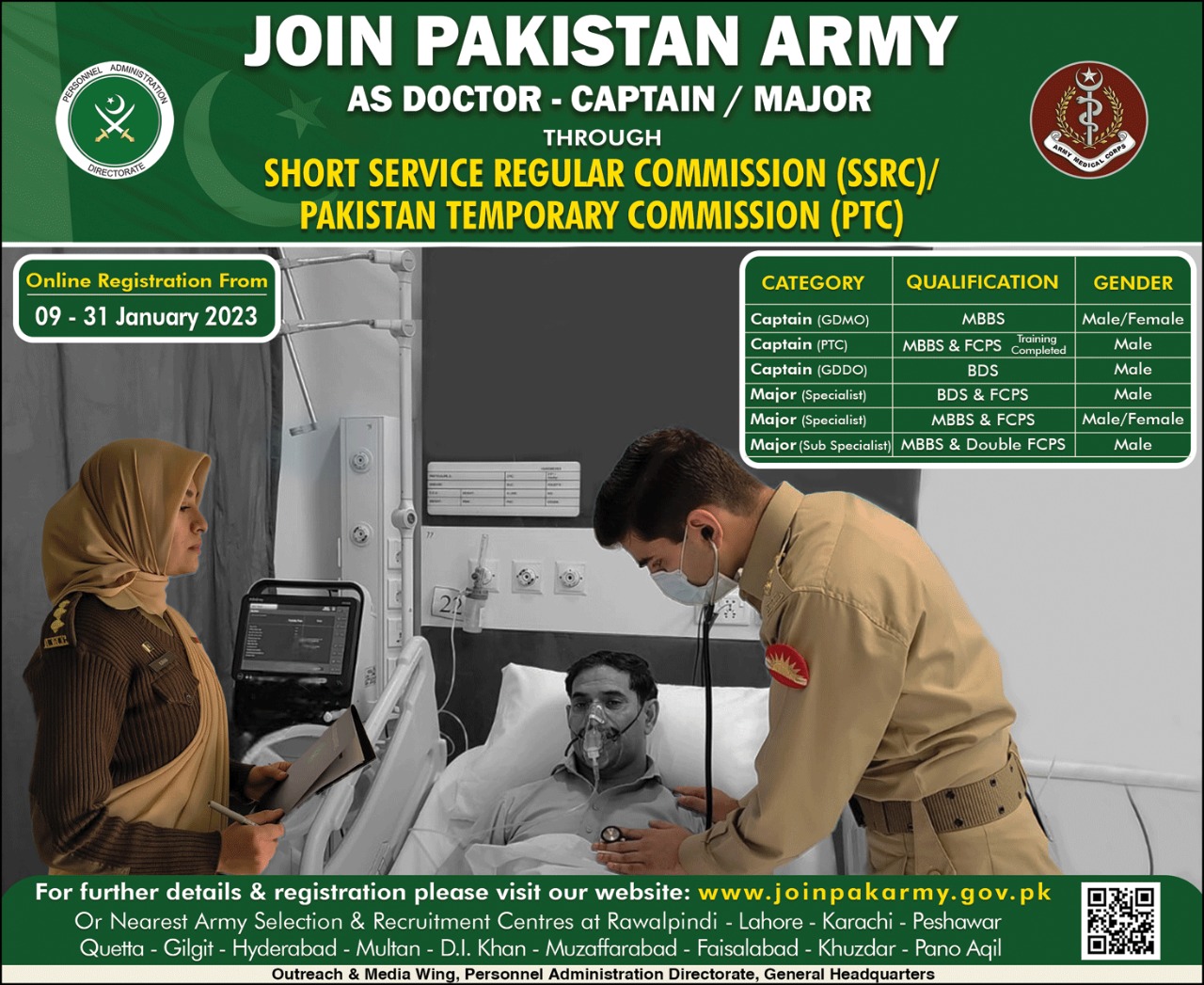 Eligibility Criteria and Required Documents
MBBS and BDS or equivalent qualification from an institute recognized by PMDC/PMC (for local candidates).
FCPS (PAK) or equivalent foreign qualification recognized by PMDC/PMC (for overseas candidates).
Minimum height for male candidates is 5' - 4'' or 162.5 cm.
Minimum height for female candidates is 5' or 152.4 cm.
Age requirement may vary depending upon the job but age relaxation will be given.
Original certificates/ detailed Marks Sheets along with two attested photocopies of each educational certificate/ degree/ diploma.
Two attested photocopies of registration certificate of PM&DC for GDMOS, GDDOS, Specialists and PTC Officers.
Two attested photo copies of the house job certificate, if already done.
Candidates serving in Government Institutions/ Departments will render No Objection Certificate (NOC) of the concerned establishment.
Attested photo copy of the domicile.
Photo copy of the Computerized National Identity Card (old or expired CNIC card will not be accepted).
3 x Colored photos duly attested (front and back).
Crossed postal order of Rs.100.00 in favor of Director General Personnel Administration.
Vacancies and Qualifications
There are various doctoral vacancies open for the medical graduates. Job categories and minimum qualifications required for those specific jobs are given in the following table:
| | | |
| --- | --- | --- |
| Category | Qualification | Gender |
| Captain (GDMO) | MBBS | Male/ Female |
| Captain (PTC) | MBBS and FCPS (Training completed) | Male |
| Captain (GDDO) | BDS | Male |
| Major (Specialist) | BDS and FCPS | Male |
| Major (Specialist) | MBBS and FCPS | Male/ Female |
| Major (Sub Specialist) | MBBS and Double FCPS | Male |
Registration Process
Candidates can apply for the job by following methods:
1.
Through Website:
Visit the official website https://www.joinpakarmy.gov.pk/
Drag the pointer no the Doctor Jobs advertisement and click the "Registration" button.
Fill in the requested details.
After successfully filling the details press the "Register" button.
You will receive date and time of your intelligence/Personality test by email.
2.
By Visiting Army Selection and Recruitment Center:
Visit the nearest Army Selection and Recruitment Center.
Bring the mentioned documents and prospectus fee with you.
Fill the form by hand and attach the documents.
Submit the completed form.
3.
By Visiting Consulate General of Pakistan:
This option is only for the overseas candidates with Pakistani nationality. Overseas candidate can visit their nearest Consulate General of Pakistan.
Ask them for the Registration form.
Fill out the form and attach the required documents.
Submit the form.
Consulate General of Pakistan will forward the application forms of the eligible candidates to personal administration directorate after stamping them as 'Overseas'.
Overseas candidates also have to bring the mentioned documents and prospectus fee at test center on the test date.
Important Instructions
The recruitment will be made through SSRC/PTC.
While filling out the form make sure that all the asked information is being written in their respective column and no column should be left blank.
Candidates are advised to provide the currently working email while filling out the form.
An intelligence/Personality test will be conducted from the candidates to determine candidate's intelligence and problem solving skills.
Candidates must have working knowledge of computer as the intelligence/Personality test will be conducted on computers in the form of MCQs.
Age relaxation will be given.
Candidates qualified from government institutes shall be preferred.
Test will be conducted in the various Army Selection and Recruitment Center across the Pakistan, candidates can choose their desired test center while filling out the form.
Selected test center and provided date of test cannot be changed later.
Candidates applying online will bring all the documents along with the prospectus fee with them on the date of test.
Candidates applying through Army Selection and Recruitment Center, have submit the documents and prospectus fee in advance and also have to bring these documents with them on the test date.
Successful candidates will be called out for the interview at the General Headquarters Selection Board at Karachi, Lahore and Rawalpindi. Medical Exam will be carried out at the nearby Combined Military Hospital
Admission Schedule
Accepting Application
From

9th January 2023
Last Date to Apply
31st January 2023
Preliminary Test will be conducted
From 13th Feb 2023 to 17th Feb 2023
Medical Examination
Will be finalized after the intelligence/ Personality test