The Punjab Education Minister, Murad Raas has issued the school-based assessment 2022. In this regard, a notification has been issued to provide the details regarding School-Based Assessment (SBA) by Punjab Examination Commission for the year academic year 2022. The candidates are informed to check the provided information that has been issued by the concerned authorities. According to the Murad Raas tweet latest, the 23rd meeting of the Punjab Examination Commission was held on 1st October 2021 to finalize the SBA Policy 2022.
School-Based Assessment Policy 2022
As per the announcement made, the school-based assessment will cover the whole curriculum from grade 1 to 8. The assessment for grades 1-5 will be based on the single national curriculum 2021 whereas the assessment for grades 6-8 will be based on the national curriculum 2006. The assessment for grades 1 to 2 will be oral and it will consist of objective types of questions as well as short answers/constructed response questions. The assessment for grades 3 to 8 will be written and it will consist of MCQs, short answers/constructed response questions. The weightage for MCQs and constructed response questions for grades 3 to 8 will be equal however it may vary among the grades. The assessment of the Nazra Quran of 50 marks will be held as a separate compulsory subject for grades 1-5 for Muslim students and the paper of Islamiat will be of 100 marks. The assessment for ethics/religious education for grades 1 to 5 will be of 100 marks for non-Muslim students and it will be equated with the 150 marks of Islamiat and Nazra Quran.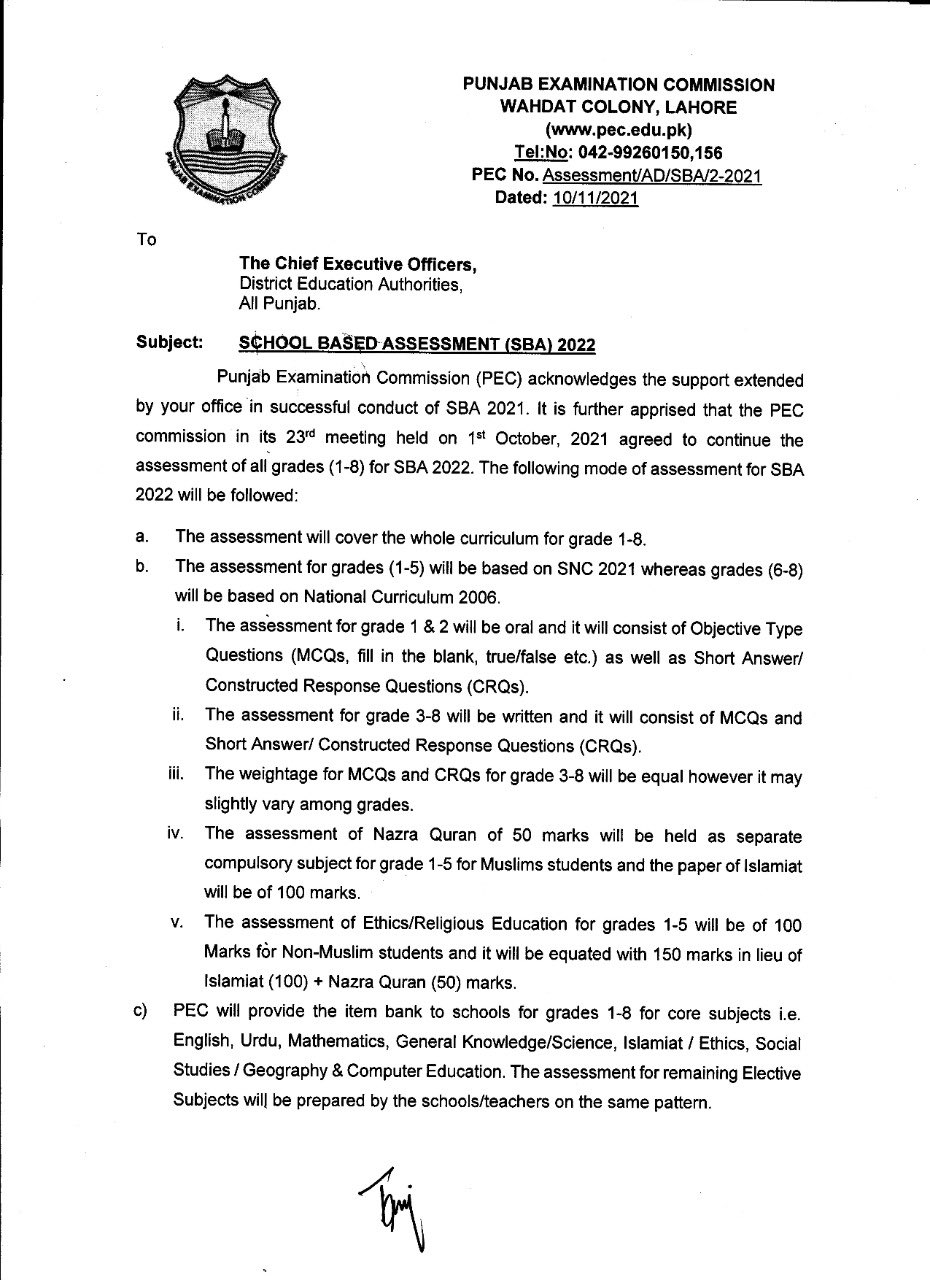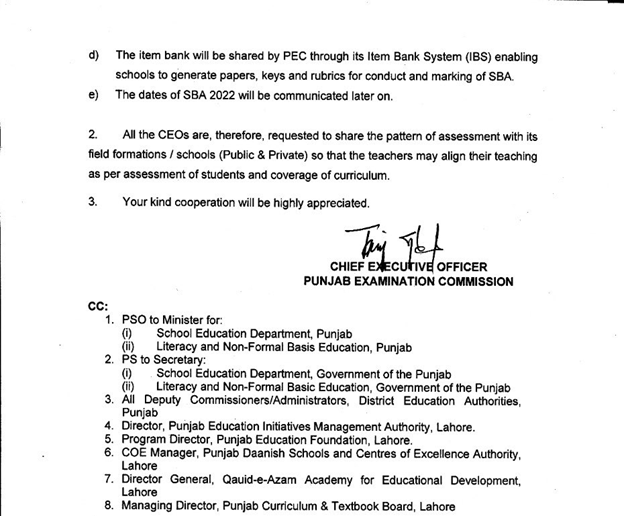 Punjab Examination Commission
It has been said that PEC will provide the item bank to the schools for grades 1 to 8 for core subjects that include English, Urdu, Mathematics, General knowledge/science, Islamiat/ethics, social studies/geography, and Computer Education. The assessment for the remaining elective subjects will be prepared by the teachers on the same pattern. The item bank will be shared by PEC through its Item Bank System enabling schools to generate papers, keys, and rubrics for conduct and marking of SBA. The dates for the SBA 2022 will be provided soon by the authorities. All the CEOs are directed to share the pattern of assessment with their schools so that the teachers can align their teachings as per the assessment of the students and the completion of the syllabus.