The Punjab education minister, Murad Raas has issued the new timings for the Punjab schools. The timings have been changed due to the extremely hot weather in the province. The education minister took Twitter and informs the students about the decision. According to the announcement made all the public and private schools of Punjab will follow the new timing schedule 7 am to 11:30 am. The education minister also urged the students to follow the SOPs issued by the government while attending school. The candidates have to wear the mask and maintain the social distance to minimize the spread of the coronavirus pandemic. Moreover, the Punjab government has made it mandatory for the teachers to get vaccinated.
Reopening Of Educational Institutes
The educational institutes in Punjab have been reopened after the decision of the inter-provincial minister conference. The decision has been taken to resume the academic activities so that the students can complete the coursework before the conduction of the exams. As per the statement issued by the federal minister for education and professional training, the annual exams of matric and intermediate will be conducted after 10th July 2021. Furthermore, the board authorities will commence the exams for elective subjects only for the students of SSC and HSSC.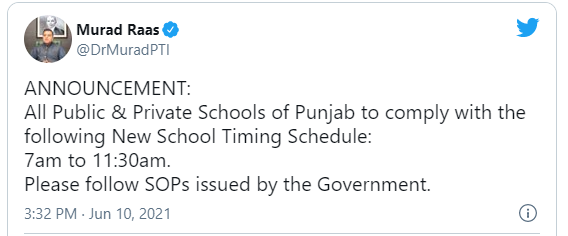 New Timings In Islamabad Schools
Earlier the federal directorate of education had announced to shorten the duration of the classes due to the ongoing heatwave. The 25 students fainted after which the federal government had issued the new timings for the schools. Now the students have to attend the classes from 7 am to 11 am. According to the previous announcement the timings of the schools were 8 am to 1 pm. To get more information, stay in touch with ilmkidunya.com and check the latest updates.