The Karachi Board of Secondary Education has issued the enrollment schedule for the 9th and 10th class for session 2022. The candidates are informed to check the schedule provided by the board authorities and submit the registration form accordingly. The BSEK holds the responsibility to conduct the annual exam of matric every year. Before the conduction of the exam, the board authorities ensure to issue the enrollment schedule so that the candidates can fulfill the mentioned requirements in order to appear in the exam.
SSC Enrollment Schedule
According to the announcement made by the Karachi board, the candidates of the 9th class and 10th class can submit the enrollment form without the late fee from 3rd November 2021 to 17th December 2021. Moreover, the candidates can submit the registration form and permission form from 3rd November 2021 to 20th December 2021 in the National Bank, Askari Bank, United Bank, and Habib Bank. It has been informed to the candidates that after the last date the candidates have to submit the enrollment form with a late fee. So the candidates are directed to submit the form before the deadline to avoid any inconvenience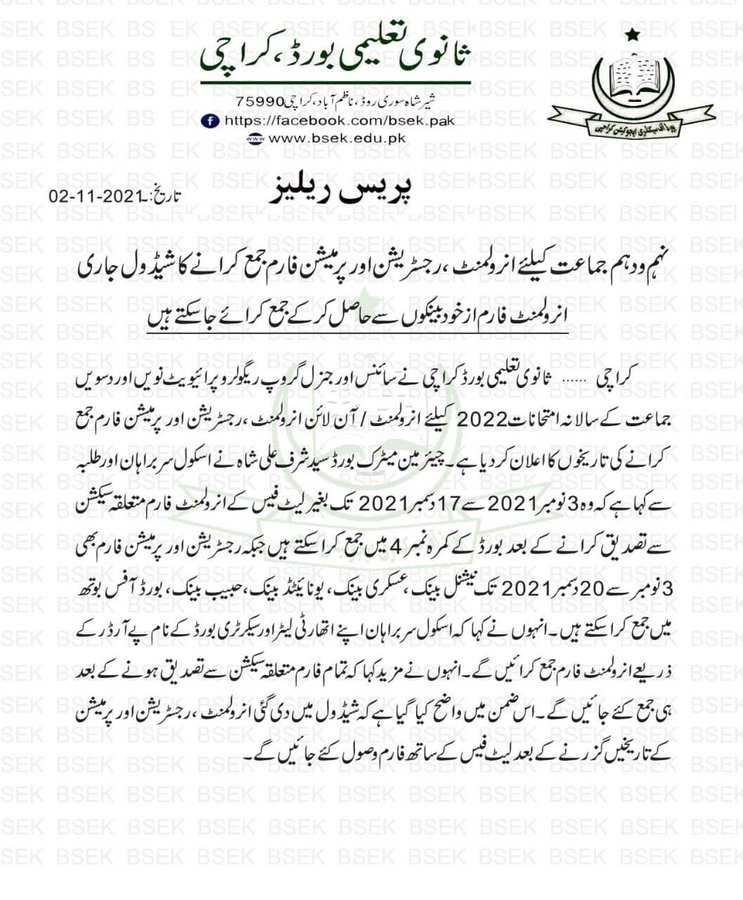 9th and 10th Class Admissions
During the submission of the enrollment form for the 9th and 10th class admissions, the candidates are required to follow the instructions provided by the Karachi board. Moreover, it is mandatory for the candidates to submit the required documents along with the enrollment form. The candidates are informed to fill the enrollment form carefully. After the completion of the admission process and the completion of the syllabus, the board will hold the annual exam for the students of 9th and 10th class so that they can get promoted to the next grade to continue their studies. To get more information, stay connected with us.