We would like to inform you that HEC invites all the law graduates to apply for the Law Graduate Assessment Test (Law-GAT) 2023. It is highly recommended that interested candidates submit their applications without delay. This assessment test is really important for the aspiring law graduates because it serves as a standardized evaluation mechanism that allows the HEC to assess the knowledge, skills, and aptitude of candidates in the field of law. The test enables the HEC to identify and select the most capable individuals who possess the necessary competencies required for successful legal practice. By participating in the Law Graduate Assessment Test, candidates can showcase their abilities and stand out in a competitive field, ultimately enhancing their prospects for admission to prestigious law institutions and securing promising career opportunities in the legal profession. The deadline is only open till the mid of June 2023.
LAW-GAT Test Date 2023
All the candidates who have been anxiously waiting to attempt their Law Gat test to begin their professional practice as a lawyer, legal consultant or prosecutor, doesn't have to wait any longer because HEC has announced the latest Law Gat test date 2023. The tentatively announced Law Gat test date for this year is 25th June 2023. Test will be held in the various Law Gat exam centers across the country. If there will be any delay or changes in the Law Gat Test schedule, will be informed through candidate's HEC online portal and through SMS or Emails.
Who Can Apply for Law GAT Test?
Candidates who have completed their bachelor's degree in Law or equivalent qualification from a HEC/ PBC recognized university or institute are eligible to apply.
LAW-GAT Test 2023 Passing Marks
In order to successfully clear the Law Gat test all the candidates must obtain the HEC determined Law GAT test passing marks. HEC Law Gat test passing marks are 50%, candidates have to obtain minimum 50 marks out of total 100 MCQs to clear the test. HEC allows all candidates total 5 attempts to clear the LAW GAT test.
Law Graduate Assessment Test Syllabus
| | | |
| --- | --- | --- |
| Sr. No. | Divisions of Sections | Mcqs |
| 1 | Constitution | 20 |
| 2 | Jurisprudence | 10 |
| 3 | Civil Procedure Code | 20 |
| 4 | Criminal Law | 20 |
| 5 | Law Of Evidence | 20 |
| 6 | Professional Ethics | 10 |
| | Total | 100 |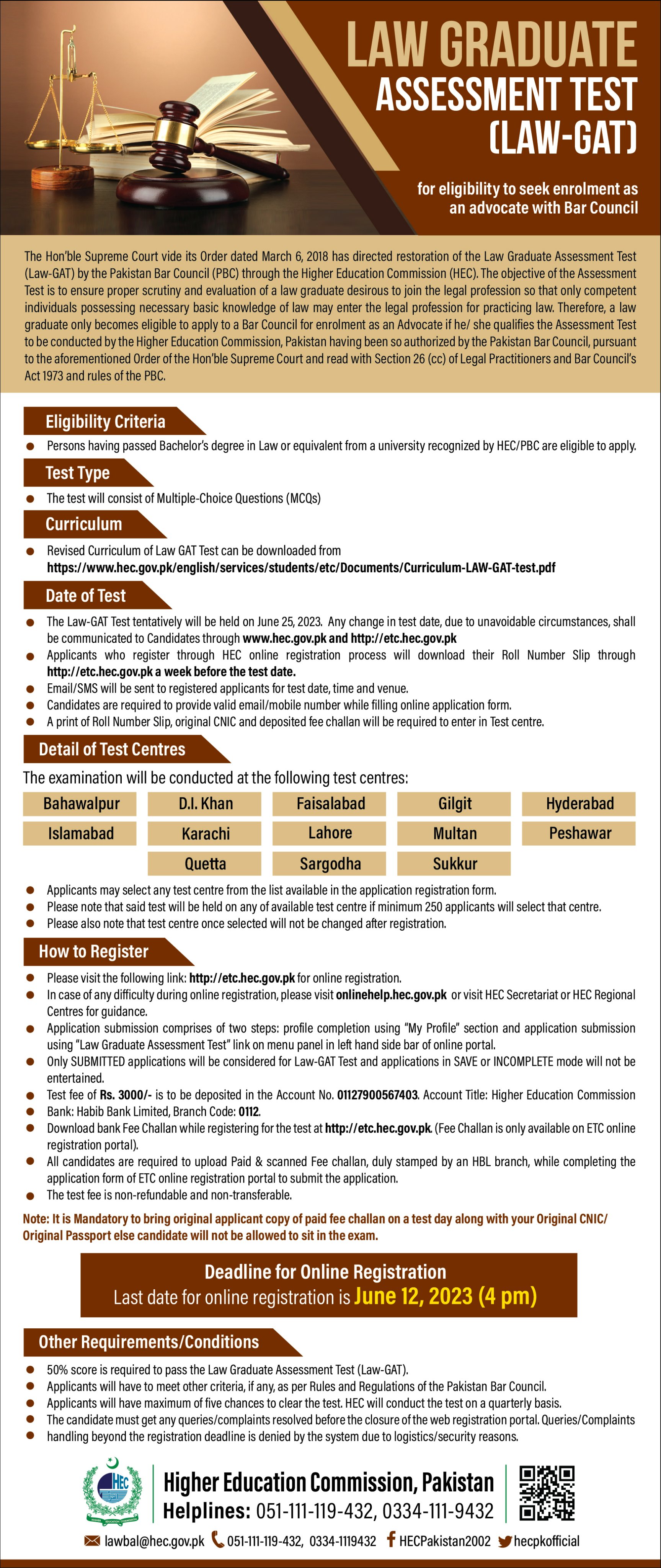 Law GAT Admission Test (LAW-GAT) Examination Centres
HEC conducts the Law Graduate Assessment Test from law graduates only every year. For this year the LAW GAT test is scheduled to be conducted in exam centers of 13 major cities of Pakistan. Candidates can choose their preferred examination center and city while filling out the LAW GAT test application form. Exam centre once selected will not be changed after the submission of application. The following are some names of the cities where HEC will conduct the LAW GAT Test:
Lahore
Karachi
Bahawalpur
Dera Ismail Khan
Faisalabad
Gilgit
Gujrat
Hyderabad
Islamabad
Peshawar
Multan
Quetta
Sukkur
How to Register for the LAW GAT Test 2023:
Sign up for the HEC ETC portal account for your online registration.
Create an account on online application portal by providing your name, CNIC number, phone number and email etc.
In case of any problem or difficulty while creating your admission portal account, please visit www.onlinehelp.hec.gov.pk or just visit HEC Secretariat or contact HEC regional office for proper guidance.
After completing your HEC ETC portal profile. Start filling out the Law GAT 2023 application by pressing the "Law GAT Test 2023" button from menu panel on the left hand side bar of your online portal.
After filling out the application, download Bank Fee Challan by clicking the "Fee Challan" button downloaded from ETC online registration portal page.
Submit the Test Fee of Rs. 3000/- in the Account No. 01127900567403, under the Account Title: Higher Education Commission, Bank Name: Habib Bank Limited, Branch Code: 0112.
All candidates are required to upload the paid & scanned challan receipt, duly stamped by an HBL branch, while completing the application form.
The test fee will be non-refundable and non-transferable in any case.
To successfully submit your LAW GAT Test application, press the "Submit" button.
Unfinished applications or applications in save mode will not be considered for the test. Only applications that have been completed and submitted will be considered.
LAW GAT Test Important Instructions:
If the LAW GAT test date gets changed due to some unavoidable circumstances the students will be notified through their portal. HEC will also send SMS and emails to relevant candidates.
Candidates registered through HEC online registration process will be able to download their LAW GAT Roll Number Slip from HEC ETC online portal and registered Email address at least a week before the test date.
Email/SMS will also be sent to the applicants regarding the test date, time and venue of the exam.
While filling online application forms, candidates are required to provide currently in use email/ mobile numbers on which they wish to receive their roll number slips and test updates.
A printed LAW GAT Roll Number Slip, Original paid Fee Challan and Original CNIC is must to enter the Test Centre on the Test Day.
The last date to submit the LAW GAT test application is 12th June 2023.
The tentative LAW GAT 2023 date is 25th June 2023.
LAW GAT test will be conducted in the major cities of Pakistan, candidates can select their preferred examination hall from the Centre list available in the application form but the test will be held in any listed exam centre if at least 250 candidates will select that centre.