DG Khan board 12th class result 2023 is the talk of the town now a days. If you are a 12th class student from DG Khan and have appeared in the 12th class board exams earlier this year then we would like to inform you that the BISE DG Khan 12th class result 2023 will be announced on 13th September 2023 at 10 AM.
The 12th Class Result of DG Khan Board carries immense significance for the students, representing the culmination of their years of dedication and hard work across various disciplines. This announcement opens doors to diverse educational and career opportunities, shaping the future paths of these young minds.
The DG khan board conducted the 2nd year annual board exams earlier this year and the board usually releases the result after 3 months long checking and evaluation process. All the students can access their result from our website. And stay tuned to our website to get the latest DG Khan board result updates. In the we have also given the process how you can check your DG Khan Board 12th class 2023 result through various methods.
How to Check DG Khan Board 12th Class Result
The announcement of the 12th class result is a major event for the students and their families, and following are the method through which they can access the DG Khan Board 12th class result of the year 2023: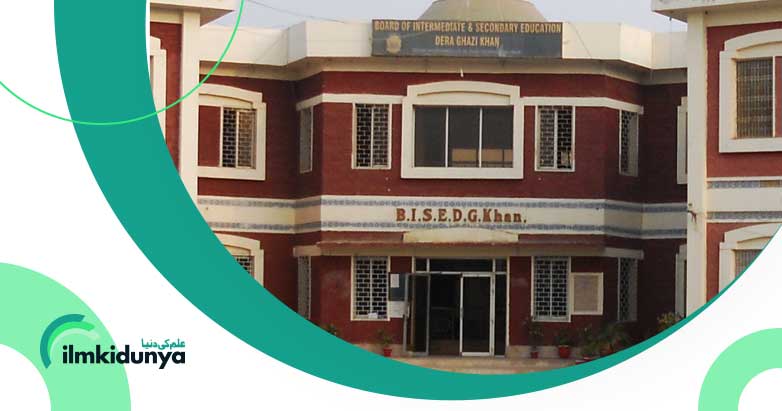 Check you result through the Website
Visit the official website of DG Khan board
Open the latest result section
Choose your class
And choose the type of exam (annual or supply)
Then enter your 12th class roll number and press "search result"
Through SMS
To get your 12th class result 2023 on your mobile, open a blank message.
Type in your complete 12th class roll number.
And send it to "800295"
Download the Gazette
Another option to access your DG Khan board result is to download the Gazette.
Visit the official website of DG Khan Board.
Open the result section.
And you can see the result Gazette button on the result page
Click on that button to download the Gazette.
Search for your name or roll number in the Gazette to view your result.
DG Khan Board 12th Result Statistics and Position Holders
The DG Khan Board 12th Result Statistics and Position Holders represents the hard work of students and the board as well. These statistics provide valuable insights into the performance of students across various disciplines and shed light on the overall pass percentage, which serves as a barometer of educational standards. Additionally, recognizing the position holders showcases the outstanding achievements of those who have excelled in their studies, demonstrating not only their commitment but also their potential to lead in their chosen fields. The announcement of these statistics and position holders is an annual event eagerly awaited by students, their families and educators.