In a significant move aimed at fostering educational and cultural ties, the Government of Cuba has announced a MBBS Scholarship for Pakistani and Azad Jammu and Kashmir (AJK) nationals aspiring to pursue a career in medicine. The scholarships are exclusively available for the MBBS program and present an exceptional opportunity for qualified individuals to receive top-notch medical education in Cuba.
The initiative to offer scholarships for Pakistani and AJK nationals underscores the long-standing friendly relations between Cuba and Pakistan. This bilateral effort seeks to strengthen people-to-people connections and promote educational collaboration between the two nations.
Pursue Your Medical Dreams in Cuba
Prospective students now have the chance to embark on a journey of medical excellence by studying in Cuba, known for its high standards of medical education. The scholarships cover the entirety of the MBBS program, including tuition fees, accommodation, and living expenses, easing the financial burden for talented students with a passion for medicine.
Key Scholarship Details:
Program: MBBS (Bachelor of Medicine, Bachelor of Surgery)
Eligibility: Open to Pakistani and AJK nationals
Coverage: Full tuition fees, accommodation, and living expenses
Application Deadline: August 31, 2023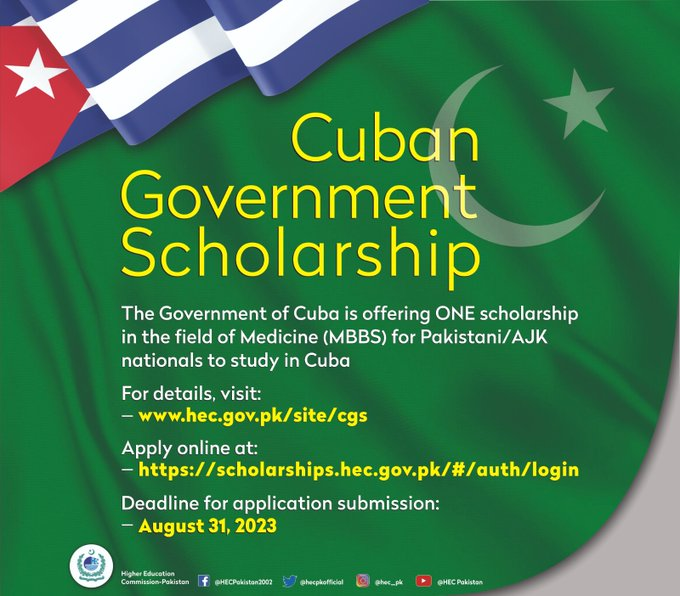 Application Process
Aspiring medical students eager to seize this remarkable opportunity are required to submit their applications by August 31, 2023. The application process involves providing essential academic documents, letters of recommendation, and a statement of purpose, demonstrating the candidates' commitment to the field of medicine.
For more information and application details, interested candidates are encouraged to visit the official scholarship portal or contact the Cuban Embassy in Pakistan.