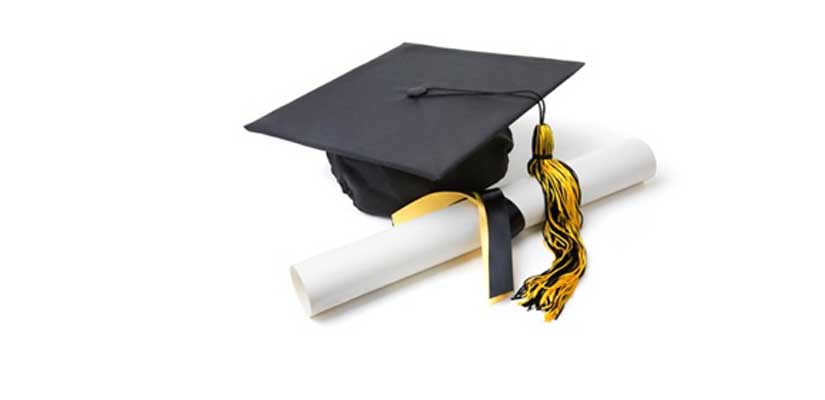 Apply Now for the Balochistan and FATA Undergraduate Scholarships 2022-2023
News Submitted By: Ilm Ki Dunya

24-Jan-2023

Views: 736
Higher Education Commission (HEC) is inviting outstanding and deserving candidates from Balochistan and erstwhile FATA to apply for the undergraduate scholarships 2022 - 2023. With these scholarships candidates will be able to pursue their undergraduate studies in public or private higher education degree awarding universities and institutes of Pakistan. HEC announced the Postgraduate scholarship 2022-2023 for all disciplines under the project "Provision of Higher Education Opportunities for the Students of Balochistan and erstwhile FATA (Phase-3)", Batch-1.
How Scholarships Will Be Awarded:
HEC will award the scholarships on open merit and district quota basis. HEC will conduct an aptitude test and will shortlist the candidates on the basis of aptitude test result and previous academic credentials. Candidates are required to obtain at least 50% marks to pass the HEC aptitude test. The ratio of scholarship and reserved seats distribution for the candidates of Balochistan and FATA is 50:50.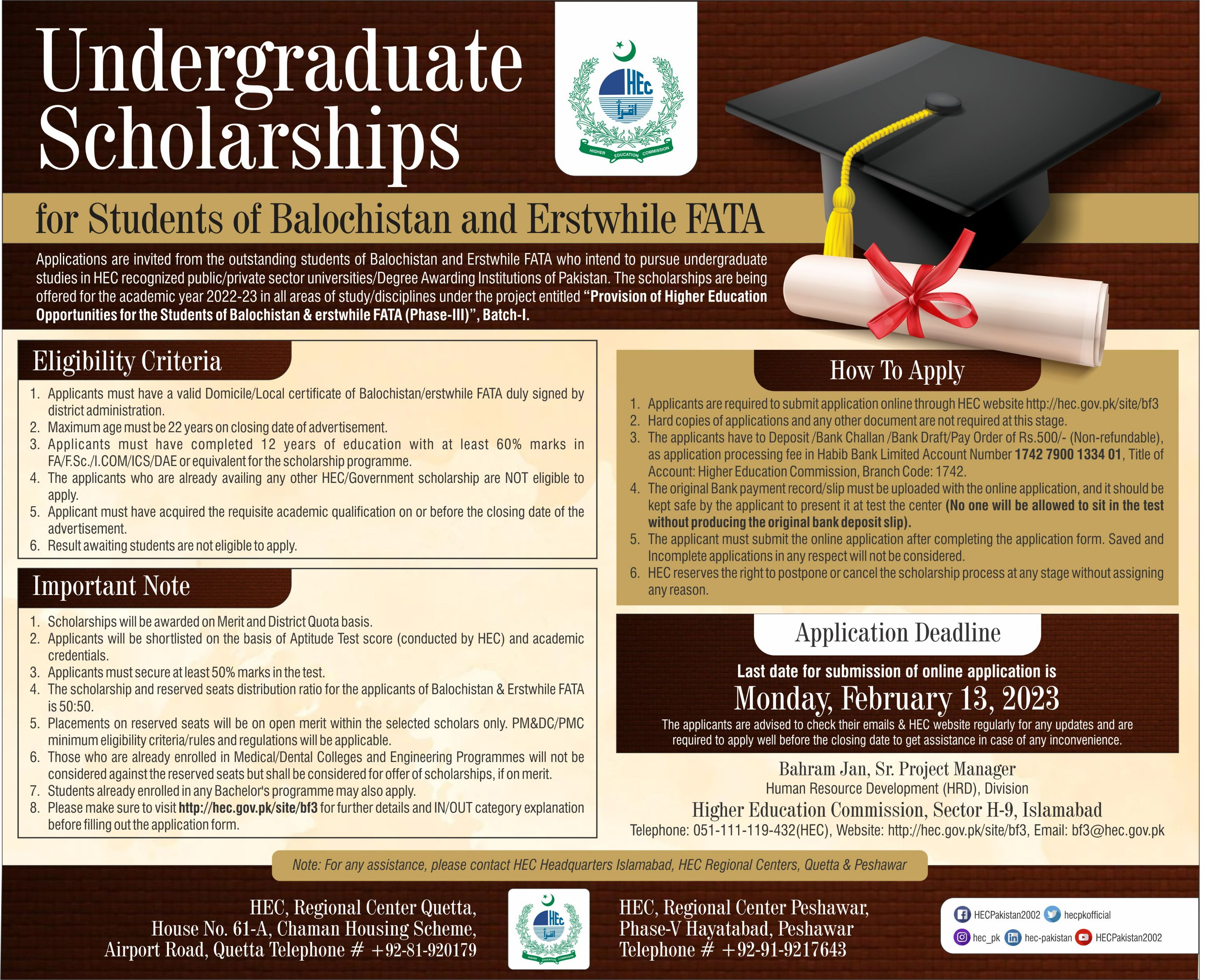 Balochistan & FATA IN/OUT Scholarship Distribution:
Candidates who have completed their HSSC or Inter education outside the Balochistan and FATA, falls under the Balochistan & FATA OUT category. And the Candidates who have completed their HSSC/ Inter or equivalent qualification from the Balochistan province and FATA areas, falls under the category of Balochistan & FATA IN. 90% scholarships will be awarded to Balochistan & FATA IN candidates and 10% scholarships will be awarded to Balochistan & FATA OUT candidates.
Eligibility Criteria:
A candidate must possess a local/domicile certificate from Balochistan or Erstwhile FATA.
A candidate must have completed his or her 12 years education (FA, FSC, ICS, and ICOM etc.) or equivalent qualification with minimum 60% marks.
Maximum age of the candidates is 22 years as on closing date of scholarship application.
Applicant must have acquired the required academic qualification on or before the scholarship closing date.
Ineligibility:
Candidates who have previously applied for any other HEC/Government scholarship are ineligible to apply.
Students who are still waiting for their HSSC/ Inter results cannot apply.
Candidates with marks HSSC or Inter marks lower than 60% are not eligible to apply.
Incomplete or late applications will not be entertained.
Registration Process:
Candidates are required to apply online on the HEC website through the link.
Candidates who doesn't have an HEC account already, have to sign up for the HEC account by providing your personal details like CNIC card number, mobile number and email etc.
After singing up, apply for the scholarship by filling out the application.
Hard copies of application and documents are not required at this stage, only selected candidates will be asked to submit the hard copy of application and other requested documents.
Generate the application processing fee challan.
All applicants have to submit the non-refundable application processing fee of Rs. 500/- in the Habib Bank Limited account: 1742 7900 1334 01, under the title of "Higher Education Commission.
Upload the paid receipt of application processing fee on your application.
And submit your application till 13th February 2023.
Important Instructions:
Within the selected scholars, only open merit will be used to determine placement in reserved seats. The minimum eligibility requirements and rules and regulations for PM&DC/PMC will apply.
Those who are already enrolled in engineering or the medical/dental colleges will not be considered for reserved seats; however, they will be considered for a scholarship if they meet the requirements.
Any bachelor's degree-seeking students are eligible to apply.
Please read all of the instructions before submitting the application.
In case of any problem please visit the HEC official website.
Scholarship Application Deadline:
The last date to submit the HEC undergraduate scholarship application is 13th February 2023. All the candidates are advised to apply well in advance to get assistance in case of any problem. HEC scholarship aptitude test date is yet to be determined. Only eligible candidates will be called out for the HEC aptitude test that's why all the candidates are advised to check HEC website and their Email daily.
FAQs:
Q1. Can A-level candidates apply for the scholarship?
A. Yes A-Level can apply for the scholarship by providing their equivalence certificate.
Q2. Age requirement for the scholarship?
A. Maximum age of a candidate should be 22 years as on closing date of scholarship application.
Q3. Is it mandatory to appear in the HEC aptitude test?
A. Yes, it is mandatory and all candidates are required to clear the HEC aptitude test in order to avail the scholarship.