Anger of students over vulgar question asked in exam
News Submitted By: Ilm Ki Dunya

15-Nov-2016

Views: 2962
Lahore: Large number of people crosswise the country are showing their anger over a controversial question paper by Allama Iqbal Open University (AIOU) in which the Matric students were asked to write an essay on the "personality of elder sister."
Though, the question of 15 marks in Functional English-II, Spring Semester 2016, for 10th class looks a little odd and narrowly accepted, the "aspects" to be mentioned appear to be highly intolerable as they include: Age, Physique, Height, appearance, and Attitude etc.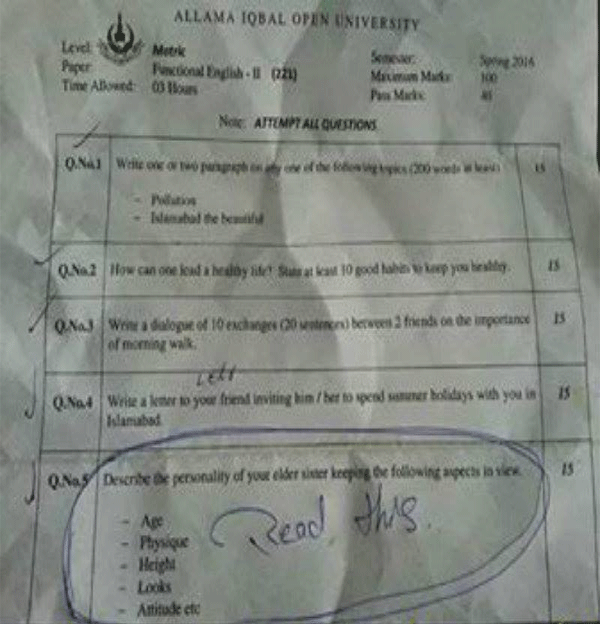 Citizens took to the social media without any delay to express their anger and frustration over the "extremely vulgar, offensive as well as stupid" question asked by AIOU.
Read More: AIOU to introduce LLB programme from 2017
According to them, the essay question is immoral and against the rules of the society.
Furthermore, they demand the dismissal of the teacher who set the paper.
"The head of the department must be dismissed", a social media user said.

Another user on social media said:
---
"What rubbish is this, a case must be registered against the culprit and he must be sent in jail."
---
Students, who were appeared in exam, said that they were highly shocked to find such a question in the Matric exam.
"At first I thought it was a mistake," said a student, who talked to private media channel on the condition of secrecy.
---
"When I asked the supervisor about the nature of that question, he simply refused to explain anything regarding the question and asked me to finish my paper."
---
When contacted, the Registrar of AIOU Dr. Naeem Qureshi refused to comment before conducting an official investigation.
Read More: AIOU to establish accessibility centres for visually impaired students
On the other hand, the management of Allama Iqbal Open University (AIOU) has taken serious notice of an unsuitable question in its matric exam.
An inquiry committee has been formed to probe the matter and to fix the responsibility. The varsity's management will submit its report within a week.
"Strict action would be taken in the light of the inquiry report", said a university representative.