The last date of admission is 22 February 2022
Matric (Secondary School Certificate)
Matric General
Dars-I Nizami
Intermediate (Higher Secondary School Certificate)
FA General
I-Com
FA Dars-I Nizami
Programs for International Pakistanis
According to the new policy of the university, students from all over the world which include, overseas Pakistani, matric students, FA general students, and I-Com students can take admissions. The university is offering this program with an online management system. Students can submit their assignments online. The exams will also be conducted online.
Prospectus and admission forms can be downloaded from the official website. http://online.aiou.edu.pk
You can contact to the following address for further information:
International Collaboration and Exchange Office
Room No. 102, Block No.11, Allama Iqbal Open University, Sector H-8, Islamabad.
Email: overseas@aiou.edu.pk
Phone: +92 519057165, +92519259175
Online Admission Forms
The prospectus of Matric and FA programs are available on the official website of the university. The applicants can submit their admissions online by sitting at home.
Note: The admissions of teacher training programs BA Associate Degree, BS ODL, and Blended Mode will be starting on March 2022.
The price of Prospectus is Rs 100/-
Prospectus/Admission forms are available from 08:00 Am to 06:00 PM.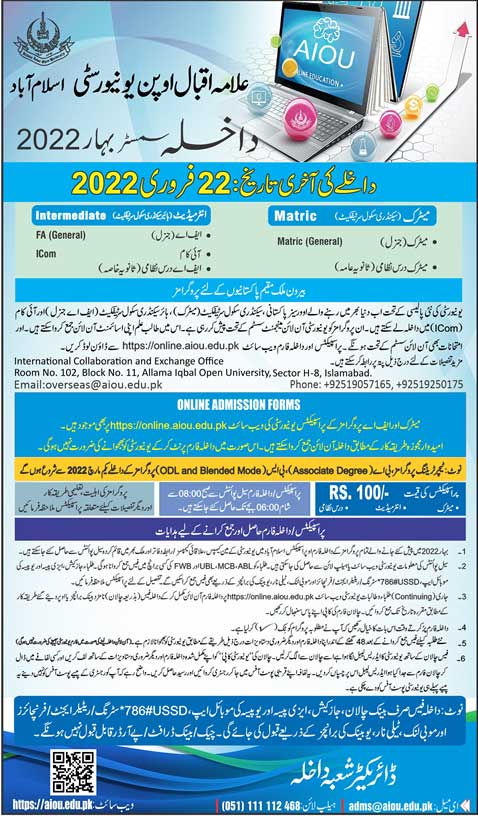 Important Instructions for prospectus/admissions forms
The admission forms of spring programs 2022 in Allama Iqbal Open University are available on sale at the university.
You can get the information of sale points from helpline or University website. Candidates have to submit the fees in any branch of ABL, UBL, MCB, FWB. Candidates can also submit the fees from jazz cash, easy pesa, U pesa, Mobile app 786#USSD string retailer agent franchise of Mobilink, Telenor, U bank branches. Read the prospectus for detailed information.
Regular students have to fulfill the online admission form that is given on the University website http://online.alou.edu.pk and submit the admission fees (via challan) in the given bank or branches according to the procedure that is given above on the specific date.
When filling out the Admission Form, make sure you have ticked the program you are looking for.
For new students, it is necessary to submit your admission form or other required documents to the university within 48 hours after the submission of fees (In the case of sending online admission, there is no need to send the form to the university).
Address table of University has attached with the fees challan. Separate it from the challan. Attach a copy of the University challan with your completed Admission Form and other necessary documents. Insert the address label separated from the form by putting it into the envelope. Register this envelope at your nearest post office and get the receipt. Make sure that you Do not have to pay the registry money at the post office. This money has already been given by the university to the post office.
Important Note:
Admission forms are only taken with bank form, easy paisa, and U-paisa mobile app *786#USSD String /Retailer Agent / Frenchises or Mobilink, Telenor, U bank branches. Check/ Bank draft / Pay order will not be accepted.