The conception of Alhamd University can be accredited to AL HAMD Educational Society (AES), which was founded in the year 1995. AES envisions the promotion of quality and state of art education in all sectors from primary to higher level. AES is a non-profit and fully registered organization which is running and managing several education, research and development organizations.
Alhamd Islamic University is one of the many successful projects of the AES. Under the Act II of 2005, Alhamd Islamic university is chartered by the Provincial Assembly of Government of Baluchistan.
The chief campus of this institution is located at Airport Road, Quetta, Pakistan. A branch of this university is situated in Islamabad.
Alhamd University has received recognition from the Higher Education Commission (HEC) and is privileged to be the first private sector Islamic University of Pakistan in Baluchistan.
The university is authorized to award degrees in the faculties of Islam, Science, Technology, Education, Law, Arts and Engineering.
The university happily assumes the role of development of skilled professionals in the field of Islam, Science, Arts, Engineering and Technology. The university is very compassionate towards the students and therefore they have left no stone un-turned in providing the students with a conducive and comprehensive learning environment. Alhamd strives to carry out its mission of delivering quality education and competency based knowledge under the umbrella of Islam. The agendas, objectives and goals of this university are in line of Islamic beliefs and practices.
Unlike other Universities, Alhamd inculcates strong Islamic and moral values into the students. The teaching and mentoring at Alhamd University strengthens the faith of students, making them a better Muslim for themselves and the world. The university makes the students strong in spiritual aspect so that they can not only defend Islamic Ideology but also compete with the challenges of modern world.
The educational beliefs of the university are unique and original. The staff and administration of Alhamd believes that education should cater the development of man in every aspect. Whether it's spiritual, moral, intellectual, physical, scientific or linguistic, education should improve and upgrade man in all aspects. In order to achieve complete harmony and satisfaction, an individual must submit himself to the will of Allah.
The university emphasizes on the fact that Education and Islam are not two different things. Alhamd believes that the decline of Muslim Ummah can be prevented if our education practices align with Islamic beliefs and ideologies. The University promotes research and education in the light of Quran and Islam.
The university has a very small enrollment from around 500 to 1000. It offers a co-education system.
AIU is very keen to cater the requirements and needs of the students and hence provides numerous academic and non-academic facilities and services to students such as library, sport complex financial aids and/or scholarships. One of the very recommendable feature of the university are its online courses and distance learning opportunities.
Contact Number of AIU
Contact Number by Phone
Contact by Email
Contact on Website
Contact via Physical Address
Bachelors Level Program at AIU
| Course/Program Name | Duration | Fee Structure |
| --- | --- | --- |
| | 4 years | N/A |
| | 4 years | N/A |
| | 4 years | N/A |
| | 4 years | N/A |
| | 4 years | N/A |
| | 4 years | N/A |
| | 4 years | N/A |
| | 4 years | N/A |
| | 4 years | N/A |
| | 4 years | N/A |
| | 4 years | N/A |
| | 4 years | N/A |
| | 4 years | N/A |
| | 4 years | N/A |
| | 4 years | N/A |
| | 4 years | N/A |
Bachelors Level Program at AIU
BS Software Engineering

BS Computer Science

BS Information Technology

BS Business Administration BBA

BS Civil Engineering Technology

BS Electrical Technology

BS English

BS Economics

BS International Relations

BS Mass Communication

BS Fine Arts

BS Education

BS Islamic Studies

Doctor of Physical Therapy DPT

BS Medical Lab Technology

BS Dental Technology

Masters Level Program at AIU
| Course/Program Name | Duration | Fee Structure |
| --- | --- | --- |
| | 2 years | N/A |
| | 2 years | N/A |
| | 2 years | N/A |
| | 2 years | N/A |
Masters Level Program at AIU
MS/MPhil Education

MS/MPhil Islamic Studies

MS/MPhil Management Sciences

MS/MPhil Computer Science

Latest Admissions in AIU
Admission Posted on
08-Jul-2020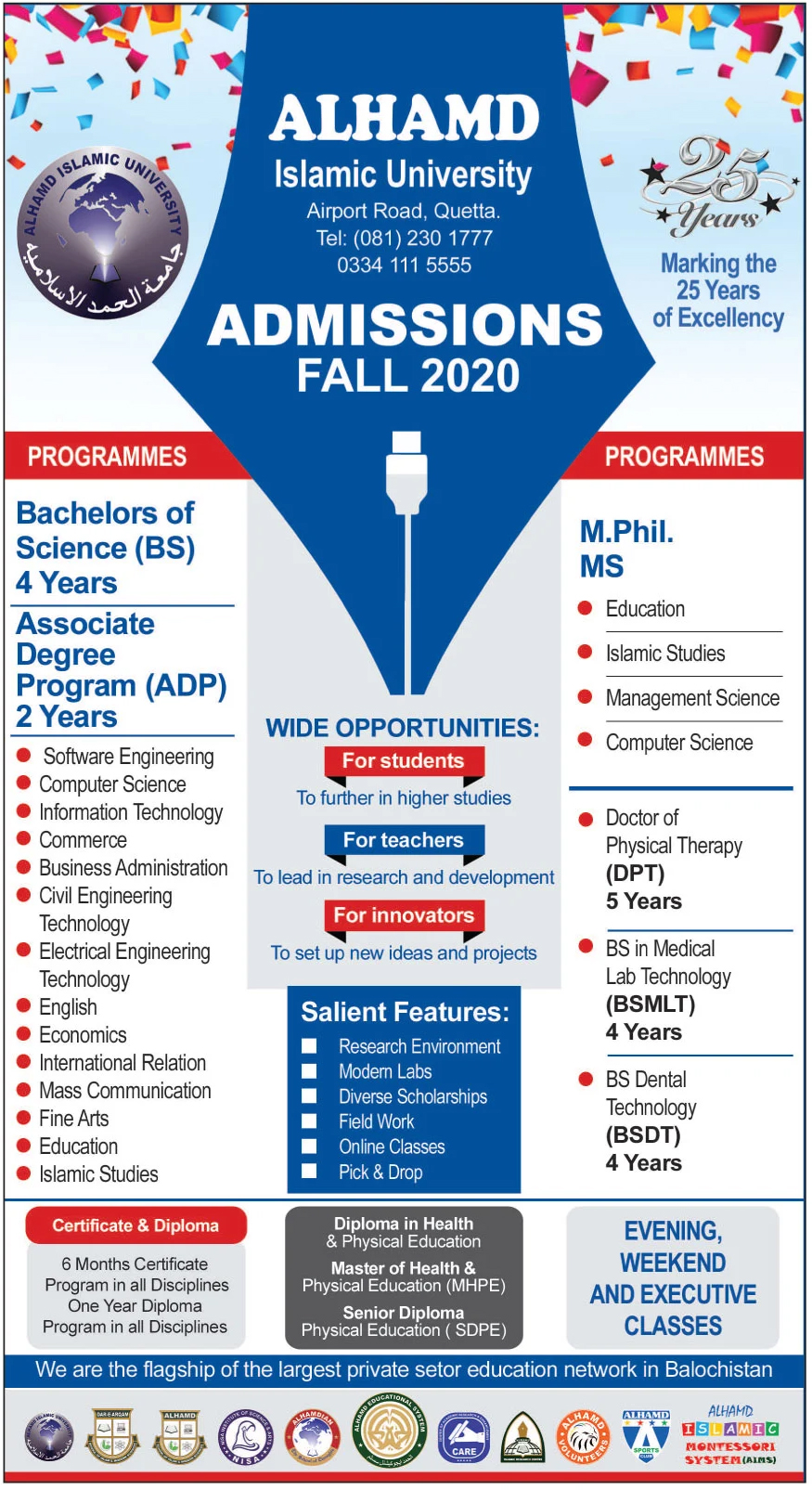 Free Admission Advice For Alhamd Islamic University (Aiu) Quetta
Fill the form. Our admission consultants will call you with admission options.